Progetto Essere Pace: the practice of the Italian Order of Interbeing
By Silvia Lomardi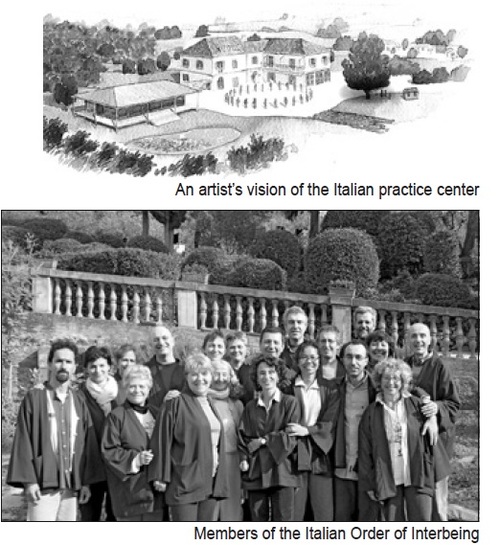 I am smiling while I drive on the southbound highway to reach Pomaia, an Italian Tibetan community located in Tuscany. This is the place where in 1992 Thay came to teach for the fi time in Italy and where we regularly hold our sangha meetings for the project. The project, called "Essere Pace" (Being Peace), is to create a mindfulness practice center in the Plum Village tradition.
On my way, I will pick up Giuseppe, Claudio and Paolo in Genoa and we will get there in two hours. In Pomaia we will meet with Stefano and Viviana coming from Rome; Vanda from Milan; Amedeo, Nongluck, and Andrea coming from the northeast and Emanuela coming all the way down from Bolzano (Bozen), near the Austrian border.
Our Italian community has been expanding a lot during these last years. We have regular monthly retreats with 50 people, we have a retreat with Thay and 800 participants every other year, and we have annual retreats with Helga and Karl Riedl with 120 participants. Now we are ready to create our own center and grow in the direction of offering our well-rooted stability and our joyful practice to others all year long.
What inspired us is the experience of the lay mindfulness practice center in Germany, Intersein Zentrum. Every time we visit them we find the genuine spirit of Thay's teachings and the flavor of the Plum Village atmosphere. In the last few years we have been developing a special relationship based on esteem and friendship with the two dharmacharyas guiding the center, Helga and Karl Riedl. The Italian Order of Interbeing asked them to be the spiritual guides of the future Italian center. Although they are very busy taking care of the Intersein community, Helga and Karl have accepted our invitation with generosity and enthusiasm, and have offered us their support all along the process, step by step.
A Three-Phase Project
In the last two years we have been meeting regularly every other month to focus our attention on the aspects involved in setting up the project. In phase one, we elaborated our vision: a place where we can go back to inner calm and peace, in a natural setting; located in a central region of Italy; large enough for a resident community and at least forty retreatants; and with space for families.
In the present phase two, some Italian sangha members are currently spending training periods with the German community, where they are learning ways to support community life, run a retreat center, solve conflicts, and so on. We feel now that our project is no longer a dream but it has gained a sense of reality, being already alive in our actions, in our thoughts and in our daily mindful breathing.
At the same time, phase three has started. As you can imagine we have to raise a considerable amount of money; we have already been collecting donations in the last two years through a Trust and we are confident that more donations will come. Sister Chan Khong said: "If you are happy, money will come," and I am sure she is a real expert in fund raising! So we are practicing as a happy sangha and creating the right conditions for the center to manifest.
In the meantime, we are looking into the real estate market and trying to get to know it better. "We cannot go shopping without money," Karl once said, but we are building up awareness about what is available: large bed and breakfast houses in the countryside, or village ruins that we could restore or, even better, a green field with a building license. The first two options are more likely to happen, because building from scratch in Italy means taking the risk that the place is full of archaeological remains and you have to stop building!
How We Have Cultivated It
When we started working on the project we were full of enthusiasm, but "empty" of everything else! We needed to learn how to work together bringing the practice into our thoughts and actions. What a wonderful and surprising experience!
We were supported by Helga and Karl in putting the right emphasis on our meetings: "If we are peace, if we practice as if we are a community, the peaceful community is already alive! When the center manifests, the community is ready to step in and live harmoniously."
And every time we come to the end of the working weekend, we realize the effects of such a process: we had arrived as individuals and we leave as community members. What an experience every time! Now we know that it will happen next time too, but each time we repeat the experience again and again, to our surprise and joy.
We feel "there is no way to community: community is the way."
And it is along that way that my smile becomes brighter and my heart full of gratitude.
Silvia Lombardi, True Wonderful Mind, invites you to learn more about Progetto Essere Pace.