Five peacemakers honored at ceremony in Los Angeles
By Peggy Rowe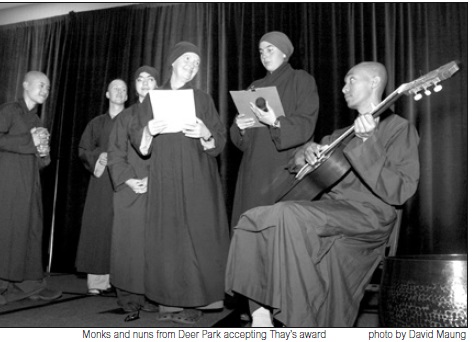 The monks and nuns of Deer Park Monastery invited the bell to begin the celebration and offered the Five Contemplations for the banquet. The Bridge of Peace Award, a crystal globe on a crystal stand, was presented to Thay by Soto Zen priest Claude Anshin Thomas. Anshin shared how the Sangha and other veterans enabled him to travel to Plum Village where he experienced a time of profound healing and transformation. The award was accepted by the monastics of Deer Park, who read a statement from Thay: "I am very grateful and very touched to receive this award. We are at a critical point of history in the world. It is heartening to have so many people together to practice peace. Peace is available in every step." Then they sang Thay's poem "Recommendation," accompanied by guitar.
Awards also went to Le Ly Hayslip, Marla Ruzicka, Dr. Waqar Al-Kubaisy, and Marshall Rosenberg. What the five remarkable honorees share is compassion for others, the courage to tell the truth, and the gift of unconditional love. All five took action to better the lives of others and to promote peace in the twenty-first century.
Le Ly Hayslip, a Woman of Ordinary Dreams
Le Ly left Vietnam when she was 13 years old. She describes herself as a "woman of ordinary dreams," whose only life dream was to be a stay-at-home wife and mother. In 1985 she began her efforts to visit her homeland, but there were no diplomatic relations with Vietnam. She says, "I had a dream in my spirit to see us reunited again as people, if only I could break down the walls of fear and mistrust that divided us. I dreamed that I, a housewife with a third-grade education, could transform the hatred of war into a bridge of peace for all people."
So Le Ly became a bridge builder. She received permission to travel to Vietnam in 1986, in 1987 she founded the East Meets West Foundation, and built schools, clinics, hospitals in Vietnam along with many other works to foster peace and reconciliation between the US and Vietnam. In 1999, she founded the Global Village Foundation. Her life is chronicled in the Oliver Stone film Heaven and Earth.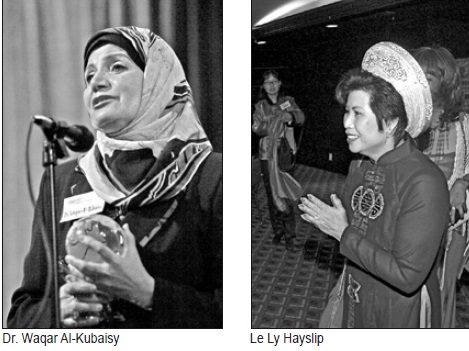 A Posthumous Tribute to Marla Ruzicka
After leading a Global Exchange Reality Tour in opposition to the war in Afghanistan, Marla stayed behind to help. She arrived in Kabul only a few days after the Taliban was removed. The day after Saddam's statue fell, Marla arrived in Iraq where she went door to door tallying the loss and injury of human life and seeing how she could serve. Did you know that in the twentieth century, ninety percent of the casualties of war were soldiers? Did you know that in the twenty-first century, ninety percent of the casualties of war are civilians? So Marla started counting.
In 2003, Marla formed the Campaign for Innocent Victims in Conflict (CIVIC). On April 16, 2005 Marla was killed in a suicide bomb attack in Baghdad on her way to visit an injured child. She was a lovely twenty-eight-year-old woman with an infectious laugh and warm smile. Before her death, she successfully lobbied the
U.S. government to provide medical and other assistance to Afghan and Iraqi families. To date, 25 million dollars have been appropriated and Marla's work continues through CIVIC Worldwide.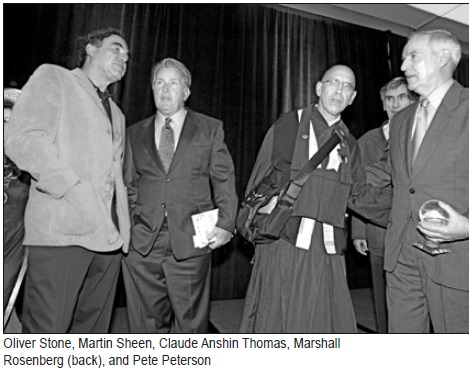 The Courage of Dr. Waqar Al-Kubaisy
A woman with a beautiful smile presented herself to me with a firm handshake. "Thank you for your presence of peace," she said. I found out later that she was the Iraqi physician receiving the Bridge of Peace award for courage. In her acceptance speech she talked about the lives being lost; she described her relentless work to help all people by bringing medical services and supplies to where they are needed. She has had many family members killed, including six of her cousins who were bombed in a car. Most recently, in the dead of night, her husband was kidnapped; he was tortured for twenty-six days and suffered extreme injuries for which he is receiving medical care. She spoke of the pointlessness of war and its tragic impact in her homeland.
Pete Peterson, from POW to Ambassador
In 1966, U.S. Air Force Captain Pete Peterson was shot down over North Vietnam. He spent over six years in the infamous Hanoi Hilton as a prisoner of war. On his return, he placed his attention on reconciliation and peace. "After the war I had two choices," he said. "I could go home angry, disenchanted, depressed… or I could get on with my life. I woke up one morning and realized I had no control over yesterday. But I had full control over and responsibility for tomorrow." After serving as a member of the U.S. Congress, Pete was appointed by President Clinton as ambassador to Vietnam, a post he held until 2001. He set about to reopen diplomatic and economic ties between the U.S. and Vietnam. Today hundreds of American companies have offices and factories in Vietnam. In 1998 he married Vi Le at the Hanoi Cathedral just a few blocks from the Hanoi Hilton. He continues to further ties between the two nations through his foundation, The Alliance for Safe Children, Vietnam.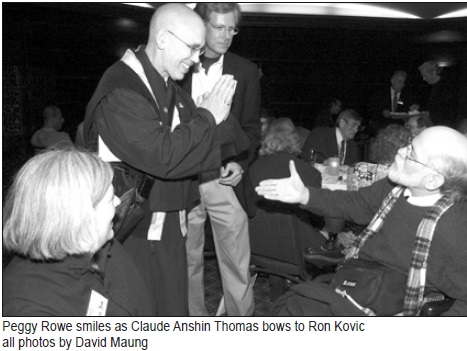 To Be a Bridge of Peace
Marshall Rosenberg, renowned developer of a method of conflict resolution called Nonviolent Communication (NVC), was there to receive the Nonviolence award. "What I want in my life is compassion, a flow between myself and others based on a mutual giving from the heart," he said, and shared stories from his experiences of offering NVC around the world.
Larry Ward and I sat with Ron Kovic in the VIP room. Ron was the 2005 recipient of the Bridge of Peace award, and he was portrayed by Tom Cruise in the Oliver Stone film Born on the Fourth of July. Ron has twinkling eyes and infectious positive energy. He wheeled his chair to me and held my hand, commenting on my peaceful energy. I, in turn, asked him his secret. "Life is precious," he said. "I woke up in the hospital in Vietnam with part of my body gone, and in incredible pain and deep despair. But I should have been dead. This is a miracle, that I am alive. I get my energy from people and from life. I love people. I am alive. What a miracle!"
This evening was a wake-up call for me. I am grateful to have been touched by these people, to have the opportunity to be called into a bigger story. What is my dream for peace? How can I be a bridge of peace? How can I grow my heart larger for this world?
Peggy Rowe, True Original Source, is a Dharma Teacher and gourd artist practicing with the Bright Path Sangha in Asheville, North Carolina.