By Glenn Johnson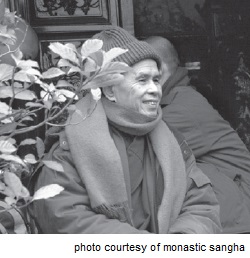 Since I began practicing Buddhism six years ago, I have been almost obsessed with meeting the person who made it all clear to me — Vietnamese Buddhist Zen Master Thich Nhat Hanh.
Reading his writings and listening to his Dharma talks electronically has helped me understand what I need to do to build a stronger community. It's not about trying to make everyone be a Buddhist. It's about being a better person. Caring more for yourself, others, and the world around you. Especially the last two. It's about smiling to yourself and to those you meet.
I've tried to figure out how I could get to Plum Village in France, despite the fact I can't afford to go. Or to write to him, and hear back from him in words written by his own hand.
I then wondered whether Thay would be coming to a city near enough to Ottawa for me to drive to hear him speak, maybe even bow to him directly and just feel that I am in the presence of the closest thing to a Buddha that I may ever know.
As I was cutting the grass and listening to an old podcast from public radio's Speaking Of Faith about a retreat that Thay gave for police officers in Wisconsin, something suddenly awakened in me.
I became aware that I was too attached to the notion that I somehow had to touch Thich Nhat Hanh so I could thank him for the way he has touched my life.
Bodh Gaya Is Everywhere
One person commented on my website: "As long as we know his teachings and contemplate upon his innocent yet strong, noble, smiling face he is with us. As all beings are. My obsession was in going to Bodh Gaya — the Mecca of sorts for Buddhists. Then I realized that Bodh Gaya is everywhere — as is Buddha ... Any place can be the most sacred place in the world to us if we make it so."
I had read a number of wonderful books about Buddhism in general, but many of them were confusing to me because they went into great detail about some of the different schools and their specific trainings. The Tibetan Book of the Dead is an interesting document, but it doesn't easily translate for the Western world.
That's where Thay helped put Buddhism in my heart with an incredible clarity. Some of the tenets of Buddhism can be complicated, but they don't need to be.
One reader told me: "He especially has an amazing ability to make the Dharma understandable to the Western mind. I have had two wonderful chances to see him speak in person and his energy fills the room like sunshine. He has changed my life as well and I will be forever grateful to him. He truly is a living Bodhisattva."
An Open Heart
I would love to hear the Dharma and feel the inspiration directly from the Master. But in many ways I already have.
I have bought a number of his books, given away some to others who needed to read his teachings. I have watched videos and heard his voice electronically.
Thich Nhat Hanh has spoken to me and touched me in a way that has opened my heart to others. His writings and teachings were as specifically meant for me as others.
I would be thrilled to live in Plum Village as a monk or lay teacher and try to pass on the mindfulness trainings and other things that I have learned. In some ways, I do it on a microscopic scale by passing on kind or inspiring words of my own to others, or on Facebook or Twitter — our generation's electronic temples.
Thank you, Thich Nhat Hanh. Although you may never read these words, their love will go straight to your heart because it is open.
Glenn Johnson lives in Ottawa, Canada, where he works as deputy editor of Canwest News Service. He practices with the Pagoda Sangha.