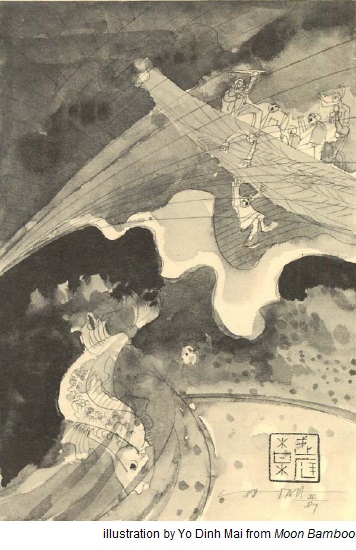 Forced Repatriation of Boat People
The sight of the Berlin Wall collapsing and East Germans crossing the border was overwhelmingly moving. But how would we react if instead of being welcomed, these people were crowded into jails, with virtually no sanitary facilities or medical treatment available, kept on a starvation diet, and told they would remain imprisoned for the rest of their lives unless they agreed to return "voluntarily" to East Germany?
This is essentially the situation that faces the nearly 40,000 Vietnamese refugees who have arrived in Hong Kong since June 15, 1988. In a concerted effort to persuade them to return to Vietnam, Great Britain and Hong Kong have made life in the camps miserable and have rejected the refugee status of all but a handful in a biased screening process ostensibly intended to separate "economic migrants" from "political refugees." As stated by Arthur Helton of the Lawyers Committee for Human Rights, "... there continues to be an astoundingly low refugee recognition rate of under 2%, excluding family reunification, despite rejected claims based on harsh re-education, forced labor, and severe discrimination."
So far, only 630 Vietnamese have agreed to return under the program of "voluntary repatriation." So Britain and Hong Kong have begun a new policy of forced repatriation. The first deportation occurred December 12, when 51 people were flown back to Vietnam after risking their lives to escape. Although temporarily halted, the program will continue, according to British Foreign Secretary Douglas Hurd.
There is no assurance that those returned will not be subject to reprisals, including imprisonment. Fleeing the country is defined as a crime under Vietnam's Criminal Code, with penalties ranging up to two years for "illegal emigration" (Article 89); and up to 12 years imprisonment for fleeing the country "with the intent to oppose the people's government," or life imprisonment in especially serious cases (Article 85). Vietnamese in Hong Kong are in a Catch-22 situation--in Hong Kong they have to prove to their interviewers that they fled for political not economic reasons in order to gain refugee status; but if returned to Vietnam they will have to prove to their interviewers that they fled for economic and not political reasons in order to escape more severe punishment. All this occurs during a mounting crackdown on dissent in Vietnam, which was launched by Communist leaders several months ago, apparently in reaction to events in Eastern Europe.
To protest this situation, Joan Baez and Ginetta Sagan have written an open letter to British Prime Minister Margaret Thatcher (which was co-signed by a number of people, including the editors of The Mindfulness Bell, and the national coordinator of the Buddhist Peace Fellowship).
It is our intention to publish this protest as a full-page ad in a Hong Kong daily newspaper. If you can help with this effort, please send a contribution to the Buddhist Peace Fellowship, P.O. Box 4650, Berkeley, CA 94704, earmarked for "Committee Opposed to Forced Repatriation." If you have friends in England, please ask them to write to Mrs. Thatcher to protest this. Many thanks for your efforts.
This report was written for The Mindfulness Bell by Stephen Denney, the editor of Indochina Journal.