A Retreat for Veterans of the Iraq and Afghanistan Wars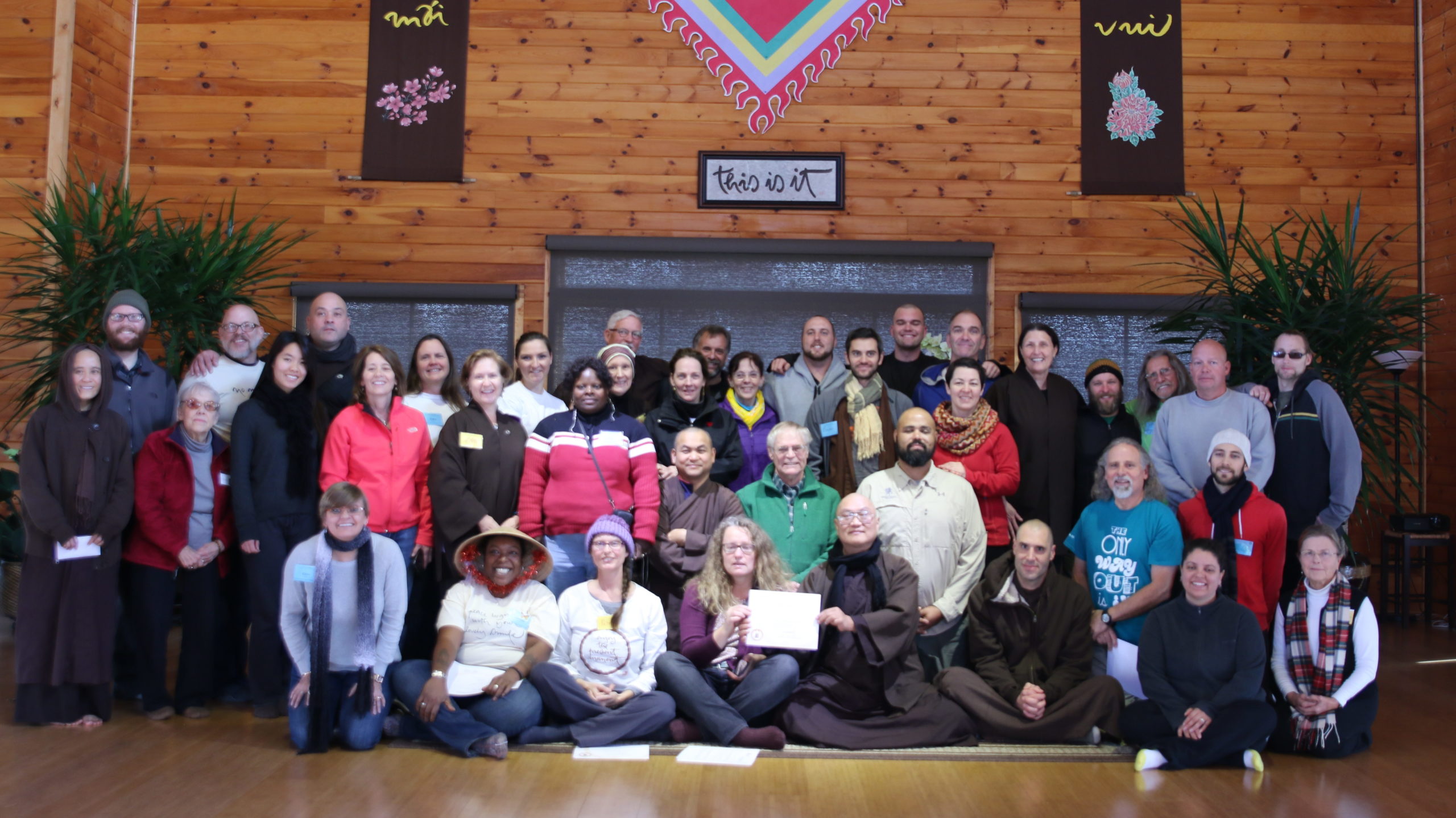 On an overcast day in November 2014, they began to arrive, sometimes alone, sometimes accompanied by a parent, a partner, or a sibling. Each in his or her own way was shrouded, tentative, and anxious. They had come to Blue Cliff Monastery from as far away as British Columbia, Tennessee, Ohio, and West Virginia.
Waiting to welcome them were Vietnam veterans, massage therapists, nurses, Reiki practitioners, and art therapists, all experienced in the Plum Village tradition. We had gathered in advance for a few days of practice, building Sangha and preparing for "Welcome Home: How to Truly Come Home," a retreat for veterans of the Iraq and Afghanistan wars. Above all, they were welcomed with the open arms and open hearts of the Blue Cliff monastic community.
Over the course of five days, the veterans and their family members were introduced to the healing mindfulness practices of the Plum Village tradition under the guidance of skillful facilita­tors: Brother Phap Uyen, himself a veteran of Desert Storm/Desert Shield; his monastic brothers and sisters; and Dharma teacher Jeanne Anselmo, a holistic nurse and biofeedback therapist of forty years. Together, we shared sitting and walking meditation, Dharma talks, mindful meals, and Dharma sharing. Each day, time and space were set aside for therapeutic body practices such as TRE (trauma-release exercises), Reiki, massage therapy, and trauma-sensitive yoga. Space was available throughout the retreat for those who needed time to share their stories or process their emotions, to sit with a practitioner and experience deep listening.
As each day dawned, it was as if the sun shone a bit brighter. Hoodies and sunglasses disappeared, and the one service dog in attendance was no longer by his vet's side. Faces brightened and smiles manifested. In five short days, those of us fortunate enough to be present witnessed the miracle of mindfulness unfold before our eyes.
On the last morning, concern arose when one of the vets was absent from the morning talk. Brother Phap Uyen found him enjoying walking meditation on the wooded trails, where the vet shared that he had never before experienced such total love and acceptance, and was having difficulty holding that emotion. Two of the vets discovered that their long drive home would follow a similar route, and they and their wives determined to make the return home a leisurely two-day trip together. Since the retreat, a number of the veterans have returned to Blue Cliff or visited Magnolia Grove Monastery, and they are in contact with one another via their own Facebook group.
All of this was made possible thanks to a grant from the Thich Nhat Hanh Foundation and the generosity of many Sanghas and individual practitioners around the world. With this financial support, every veteran and accompanying family member was able to receive a scholarship, without which they would not have been able to attend. As an expression of our gratitude, we invite you to enjoy a short film, made (with the veterans' permission) by a Sangha friend, at www.thichnhathanhfoundation.org.