By Maxine Hong Kingston
To write a scene, a story, or even a poetic moment of peace may not be easy to do. In the writing workshops that I share with veterans, most of the stories that come are traumatic scenes: a firefight where everybody except the writer is killed, going berserk in the vet hospital and breaking through a wall, giving orders for planes to bomb our own troops because the enemy is coming. It is easier to write about scenes like that than about moments of great joy because the habit energy of our culture tells us that the excitement of violence is more dramatic. Often people say, "Were you excited?" or, "That was really exciting!" We are addicted to excitement more than to calmness, ease, and peace. Violence, conflict, and excitement are what draw us to the movies, television programs, and books we choose. In fact, the whole point of the form of a novel is to lead to conflict and then resolution.
It is very easy to look over our lives and think of all the crises we have had. We think of those as times of growth. But what if you stopped and asked yourself, "When have I been happy?" It could be a childhood memory, but it would be wonderful if you had a happy moment yesterday, because that means that you are experiencing joy and delight now.
Please write a scene of joy. Find a quiet spot, breathe, and review your life. Think about a wonderful moment that has happened to you or that you have caused to happen in this world, a scene of delight, love, hope, or gratitude. When you put a great moment of joy into a story or poem, that joy is passed on to the reader who learns how to have that feeling through what is written. When we write our scenes of happiness and joy, we could be beginning a new kind of literature and changing the consciousness of what great art is.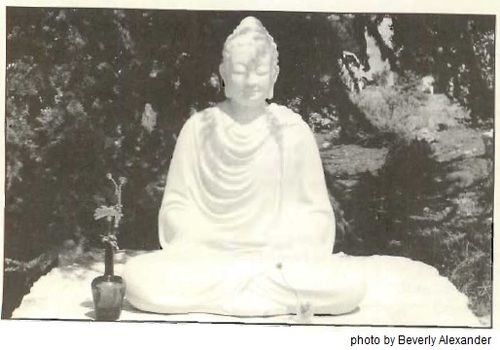 The words "love," "joy," "delight," and "beauty" are abstractions. You need to write in a way that makes this moment very concrete. Peace, joy, and delight take place in our physical body as physical sensations. When you think of this happy moment, can you remember how your body felt? Where did the joy take place? In your stomach? In your chest? Sometimes I feel as though there is sunlight in my body, and I feel rays of light coming out of my ch.est. I also feel joy and agony in my hands. You are the physical embodiment of those feelings. You feel them in all parts of your body. So when you describe these feelings, remember to describe the way your body felt.
This joy and happiness is not just in your body, it also happens in a place. Write about what is inside of you, and then also write about what is in your surroundings that gives you those feelings.
A scene of joy takes place in sequential and continuous time. When you write a scene, write about a series of moments. Don't skip forward or skip backward, just stay in that scene until you have described everything that contributed to the atmosphere. Use the senses of your body to see if your description is full and complete. Of all our sense organs, our eyes let in the most of the outside world. What does joy look like? Write down all the visual images that contributed to those wonderful feelings . What does peace smell like? What does it sound like? If there were people who contributed to the happiness, what did they talk about? What did you say that made everybody so happy? What tone of voice did they use? What does happiness feel like? There are times when the skin feels different, depending on what feelings and thoughts we're having. What does joy taste like? As you look through your scene, check it for all of these senses. These are ways that we perceive and interact with the real world.
Story is cause and effect. As you write, think about what causes this feeling. Sometimes we have a flash of great happiness or a vision that seems to come out of nowhere, . but there is a cause for our happiness. Keep looking at what caused what, and keep describing what happened.
Don't miss a moment of peace just because it is surrounded by unhappy moments. You may be able to find a diamond or a light of joy in the middle of a very traumatic moment in your life. My husband and I spend summers at the Grand Canyon and live with firefighters who often talk about being surrounded by fire. I know one young man who felt that there is a place of calm and peace even in the middle of a firestorm. It might have been inside of him or it might have been out there, but he was able to sit in the middle of the fire and write a poem.
One of the veterans in our writing group, Mike Wong, was a deserter during the war in Vietnam. He went to Canada and met American, Canadian, and Vietnamese draft resisters and evaders. Mike wrote a wonderful scene about a peace demonstration with his friends that turned into a sit-in in the middle of the street. These young men were risking deportation, arrest, and being put back in the army and shipped to Vietnam, but they sat in the middle of the street anyway. Suddenly, there was a moment of peace as the crowds went around them. In writing that scene, Mike described everything- the feel of the concrete street they were sitting on, the noise of the crowd, the excitement of the mounted policemen on their horses, the people shouting, "Take the street!" He wrote about the peacefulness and the great joy of things not happening-they were not arrested, they were not run down, they were not beaten up by the police-much like Thich Nhat Hanh's reminder to appreciate a non-toothache. Mike had the ability to show a great moment of peace right in the middle of violence and fear.
Many psychotherapists have believed that people need to go deeply into their traumas and wounds and talk about them. But lately, there has been some thought that it might be better to strengthen the positive, joyful aspects of life. I learned about this in my hometown of Stockton, California. Several years ago, a man came into a schoolyard with a machine gun and killed many Southeast Asian children. Afterward, therapists from all over the state came to help the children. The therapists wanted the children to talk about the man with the gun, about who was killed next to them, and so on. But the Vietnamese community in Stockton said they had their own way of handling it. They had Sangha meetings, meditations, tea ceremonies, and games. They constantly had joyful practices with the children.
Last Thanksgiving at Plum Village, Thich Nhat Hanh said to several of us, "Let go of your suffering. Don't be attached to the suffering." But we also remembered him saying at another time, "Stick to your suffering." I have come to the conclusion that there is no contradiction in these statements. In our writing and in our contemplation, we do both. There are times when we attach to our suffering, we feel it, we contemplate it, we breathe it, we hold it, we write about it, and we find words for it. We almost instinctively do that. But the idea of letting go of suffering is a really new thought. Instead of coming directly at that suffering, we can contemplate our joy. When we do this, peace and joy become solid and strong and suffering takes care of itself. Human joy is an advanced stage of our evolution.
Maxine Hong Kingston, winner of the National Book Award, is author of The Woman Warrior, China Men, Hawaii One Summer, and Tripmaster Monkey. She leads meditation and writing workshops for veterans of war.