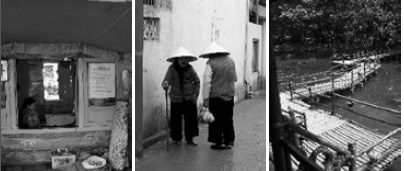 with Thich Nhat Hanh
With great joy we inform you that on February 20, 2007, Thây intends to start another trip to Vietnam, to heal the last wounds of the war. According to Vietnamese popular belief, a person who has died in despair, anger, and frustration cannot rest in peace and be liberated. In 2007, it will be 32 years since the Vietnam war ended; but the hearts of many people in south, central, and north Vietnam as well those of Vietnamese living abroad are not yet totally healed.
The two main aims of Thây in this trip are:To show his care and appreciation for the 450 young monastics in the two monasteries in Vietnam who have committed to practicing in the tradition of Plum Village (giving up bank accounts, jobs, houses, cars, motorbikes, cell phones, private e-mail, and living a simple life).
To heal the remaining wounds of the Vietnam war by organizing three Great Chanting Ceremonies in Ho Chi Minh City (Saigon), Hue, and The ceremonies will be led by many High and Holy Monks of each region, to pray for the liberation of those people who died tragically during and after the war. Thây will give a profound teaching every day during the Ceremony period so that understanding and liberation will be realized in the hearts of the relatives of the deceased.

The trip, from February 21 to May 9, will be divided into four segments. Each segment lasts 18 to 21 days, and you are welcome to join us for one, two, three, or all four segments. Our advance team of sisters will arrange for accommodations, vegetarian meals, and in-country transportation for all of us. Translation into English and French will be available for all of Thây's talks during the trip. See page 45 for a detailed itinerary.