In Loving Memory of Thay Giac Thanh
June 9, 1947 - October 15, 2001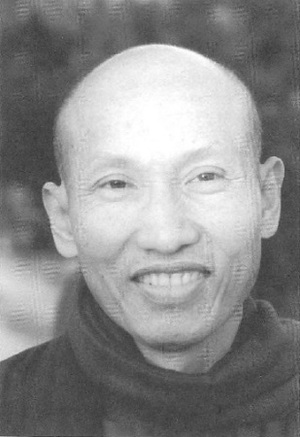 That you are a real gentleman is known by everyone The work of a true practitioner has been accomplished When you stupa has just been raised on the hillside The sound of children's laughter will already be heard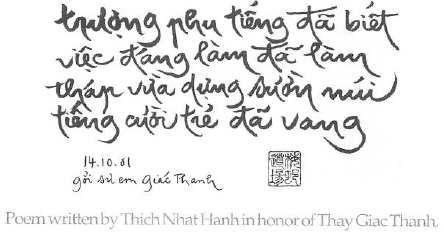 A Biography of Thay Giac Thanh
Offered by his Dharma brother Thay Phuoc Tinh from Vietnam at Deer Park Monastery on October 19, 2001, the day of Thay Giac Thanh's cremation. Thay Phuoc Tinh and Thay Giac Thanh ordained as novice monks together in Vietnam. Translated from Vietnamese by Chan Hao and Chan Tue Nang. (Some minor changes and additions have been made lor the English. version.)
Venerable Tam Tong, Chan Giac Thanh, Tram Nhien, birth name Le Van Hieu, was born on June 9, 1947 in the quiet and remote hamlet of Tra Loc, in Soc Son village, Tli Ton district, Rach Gia province. His father was Le Van Dat and his mother was Nguyen Thi Nho. He was the third child in the family of four sons and two daughters.
Like many other children in the countryside of Vietnam growing up in the great suffering of their country caused by wars and poverty, Thay Giac Thanh had to learn at an early age to follow his older brothers and sisters to gather food and catch fish. From this, his elegant face became golden-tanned by the tropical sunlight. In spite of his hardships, the seed of compassion had been present within him, perhaps for many lifetimes. At the early age of seven or eight, he shed tears when thinking of our small human life in the vastness of infinite existence.
Thay's stay in this little village ended when his parents moved to Rach Gia city. While in the city, he began learning to write his first alphabet. During this time there were some relatively peaceful periods without bombings and fighting, as a result of the Geneva peace accords.
As time passed, the little boy with the golden-tanned face from the remote hamlet of Tra Loc became one of the best students of Nguyen Trung Truc School, very intelligent and especially very brave. Perhaps he had inherited his bravery from patriot Nguyen Trung Truc. Thay Giac Thanh once expressed his love for his country in his first poem, "Crying for My Country."
My dear country
Loving you, I shed my tears in long and tranquil nights.
Country! What crime have you committed
That the devils have ill-treated you
Without compassion, sympathy, or human kindness?
They sold you to the Devil King.
Loving you, I would buy you back with my flesh and blood,
With my heart and mind and and with my whole body.
This body can become ash and dust
Yet I vow to clear the path for peace. (1967)
There is a saying, "Man should have a determination to penetrate the deep skies." If one does not want to be a speck of dust blown away by the whirlwind destroying one's own country, then one should not participate in the destruction. Better, one should be a lone traveler on the path of no-birth and no-death. Thay Giac Thanh turned his life towards cultivating his ideal of great compassion and liberation through inner discovery. In 1967, he became a novice monk at Temple Thanh Hoa, Tan My village, Cho Moi district, Long Xuyen province. His Dharma name, Giac Thanh (Awakening Sound), was given to him by his teacher, Venerable Pho Hue. Before becoming a monk he had lain awake crying for the suffering of his motherland. Now in the monastery he also lay awake feeling an emptiness in his heart and longing to find the path that would lead him to realize his true nature. Oh! He felt the path to realize the way is so far. He overcame worldly obstacles, left his hometown, learnt the ways of practice, attended retreats, and received the precepts and still he experienced the feeling of emptiness in his heart. He stayed in Temple Giac Nguyen (in Saigon) in 1968, and then in Temple Xa Loi in 1969. He was fully ordained in Temple Giac Vien in the autumn of 1970. In 1971, he attended the University of Van Hanh to further his studies in Buddhism. He also participated in talks on the Diamond Sutra given by Venerable Hue Hung from Temple Hue Quang, and in talks on Buddhist psychology given by Venerable Tri Tinh. He never stopped searching; wherever there was a talk by a well known teacher, he would be there. He said to his friends nowhere is there a program of practice which is as helpful as that which is followed at the monastery of Master Thanh Tu. And then he received further inspiration on his path when he came across the first book of rules and regulations for the True Emptiness Monastery, a book of guidelines for the monastic life at this particular practice center.
In the spring of 1974, he decided to leave the dusty city and to lay down his student pen. He returned to True Emptiness Monastery, entering his second four-year program. The days passed, listening to sutras in the morning, meditating in the afternoon, drinking tea, looking at dewdrops hanging from the leafy roof, and watching rays of sunlight shining and merging with the firelight in the hearth. The love from his brothers and receiving the Dharma milk of his old teacher on the peak of Tao Phung Mountain opened his heart and lit up the path for this young monk to come home. Thay Giac Thanh was a very good meditator and one of the most beloved elder brothers at True Emptiness Monastery. Almost everybody who had a chance to know him had beautiful memories of him. He offered love, tenderness and support to his newly ordained brothers and sisters. With his deep understanding and compassion, he created great harmony in the Sangha. For instance, in mid-1974, one of the brothers had to leave the monastery to become the abbot of Thuong Chieu Monastery. With some tea and some words of farewell, he was able to strengthen the brotherhood, and he artistically presented the cultural beauty of the art of drinking tea. The fragrance of that cup of tea seems to be very present still.
Once again Vietnam's history turned to a new page. After the spring of 1975, when the communists took over the whole country, the peaceful years at True Emptiness Monastery faded into the past. Everybody now had to work hard in the fields under the hot, burning sun. While working, Thay Giac Thanh sometimes stopped and asked the question, "One's awakening is not yet realized. Why should one waste one's precious life just to gain some food? My dear younger brothers and sisters, we should give ourselves time for reflection." Whenever there was an opportunity, he would contemplate with his little tea set, beside the bamboo grove in the front yard. Often at dawn and dusk, seeing the floating fog, he also felt a human love floating and fading away. He wrote:
As a human in this life,
I exist! I know how to enjoy tea alone.
Thirty years are like a dream gone by.
Day and night, the little teapot is my only friend. (1976)
In the winter of 1977, he left Thuong Chieu Monastery and build An Khong hut in My Luong village. This hut was made with bamboo leaves. Next to the hut was his small meditation space. The setting expressed the meditative taste of a Zen master with a simple and noble life, but it also expressed the artistry of a poet. After four years, he left An Khong hut as described in the last paragraph of the poem "Mong Vang Hoa":
I am a dusty world traveler In the infinity of time.
My mind seemed to get lost in the isolated island.
One morning, the island woke up.
Birds shouting, I hastily continued on my path.
The dusty life seems to be washed off
In the immense ocean of waves and water. (1978)
In July of 1981, he escaped out of Vietnam by boat to Indonesia. Like many other dangerous escapes of the Vietnamese, he was not able to avoid pirates. Seeing the cruel raping of women and grabbing of jewelry, angrily he said, "Do you have a heart? How could you be so cruel to your fellow humans?" The pirates were very angry and threw him into the ocean. Fortunately, the head pirate, in a flash of sympathy, tossed him a rope and pulled him up onto the boat. So the game of birth and death was once postponed.
Thay Giac Thanh was in Song La refugee camp in Indonesia from July 1981 to early 1982. He was sponsored by Venerable Thich Man Giac to come to Los Angeles. He spent his first refugee allowance of $300 to buy an expensive, antique tea set and some tea, and offered the first cup of tea to Venerable Thich Man Giac and said, "Dear Venerable, I am a wanderer. Loving me, you sponsored me to come here. I haven't done anything to show my gratitude. With my first allowance I bought this tea and I offer this to express my gratitude to you for your great care and deep love." What was the cost of a cup of tea? A small expense, but this action expressed the gratefulness of a young wandering man. The Venerable offered a cooling shade and a loving harbor for the wandering man. During Thay Giac Thanh's brief stay at Phat Giao Viet Nam Temple in Los Angeles, the Venerable, like a tender and caring mother, offered the loving energy which healed the wounds in the wanderer's heart. At the end of Spring 1982, Thay Tri Tue (one of the Venerable's students) visited the teacher. The Venerable told Thay Giac Thanh, "Thay Tri Tue from Nam Tuyen Temple (in Virginia) is very busy and there is nobody helping him right now. Could you please help him? You two brothers, live and practice together and keep each other company." Thay Giac Thanh lived happily with Thay Tri Tue in Virginia from 1982 to 1989. During that time, he also lived and practiced in Japanese, Korean, and Burmese practice centers. The appeal of a traveler's life faded, however, as his journey of coming home was still burning deep within him. Continuously he searched, knocking at different great teacher's doors, for the final breakthrough to penetrate directly into infinite space.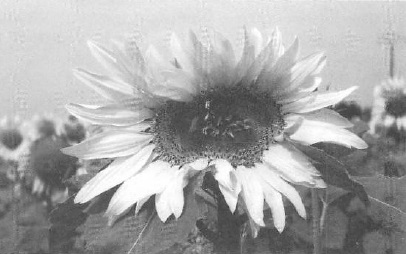 In one of the North American retreats led by Thich Nhat Hanh, seeing him practice with intense and strained effort, Thay Nhat Hanh said to him, "Thay Giac Thanh, you do not need to strive so much. Just be joyful and relaxed. Practice so that you can enjoy what is here in the present moment." These teaching words of Thay Nhat Hanh were like a few drops of water causing a full cup to overflow, like lightning penetrating deep layers of clouds and illuminating the immense sky. Since then, he stopped the search through strained effort. In the summer retreat of 1990 at Plum Village, the retreatants had a chance to practice with a Vietnamese monk, Thay Giac Thanh, with his beautiful smile  that expressed inner peace. In 1990, he began residing at Plum Village and there he lived happily with his teacher, Thay Nhat Hanh the old oak tree, and he himself became an oak tree protecting his younger brothers and sisters, young oak trees. He also led Days of  Mindfulness at the Cactus Meditation Center located near Paris, France. And he was called by a very poetic name, Thay Cactus. He was given this name because he looked after the Cactus Meditation Center, but it was an appropriate name for hjs permeating but gentle radiance and upright manner. In the summer of 1992, he received the Lamp Transmjssion to become a Dharma Teacher and a gatha from Thay Nhat Hanh. The gatha is:
The awakened nature is the true nature.
Pure sound is the manifestation of the Wonderful Sound.
The full moon's light illuminates Ty Lo Ocean.
The musical waves are still strong and sonorous.
And this is Thay Giac Thanh's insight gatha offered to his teacher and the Sangha at his Lamp Transmission:
Formless Samadhi
The limpid water on one side.
Yellow water on the other side.
All will return to sky, cloud,
Ocean and river
There is sunlight during daytime
And moonlight at night,
Shining my way.
Plum Village was a promised land for Thay Giac Thanh. In the past, the promised land had been a dream formed from his faith. Now the promised land was a cradle in which all of humankind's happiness could flourish, and was a field in which the seeds of compassion and understanding could be sown. Plum Village created a vast space in his heart so that the flower of wisdom could bloom. And with solid steps he fully entered life. He wrote a poem to express his respect and admiration for his teacher:
Just a thunder look
Can press down many great walls.
I bow my head to receive
And vow to keep (the teachings) life after life. (1991)
Perhaps the time he lived in Floating Clouds hut in Plum Village was one of the most beautiful times in his life. Thay Nhat Hanh offered him this small wooden hut on the forest edge, beside his own. All year round, one could hear the birds singing and see many different flowers blooming arollnd his hut. He liked the name Floating Clouds. He walked freely and solidly, and his smiles and words carried a profound peace to people around him.
In 1992, he was first invited to New York City to lead Days of Mindfulness. His presence helped strengthen the bonds with the New York Sanghas and a very special friendship blossomed between him and the Sangha members. In the autumn of 1995, he was invited again to New York and to other East Coast cities to lead various retreats. One thing is for sure, wherever he went -- France, America, Australia, Canada, Vermont, Deer Park -- from the beginning of his teaching to his last breath, all of us could receive his tender, fresh and peaceful energy. And he was respected and deeply loved by all of us.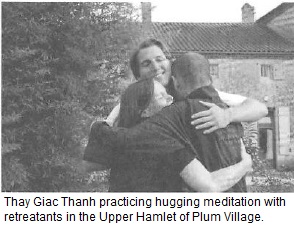 In 1995 he contracted tuberculosis and his diabetes worsened. With his mindful breathing he embraced his illnesses, which he had lived with since 1992 or earlier. He embraced and took care of his illnesses like a mother loving her child, never complaining no matter how demanding the child was. Many of our ancestors also faced challenging obstacles but took them as opportunities to realize full enlightenment. Similarly, even with these serious illnesses, Thay Giac Thanh could live peacefully and happily, and this was clearly expressed in his poems, such as:
Dharma Seal
Stepping out the land of reality,
Fresh beautiful flowers bloom everywhere.
Only one deep mindfulness shines through
And the three realms have been surpassed ... (1997)

Light of Winter
Facing white snow,
Suddenly,
One-self fading away
The whole universe
Turning info a great lamp. (1998)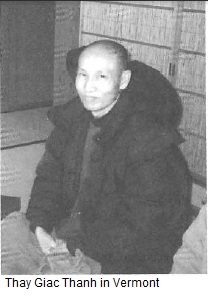 In 1997 Thay Giac Thanh became Head of Practice at the Maple Forest Monastery at the Green Mountain Dharma Center in Vermont, the first American off-spring from Plum Village, and offered a stable and joyful presence for the young brothers and sisters and lay practitioners practicing there. A few years later in early 2000, some of the Plum Village Sangha members began looking for property to start a West Coast monastery. Acquiring the land for Deer Park Monastery, and then becoming the abbot of the Monastery, Thay Giac Thanh knew that this place would be the last one of his life. Therefore, he used all of his remaining strength to build this place in showing his gratitude to his most respected teacher. Since last year, his illnesses became seriously life-threatening, and finally, like the cycles of birth and death of all phenomena, he returned his impermanent body to Mother Earth. Thay Giac Thanh arrived in Deer Park Monastery in the summer of 2000 and left us in the autumn of 2001. His stay at Deer Park was very short compared to an average human life span, and nothing compared to the age of stars and moons, but his accomplishment is great and that has entered into the hearts of all of us. A kind, gentle and loving voice, a joyful smile until the end of his life, a deep and clear wisdom and great compassion, and peaceful steps, all revealed his profound understanding of no-coming, no-going. And that is the greatest gift he has offered to his brothers and sisters and to the Sanghas all over the world. As the Arahats said upon entering Nirvana, "The most important task has been completed."
He is truly a Dhanna Teacher of many Western and Vietnamese practitioners. Although he passed away, he has transformed to be one with us. His words are like essential keys to open the door to one's wisdom, happiness and compassion, especially his last Dharma talks in the Full Moon Meditation Hall. How deep his words are! He is the most loved elder brother. Each of us remembers him in our own way. He is a brother, protective, sometimes strict. He is a mother, loving and caring for us. He is a friend, opening his heart to us. He loved his brothers and sisters wholeheartedly. He is a meadow, full of exotic, simple and beautiful flowers and grass, in which each one of us can play freely. Being with him, we see ourselves disappearing and merging with him, like a river merging into the ocean. And we all think it is very difficult to find another elder brother like him. Here are a few lines from a poem written for his younger brothers and sisters:
Please do not scold or condemn my younger brothers and sisters.
Because I am afraid that the gray color of sadness and heartache
Will encase their innocence and clarity. (1991)
Thay Giac Thanh was also a student with deep gratitude; he always did his best to help his teachers in spreading the teaching, even when he was very sick.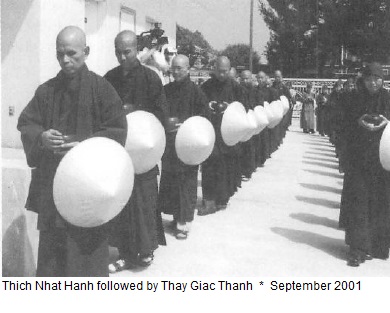 In his first return to Vietnam, in 1992, his old friends were very surprised by his simplicity, and they could not believe that he had experienced great suffering, disappointments, many ups and downs, profound transformations, and attained great wisdom and understanding of the Dharma from inspiring teachers. Wearing the brown Tiep Hien jacket and carrying his monk shoulder bag, he traveled humbly without formal welcoming or farewells. With his gentle smiles, he overcame all the political obstacles he encountered while in Vietnam and therefore was able to successfully offer the Dharma and charity to many people there. Although he had a busy schedule, he still spent time with his relatives and old friends, monastics and non-monastics. He treated them with love from his whole heart. When they saw him again, they were deeply moved to tears. Before coming back to the United States, he searched for and bought a special tea set as a gift for his closest friend. Not many of his old friends were able to be with him in the hospital or attend his funeral, but the deep caring and love from those who were present revealed how much love he has given us. In his second return to Vietnam, in 1999, he told his friends, "I came back to visit all of you for the last time. I don't think that I will be able to make another trip." His words seemed like a joke, and nobody could believe what he said would be true. In this trip, one of his childhood friends helped him to fulfill his long-standing wish in helping his family.
He lived humbly, freely and with dignity. So beautifully he came and left. His life is like a pristine cactus flower blooming at night. He left a collection of over fifty poems, not yet published. These poems have been kept by his close friends. His early poems are full of romantic and poetic imagery, but his subsequent poems convey his profound wisdom and vast spaciousness of his heart. Close to death, he seemed to dwell more in the other realm, but when Thay Nhat Hanh spoke to him from Beijing the day before he died, he smiled and his face lit up, and he opened his eyes to receive his teacher's words. Thay Nhat Hanh read the poem he had just written in honor of Thay Giac Thanh (printed on page 22). Later he added these two lines:
One maple leaf has fallen down
And yet you continue to climb the hill of the twenty-first century with us.
Thousands of daffodils are beginning to bloom and the earth continues to be with the sky singing the song of no-birth and no-death.
Our ancestors said that once the most important task in life has been completed, one needs no longer return to this world. However, Great Beings come and go freely to continue the bodhisattva's work. Dear Thay Giac Thanh, we vow to be your companion on this path of love and liberation, life after life.