Documentary Film about Thay
Peace Is Every Step, the first wide-ranging profile of Thich Nhat Hanh, is nearing completion. After five years of independent production, filmmaker Gaetano Maida is in the final stages of editing. With extensive footage from Plum Village, retreats in the U.S. and Asia, an intimate interview, and archival footage from the past 30 years, the film promises to share Thay's teachings widely.
The film is a production of Legacy Media, and the Community of Mindful Living (CML) is the project's fiscal sponsor. A recent foundation grant served as impetus for moving forward with the final editing phase, but funds totaling $40,000 are still needed to complete the film. A portion of proceeds from broadcast and video sales will be contributed directly to Plum Village. If you can help realize the completion of this work, please send a tax-deductible donation to CML, P.O. Box 7355, Berkeley, CA 94707. If you know of any foundations, corporations, or individuals to approach, please let us know, and we can follow up directly or assist you in the effort. For more information, contact Therese Fitzgerald at CML: (510) 527-3751.
Resource Manual for Sangha Building
Two years ago, while recuperating from a broken leg, Jack Lawlor wrote a manual on how to create a happy Sangha. Several groups have already been helped by using this manual to form or rejuvenate their groups. Copies of Sangha Building: Creating Buddhist Practice Community are available for $ 15.00 ($20.00 outside the U.S.) from Lakeside Buddha Sangha, P.O. Box 7067, Evanston, Illinois 60201.
Bell Instruction from Plum Leaves
We are happy to announce that the recent issue of Plum Leaves, the Plum Village newsletter, offers guidelines for inviting the bell to sound. If you would like a copy, please contact Plum Village or Community of Mindful Living.
Manzanita Raffle
A half-acre plot in the rain forest of Costa Rica will be raffled this May to support Manzanita Village in southern California. Tickets are $50 each. Please send checks payable to Ordinary Dharma, 247 Horizon Avenue, Venice, CA 90291.
New Buddhist College
Sharpham College will open in England this September integrating Buddhist studies and contemporary inquiry with community living, meditation, work on the land, and social projects. For information, contact Stephen Batchelor, The Sharpham College, Ashprington, Totnes, Devon TQ9 7UT, England. Fax (44) 1803 732 037, email 101364.537@comp.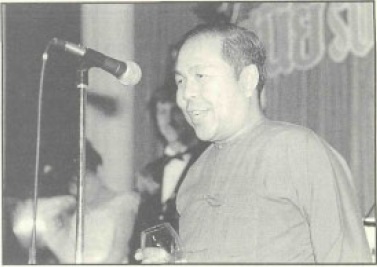 Sulak Wins Alternative Nobel Peace Prize
One of this year's Right Livelihood Awards was presented in Stockholm to Sulak Sivaraksa, leading Thai Buddhist activist, in honor and support of his offering practical and exemplary answers to the most urgent challenges facing us today. The jury acclaimed Sulak for "his vision, activism, and spiritual commitment in the quest for a development process that is rooted in democracy, justice, and cultural integrity."
Mountain Retreat Practice
Order member Herb Walters is planning a rustic retreat in the mountains of North Carolina to share spiritual practices he has learned from Native American traditions. Contact Herb at 278 White Oak Creek Road, Burnsville, NC 28714, (704) 675-4626
Pilgrimage to Close School of the Americas
Order of Interbeing member Greg Hessel will spend this winter walking from Washington, D.C. to Fort Benning, Georgia, to gather support for stopping funding of the U.S. Army's School of the Americas, that has trained many officers from other countries in war strategy. If your Sangha would like to organize a Day of Mindfulness for those walking, please contact Greg at HC 60 Box 50, Charlestown, NH 03603, (603) 543-0568.
Prisoner Correspondence
Prisoners seek to connect with Dharma friends. Please write to: DeVoil Devane II, P.O. Box 215, Maury, NC 28554; and Stanley A. Farley, NCCI-Gardner, P.O. Box 466, Gardner, MA 01440-0466.
Passages
Lex Hixon, author, teacher, and lecturer on Buddhism and many other spiritual traditions, died in November at his home in Riverdale, New York. He was 53. Robert Sycamore Winson, Zen student and poet, died in Santa Fe in October of a colon disease. He was 33. We wish these two good friends of Buddhism in the West a steady passage and extend our heartfelt condolences to their families.
Retreat Center Update
The Community of Mindful Living, with the help of the Washington Mindfulness Community and the Charlottesville Sangha, has been searching for land to begin a residential mindfulness retreat center in the Washington, D.C. area. We are presently looking at four properties, and by mid to late spring, we expect to conclude negotiations on one of them.
Since announcing this search less than two years ago, we have received hundreds of expressions of interest that a center dedicated to the practice of mindful living as taught by Thich Nhat Hanh be established here in the U.S. For more information or if you would like to share with us your own interest in such a center, please contact the Community of Mindful Living.
The acquisition price, plus the anticipated expenditures that will be needed for improvements and operations' shortfalls will be approximately $1.5 million. To date, we have received $250,000 in contributions and pledges. Tax-deductible donations to the "Community of Mindful Living," earmarked "Residential Retreat Center," will be deeply appreciated.
Help Wanted
When Parallax Press and the Community of Mindful Living offices relocate to the retreat center property in the Washington, D.C. area, perhaps sometime this summer, we will need additional staff. If you might be interested in applying for work in our publishing or administrative offices, please write to tell us about your interest.
In addition, Parallax Press is looking for a "chief operating officer." Inquiries or applications should be sent to Arnie Kotler, Parallax Press/CML, P.O. Box 7355, Berkeley, California 94707. Experience in publishing, management, and the practice of mindful living are essential.
New Order Members
We are pleased to welcome the following friends into the Core Community of the Order of Interbeing:
Plum Village, France-August 5, 1995 Margret de Beckere Irmgard Buck Richard Buck Phan Thi Chau Jane Coatesworth Steffi Holtje Annette Landgraf Reiner Landgraf Deanna Malago Iris Nowak Bettina Schneider Dave Tester
Saratoga, California -September 22, 1995 Dewain Belgard William Chan Nanda Currant Brooke Deputy John D'Zahrt Susan Murphy Nuba Shores Hannah Wilder
Rhinebeck, New York - October 8, 1995 Bill Alexander Jeanne-Marie Anselmo Dai-En Bennage Tom Childers Cindy Cowden Susan Deakins Meg Dellenbaugh Mair Honan Monica Hoyt Patricia Hunt-Perry Patrecia Lenore Tonia Leon-Hysko Sandra Oriel Linda Parker Leslie Rawls
Oakton, Virginia - October 11, 1995 Nguyen Hoang Hai Pham Nguyen Thi Lien Nguyen Hoang Hieu Tran Kim Que Nguyen Van Vien Trinh Ngoc Dung Nguyen Khac Luan Vo Dinh Quang