For "People in Sorrow"
By Karen Hilsberg and Peter Kuhn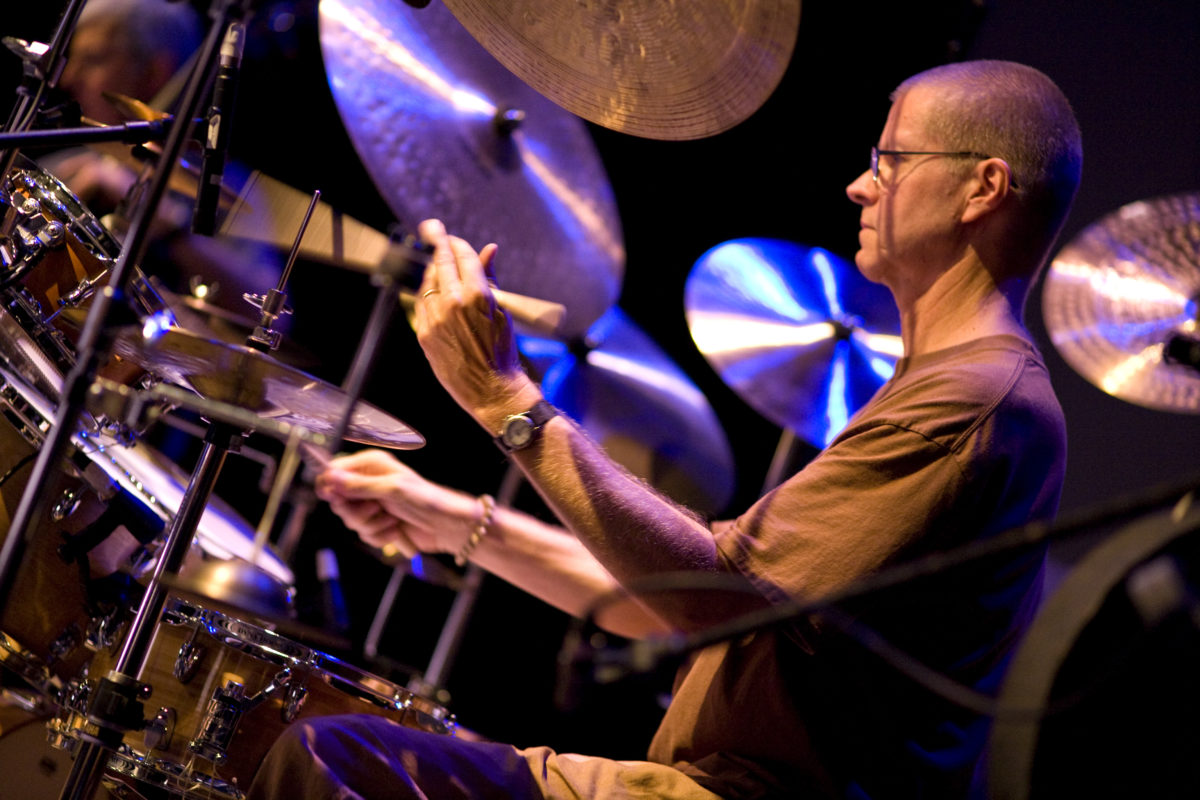 On October 2, 2011, in downtown Los Angeles at the REDCAT (Roy and Edna Disney Cal Arts Theater), an unusual fusion of jazz legends and the Plum Village Sangha converged. The occasion was the world premiere of "For People in Sorrow," arranged by Alex Cline (True Buddha Mountain). Cline, a world-class percussionist and composer, has been working for years to integrate elements of his mindfulness practice and our spiritual tradition into cutting-edge musical expressions.
Dharma teacher Larry Ward offered an opening benediction in the form of his poem, "A Wild Thing," written for the occasion. The concert was attended by many friends from local Sanghas as well as by luminaries in the jazz community, including Roscoe Mitchell, whose composition "People in Sorrow" received Cline's new treatment. Sister Dang Nghiem, a Dharma teacher and friend of Cline and his family, contributed a Vietnamese chant which was recorded in advance and projected on a large screen above the eleven-piece band. In Cline's words, "After accepting my rather unusual invitation, Sister D (as she's known) chose to chant the following verses, presented here in English translation: a gatha for listening to the bell and the Verses of Consecration used as part of the Ceremony for Closing the Coffin."
Listening to the Bell
Listen, listen,
This wonderful sound brings me back to my true home.
Verses of Consecration
This water's shape is round or square
according to the container that holds it.
In the spring warmth, it is liquid; in the winter cold, it is solid.
When its path is open, it flows.
When its path is obstructed, it stands still.
How vast it is, yet its source is so small it is difficult to find.
How wonderful it is in its streams which flow endlessly.
In the jade rivulets, the footprints of dragons remain.
In the deep pond, water holds the bright halo
of the autumn moon.
On the tip of the king's pen, water becomes
the compassion of clemency.
On the willow branch, it becomes
the clear fresh balm of compassion.
Only one drop of the water of compassion is needed,
and the Ten Directions are all purified.
Cline was inspired to rework this piece, which orchestrated a rich blend of composed and improvisational sections, in honor of the original composer, Roscoe Mitchell. "People in Sorrow" was first performed by the Art Ensemble of Chicago in 1969. It profoundly expanded the language of modern jazz, utilizing a wide range of small sounds and percussion to create layers and subtleties of expression that helped define a new era of post-Coltrane modernism. It clearly made a strong impression on young Alex, who was a teenager at the time.
Cline recalls when he first heard "People in Sorrow" on the LP of the same name and, in the concert's program notes, he also reflects on the genesis of the current project and the connection between being a jazz musician/composer and a student of the Buddha.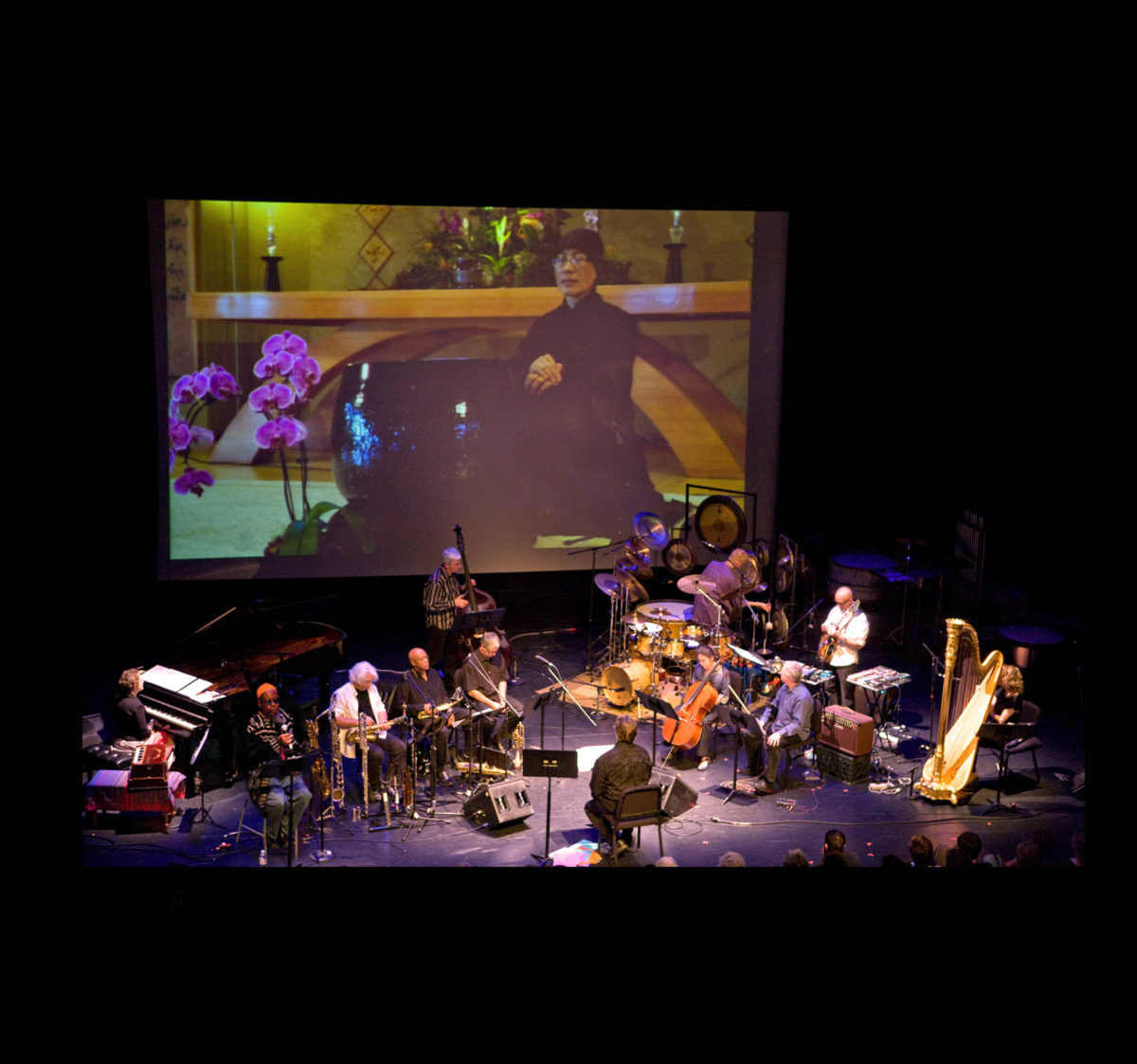 "[When I first heard Mitchell's piece, it] was an unprecedentedly miserable time of my life, but it was also an exciting time, as I was hearing a lot of creative music, most of it in the 'jazz' genre, that was tremendously inspiring to me, something that awakened in me a sense that perhaps there was something akin to a greater purpose in life and which I feel ultimately contributed heavily to my surviving that otherwise grim period.
"The music itself became like some sort of raft carrying me safely across seas of my own bitterness and confusion or a torch lighting the darkness. …While I didn't know what inspired Roscoe Mitchell to title his piece 'People in Sorrow' (and I still don't), as I listened to its meditative and poignant collective creativity I felt in touch with both my own suffering as well as the world's, and was somehow consoled by the beauty and immediacy of the music at the same time. For me, 'People in Sorrow' was one of the deeply influential musical performances I experienced at the time that served as a potent example of magnificent validity of free improvisation and of the transformational power of music.
"Today, as a musician who chooses to follow in the footsteps of the many great artists who inspired me so many years ago and continue to do so, and as a person who aspires and practices to understand and ultimately transform suffering, this occasion holds special significance for me. Performing this piece offers me a unique opportunity to enable and enjoy an overt confluence of the streams of both my musical and spiritual practices.
"I bow deeply and humbly in gratitude and offer this music to all who suffer, to all people in sorrow, that all may embrace and transform their suffering and find peace, healing, and happiness, the true happiness that our suffering helps make possible."
The performance was not foot-tapping music. The listener was asked to let go of his or her notions of what can be defined as music or beauty, and to embrace the offering as practitioners learn to embrace all that arises in meditation. Letting go of conditioned responses and suspending judgment, the unfolding transformations of the theme created a visceral experience that was transcendental for some listeners. The all-star ensemble created a musical tour-de-force in celebration of Cline's deepening practice and engaged life. Mr. Mitchell, who shared the concert bill, expressed his humble appreciation of the tribute and was obviously moved by the performance.
The ensemble featured: Oliver Lake (saxophones, flute), Vinny Golia (woodwinds), Dwight Trible (voice), Dan Clucas (cornet, flute), Jeff Gauthier (violin), Maggie Parkins (cello), Mark Dresser (bass), Myra Melford (piano, harmonium), Zeena Parkins (harp), G.E. Stinson (electric guitar, electronics), Alex Cline (percussion), Sister Dang Nghiem (chant, bell), Larry Ward (opening poem), and Will Salmon (conductor).
The CD/DVD "For People in Sorrow" will be released in March of 2013 on Cryptogramophone Records.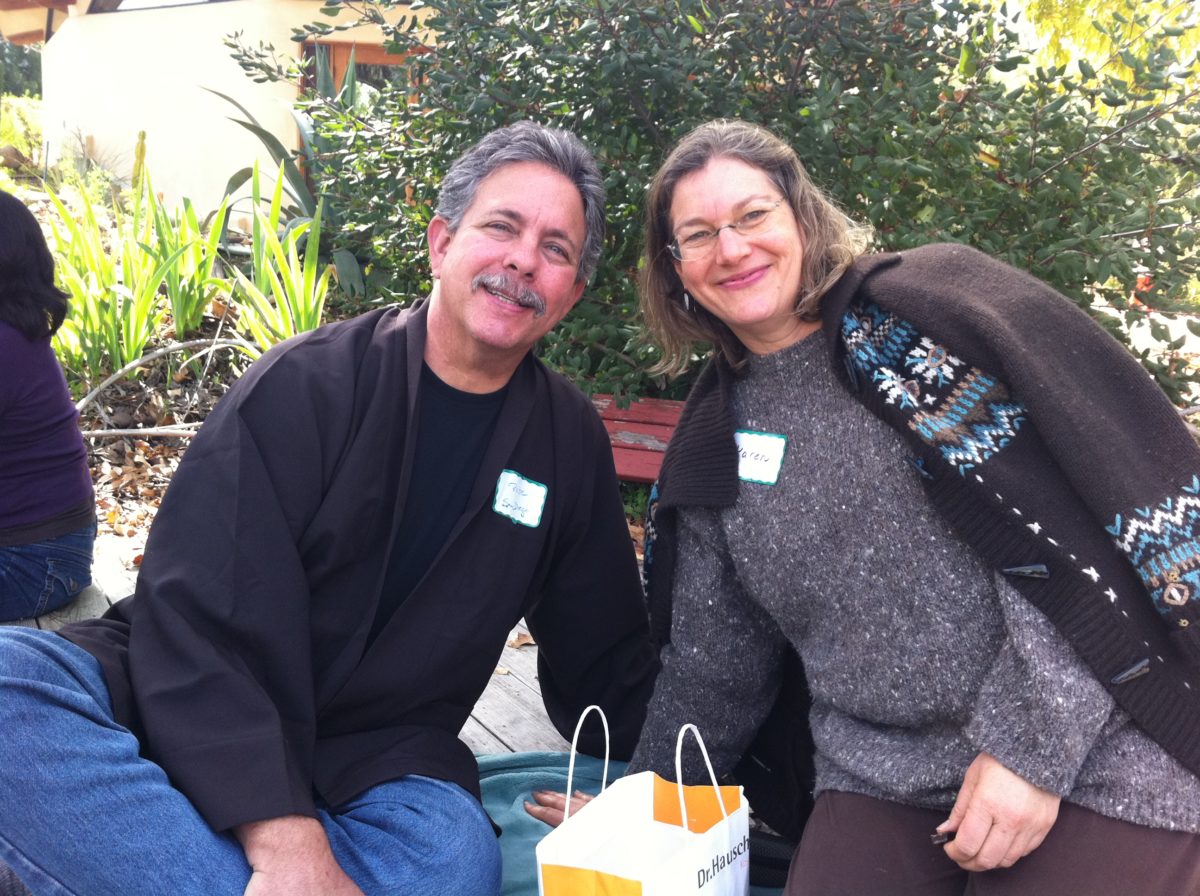 Karen Hilsberg, True Boundless Graciousness, works as a psychologist in correctional mental health at Los Angeles County Women's Jail and is a founder of the Organic Garden Sangha in Culver City, California.
Peter Kuhn, True Ocean of Joy, practices with the Shared Breath Sangha at Donovan State Prison and Open Heart Sangha in San Diego, California. He coordinates "True Freedom," a prison Dharma sharing (pen pal) program, and recently started a twelve-step Zen group.