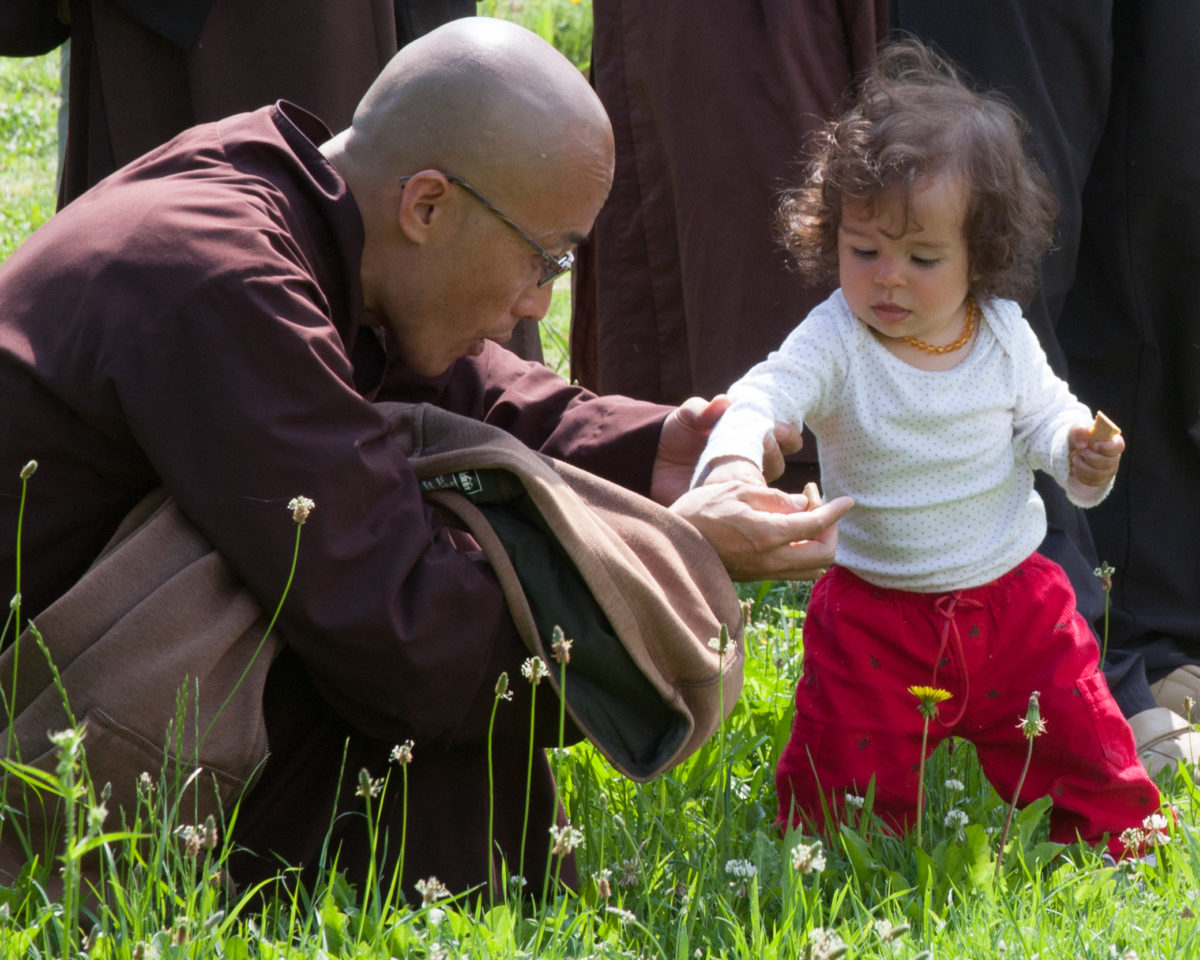 One time, when I was teaching Pebble Meditation to a room of forty or fifty children, things did not go as planned. The children were of mixed ages from toddlers to older teens, with a group of four to five young boys who seemed bored with the sharing and more interested in distracting me. I was close to each one of them, had cared for and played with them separately when they would come visit the monastery with their families. It was very hard for me because as a group they were interrupting me as soon as I shared. The disruption affected the other kids as well. Sweat formed on my forehead and everyone in the room realized we had a difficult situation. All were waiting to see if someone could restore calm. Because I was close to the children, I didn't want my monastic brother who was also present to remove any of them from the room. Yet I felt betrayed by these young boys. They were embarrassing me in front of everyone, and I felt hurt and angry.
As I raised the pebble for the third time and said, "This first pebble represents a flower, our capacity for 'freshness' inside," the distraction became unbearable. With sweat still running down my face, I dropped my arms, closed my eyes, and began to follow my breathing. I let go. The situation was beyond control. The room quieted and everyone waited for me to speak again. I felt the heat inside of me slowly cooling as I recognized my anger and my hurt. I said, "Breathing in, I am hurt. Breathing out, it is okay to be hurt." My monastic sister invited the bell. "Breathing in, I feel betrayed by my friends. Breathing out, I smile to them with love and understanding." I continued with this type of guided meditation for a while, acknowledging my feelings and especially acknowledging what was happening in the room. Everyone knew what was happening, but no one knew what to do.
When the situation was acknowledged with respect, something changed. In Thay's words, we had called the situation by its "true name." The boys were recognized. They got their attention from the group, but they also got something else—the recognition that they were interrupting the group. I felt that they understood this because their body movements began to change. They straightened up; they quieted down; and they began to listen and pay attention to what was happening in the group.
That morning session turned out to be about dealing with our emotions and challenges, rather than about pebble meditation. We asked the children how they felt when other kids were creating a distraction and how they deal with themselves when they are annoyed or upset. It turned out to be an enriching experience for all of us.
Reflecting back now, I see that we should have foreseen the need to split the group into two and deal with the boys earlier. I also see that I held on to a notion about how that morning should have been. I resisted what was happening in the present moment and forcefully tried to create my idea of how things should be. I didn't respect my feelings. We could have asked the boys to leave the room and everything might have gone as planned. But this experience was a gift for me, because I learned that the transformation that happens in my mind when I sincerely recognize and respect my present moment as it truly is—whether that moment contains sadness, anger, or other feelings—also happens in the collective mind of the group.
Reprinted from Planting Seeds: Practicing Mindfulness with Children (2011) by Thich Nhat Hanh and the Plum Village community, with permission of Parallax Press, Berkeley, California, parallax.org.