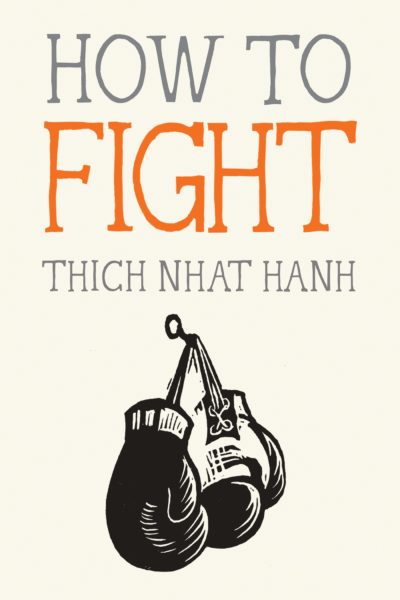 by Thich Nhat Hanh
Parallax Press, 2017
Paperback, 125 pages
Reviewed by Zachiah Murray and Natascha Bruckner
With the clarity and accessibility of his words, Thich Nhat Hanh enters the ring to meet conflict like a seasoned spiritual athlete. Going beyond the lessons of renowned fighters—such as Muhammad Ali's "float like a butterfly, sting like a bee"—Thay shows us the way to become a bodhisattva and to truly see.
From his intimate practice of embracing his own difficult emotions such as anger, frustration, and disappointment, Thay becomes our coach, offering insights and practices we can apply to our lives right now. He helps us recognize that it is wise to stay close and encourages us not to push anything away. He trains us to view our anger not as an enemy but as an ally to help us reach greater understanding and compassion. In fact, compassion and insight replace conflict and violence as we learn to gently embrace our anger instead of denying it, fearing it, or being ashamed of it.
In this book, Thay offers a wide range of useful practices and meditations in short, easy-to-read passages. He addresses the types of troubles we all face and offers ways to take skillful action—for example, what to do when someone says something unpleasant to us, how to tell the truth, how to reconcile with those who have died, and how to defuse the bomb of anger within ourselves.
The latter part of the book is a wonderful resource of practices for peace and reconciliation. In addition to giving instruction on deep listening, belly breathing to calm strong emotions, and other inner practices, Thay also shares essential methods for peacemaking with ourselves and in our relationships: the six mantras of true love; meditation on the five-year-old child; beginning anew; using a peace treaty; writing a love letter; and hugging meditation.
How to Fight is a treasure full of gems awaiting our discovery in learning to deal with difficult situations and emotions, and helping us to bring more peace to our relationships while opening the door of our heart to greater inclusivity.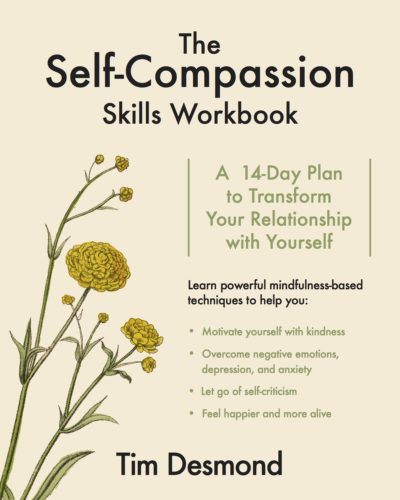 The Self-Compassion Skills Workbook
A 14-Day Plan to Transform your Relationship with Yourself
by Tim Desmond
W. W. Norton & Company, 2017
Paperback, 192 pages
Reviewed by Gijs "Jazz" Van den Broeck
Today's highly competitive and performance-oriented society leaves many of us struggling with strong feelings of self-criticism and self-contempt. The way many of us were raised, 'self-compassion' may even sound like a bad thing. However, as we all know, self-compassion is an essential part of mindfulness practice. Following the groundbreaking work of Buddhist-inspired researchers such as Kristin Neff and Paul Gilbert, self-compassion is becoming a more and more important topic in modern-day psychology.
Tim Desmond is a psychotherapist and Plum Village practitioner. He published his first book Self-Compassion in Psychotherapy in 2015 and now comes the follow-up: The Self-Compassions Skills Workbook. While the first book focused on how to apply self-compassion in the context of psychotherapy, the latter offers us a step-by-step guide to develop it ourselves.
The book begins with an explanation of what self-compassion is and what it is not. It goes on to show that self-compassion can be developed like any other skill. The main part of the book consists of the Map to Self-Compassion, a series of eight simple exercises we can use to grow our self-compassion. This is a fourteen-day plan that can have a deep and lasting effect on our lives.
It is firmly grounded both in scientific research and Tim's own mindfulness practice. It gives us not only an overview of the facts and figures, but also shows us the deeper meaning and transformative power of self-compassion in our lives. The final chapters offer us a tentative look into how we could apply self-compassion in all aspects of our lives and what a truly self-compassionate life might look like.
The exercises are very simple and scientifically proven to be effective if practiced consistently for a period as brief as two weeks. It is a must-read for people who struggle with their inner critic, and it is also worth a look for those who, at first glance, do not seem to have an issue with this. The language of the book is secular and concrete, so you can even recommend it to people with no practice experience. Surprisingly simple, but profoundly transformative!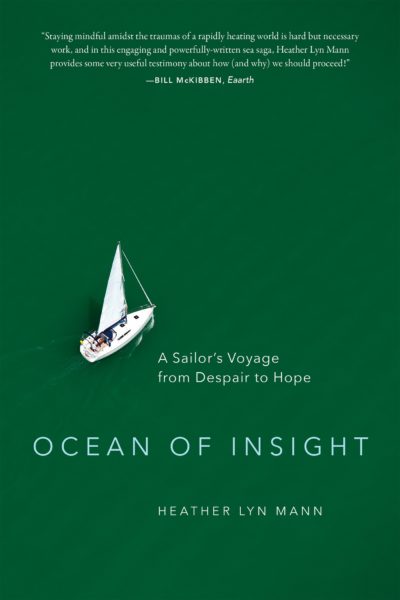 A Sailor's Voyage from Despair to Hope
by Heather Lyn Mann
Parallax Press, 2016
Paperback, 304 pages
Reviewed by Harriet Wrye
Buckle your life vest for an extraordinary read: an ocean odyssey aboard the Wild Hair, Heather Lyn Mann and her co-captain husband Dave's forty-five-foot long sailboat. This book is a riveting adventure story, a journey into the depths of the soul, a metaphor for a life-altering passage, and a fascinating experience in the mindfulness classroom of 'the "Great Atlantic Teacher"' from whom Heather learned her life lessons.
Heather had been experiencing burnout as a Wisconsin-based environmental activist when she met Thich Nhat Hanh in 2003. Thanks to this meeting, she began a life-altering pilgrimage that took her from the exhaustion of fighting in the political trenches into a soul-searching quest for emotional recovery. Aboard the Wild Hair, Heather sought to repurpose her life's passionate commitment to saving our earth from climate collapse.
Passionate but not yet truly experienced sailors, she and Dave created their sabbatical journey seven months per year over six long winter seasons. Accompanied by their nautical cat Dinghy, they sailed from Florida across the Gulf Stream through the Virgin Islands, and east and south through the Caribbean island chains.
Heather narrates these years in stunning prose, describing cliff-hanging perils, nearly fatal experiences, and a terrifying encounter with pirates. She chronicles their adventures and includes descriptions of the idyllic bliss that only sailing on the turquoise waters of a wide and beautiful sea can provide. Based on insights gained from her travels, Heather concludes most of the chapters with a section of deep reflection about the nature of reality and gathas for meditation so readers can test and apply lessons learned to their own lives.
In addition to a great travelogue, a Buddhist pilgrimage, and a discourse on climate change and ecology, Ocean of Insight is also an inspiring love story. Heather and David share the story of their devotion, teamwork, vision, and grounded relationship on the high seas.
I hope readers will follow Heather's odyssey and onwards, and join her enlivened commitment to the Earth Holder Sangha and its mission to wake the international Plum Village mindfulness community to our individual and collective interbeing with this precious and fragile planet.