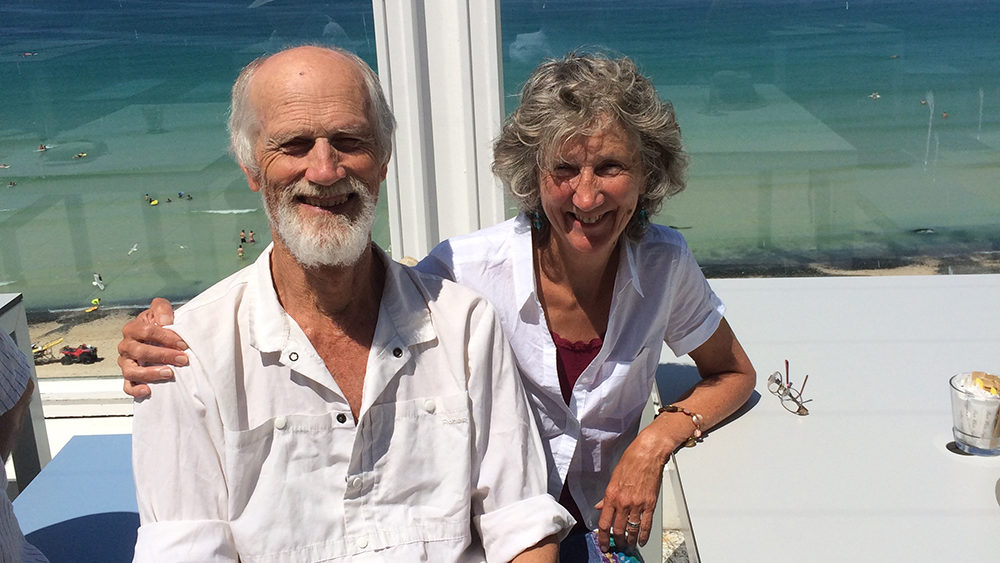 I'm standing in the old phone box at Lower Hamlet, the one that used to be by the bookstore under the tall oak trees. I am talking to my mother in Colorado, who has mild dementia.
"Mom, I've met somebody, and I like him a lot. He's from England, and I met him in Scotland. We've come to Plum Village together."
"I'm so happy for you!"
"He's handsome and charming. And fun to be with."
"How old is he?"
"He's fifty-nine."
"Oh ..." Her voice drops. I know right where her mind has gone. When I was young, I had two long-term relationships with older men, neither of them fortuitous.
"Mom, I'm fifty-seven now."
"That's all right, then!" she says and laughs, relieved.
I'm relieved too. An appropriate, possibly healthy relationship has been a long time coming.
In our Western culture, sexuality is the cause of much suffering. It certainly has been for me. As a woman raised in the 1950s and coming of age in the 1970s, I received many mixed messages: be pretty and defer to boys but be strong and independent, flaunt your sexuality but save yourself for the man you marry.
From early adolescence, my budding sexuality was tinged with shame. I didn't know what to do with the new sensations, this strange and unexpected pleasure in my body. So, I did what was expected of me as I understood it: first I didn't have sex at all, then I had too much.
There followed twenty years of sexual activity, including some promiscuity and experimentation, and two long-term relationships with older men, both nineteen years older than me. A lot of it was pretty miserable. Looking back, I can see that I was not present in my body. I was mostly doing what I thought I was supposed to be doing, what I thought men wanted from me, in order to get love. This gave me a sense of power, but I experienced little pleasure and hardly any real intimacy.
Intimacy requires emotional maturity, a sense of self and of the other as sacred. It requires what Thich Nhat Hanh calls mindful body and embodied mind. I believe that this is what the Fourteenth Mindfulness Training attempts to spell out.
I've heard practitioners, especially young people, complain that the third of the Five Mindfulness Trainings and the fourteenth of the Fourteen Mindfulness Trainings entitled True Love are restrictive and old-fashioned, even puritanical. As Thay has said, the trainings are not commandments but rather guidelines pointing us in the direction of right action As I see it, the fundamental guideline with regard to sex is "do no harm."
When I was in my late thirties, after yet another disastrous relationship, I realized I had a problem. The problem wasn't the men, whom I'd been blaming for years, it was me. I was harming myself. By the grace of God, I found a Twelve-Step program called Sex and Love Addicts Anonymous. There, week after week, in small groups of strangers, I started to delve deeply into my suffering. By listening to others and sharing my own stories, I peeled off the layers of anger and self-loathing, of confusion and shame.
To help me focus on my healing and recovery, I eventually took a vow of celibacy. I expected it to last for a year, maybe two, not twenty.
I left SLAA after a few years. A circuitous journey led me to Thich Nhat Hanh and Plum Village. I took the Five Mindfulness Trainings and then the Fourteen Mindfulness Trainings. It was not a challenge for me to apply the training on True Love. By then I had become something of a prude. I lived a rich and fulfilling life as a single woman and sanctimoniously looked down on sexually active single women. Sometimes I longed for a partner, and I was sad that I had never found someone to have children with. But mostly I just got on with my life.
Except for a fling or two, I would be celibate for twenty years before I met my Englishman in 2010. He was gracious, kind, and athletic. He wanted sex. I obliged but something niggled at me. It was that, because of my history, I didn't trust myself and because of the extensive revision by Thay and the sangha in 2009 and 2012 of the mindfulness training on True Love, I had to think about certain aspects I had not considered before. Still we carried on (and I must admit that it was more conscious and more fun than when I was younger). What was missing for me, however, was a deeper kind of commitment.
At the twenty-one-day retreat in 2009 when Thay presented the new and improved Five Mindfulness Trainings, there was a lot of conversation about this phrase: "I am determined not to engage in sexual relations without true love and a deep, long-term commitment made known to my family and friends." Many older practitioners, especially among my French friends, objected to it, some saying that they were mature enough by middle age to know what was right in relationship without needing the sanction of others.
The following year, in the bloom of my new love affair, I had a profound experience of the value of that guidance. After visiting Plum Village together, my lover and I ended up in Colorado. One warm evening in September, we sat on my mother's flagstone patio under the maple tree, with a dozen friends and family members. The meal had been congenial, the conversation lively. I looked around at these old friends, at my mother and sister, at the quiet man at my side. Happiness flowed through me. Without any words being explicitly spoken by anyone, our commitment to each other had been sanctified.
A few months later we were married, in that same house, with those same loved ones and more around us.
The story does not end there, however. As Jack Kornfield has said, marriage is not a one-time commitment; we recommit every day, every moment. Nor is it an easy path. I have had to look deeply at my fears and shame around sexuality, at my resistance to intimacy. In recent years I have found other teachers to help me in this specific area, and for that I am deeply grateful.
Sexual energy is immensely powerful. It is the mysterious, miraculous force that brings each new human life into the world. I believe it is also the source of creativity, inspiration, innovation. It is what connects me viscerally to what Thay calls the wonders of life, to the Earth herself.
At last, in my sixties, I am learning to treat my body—including my sexuality—"with compassion and respect." I can exult in my body, feeling intense pleasure, and I know that my body is an incarnation of the divine, a microcosm of the Earth. As Thay writes in Love Letter to the Earth, "When we look into our own bodily formation, we see Mother Earth inside us.... Once we have this insight of interbeing, we can have real communication with the Earth. This is the highest possible form of prayer." The experience of each vital energy—breath, spirit and sexual energy—is communion with God.
Sexuality is inherently innocent, beautiful, playful. The problem is the overwhelming power of desire and attachment. In his book Sexuality in Classical South Asian Buddhism, José Cabezon writes that experiencing pleasure "creates a predisposition to desire that pleasure again—to put ourselves, consciously or not, in situations where the pleasure can once again be enjoyed. The greater the pleasure, the stronger the imprint it leaves on the mind, and the more likely we are to seek it anew. And the more often we experience the pleasure, the more this becomes an ingrained psychic pattern. All sense pleasure is in this sense addictive."
For all of us, the world of sensual pleasure is a garden of delights—delights to which we can easily become addicted. Our ongoing aspiration as practitioners is to free our consciousness from attachment, and to learn how to prevent our attachments from hurting ourselves and others. Paradoxically, as Thay has been teaching us for decades, we do this by bringing our awareness fully into our bodies, our breath, our minds, and the world around us.
When approached with the wisdom and compassion contained in the Fourteenth Mindfulness Training, sexuality can be an integral part of our path of awakening. Embodied awareness of our sexual energy can help us live fully into true intimacy, joy, and freedom.