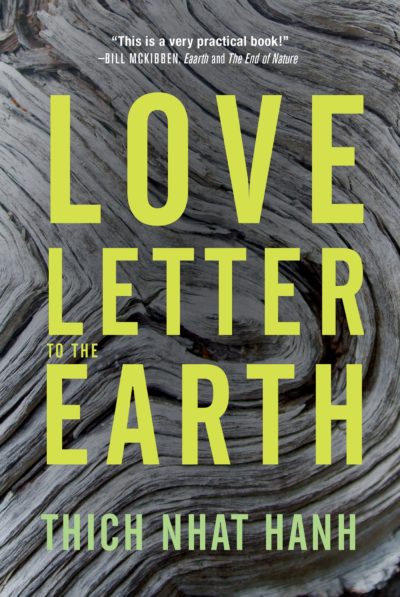 Love Letter to the Earth
While many experts point to the enormous complexity in addressing issues ranging from the destruction of ecosystems to the loss of millions of species, Thich Nhat Hanh identifies one key... Read More
Free U.S. shipping on orders above $30.
While many experts point to the enormous complexity in addressing issues ranging from the destruction of ecosystems to the loss of millions of species, Thich Nhat Hanh identifies one key issue as having the potential to create a tipping point. He believes that we need to move beyond the concept of the "environment," as it leads people to experience themselves and Earth as two separate entities and to see the planet only in terms of what it can do for them.
Thich Nhat Hanh points to the lack of meaning and connection in peoples' lives as being the cause of our addiction to consumerism. He deems it vital that we recognize and respond to the stress we are putting on the Earth if civilization is to survive. Rejecting the conventional economic approach, Nhat Hanh shows that mindfulness and a spiritual revolution are needed to protect nature and limit climate change.
Love Letter to the Earth is a hopeful book that gives us a path to follow by showing that change is possible only with the recognition that people and the planet are ultimately one and the same.
Additional information
Additional information
| | |
| --- | --- |
| Weight | N/A |
| Dimensions | N/A |
| Format | Paperback, eBook |
| Pages | 144 |
| Trim Size | 8.120" x 5.500" |
| ISBN | 9781937006389 |
| ISBN | 9781937006402 |
About Thich Nhat Hanh
Thich Nhat Hanh was a world-renowned spiritual teacher and peace activist. Born in Vietnam in 1926, he became a Zen Buddhist monk at the age of sixteen. Over seven decades of teaching, he published more than 100 books, which have sold more than four million copies in the United States... Read More
Related Products
A Love Letter to the Planet

A Love Letter to the Planet is part of the Parallax Press Moments series of short ebooks. It is a passionate appeal from Zen Master Thich Nhat Hanh for ecological...

View this book