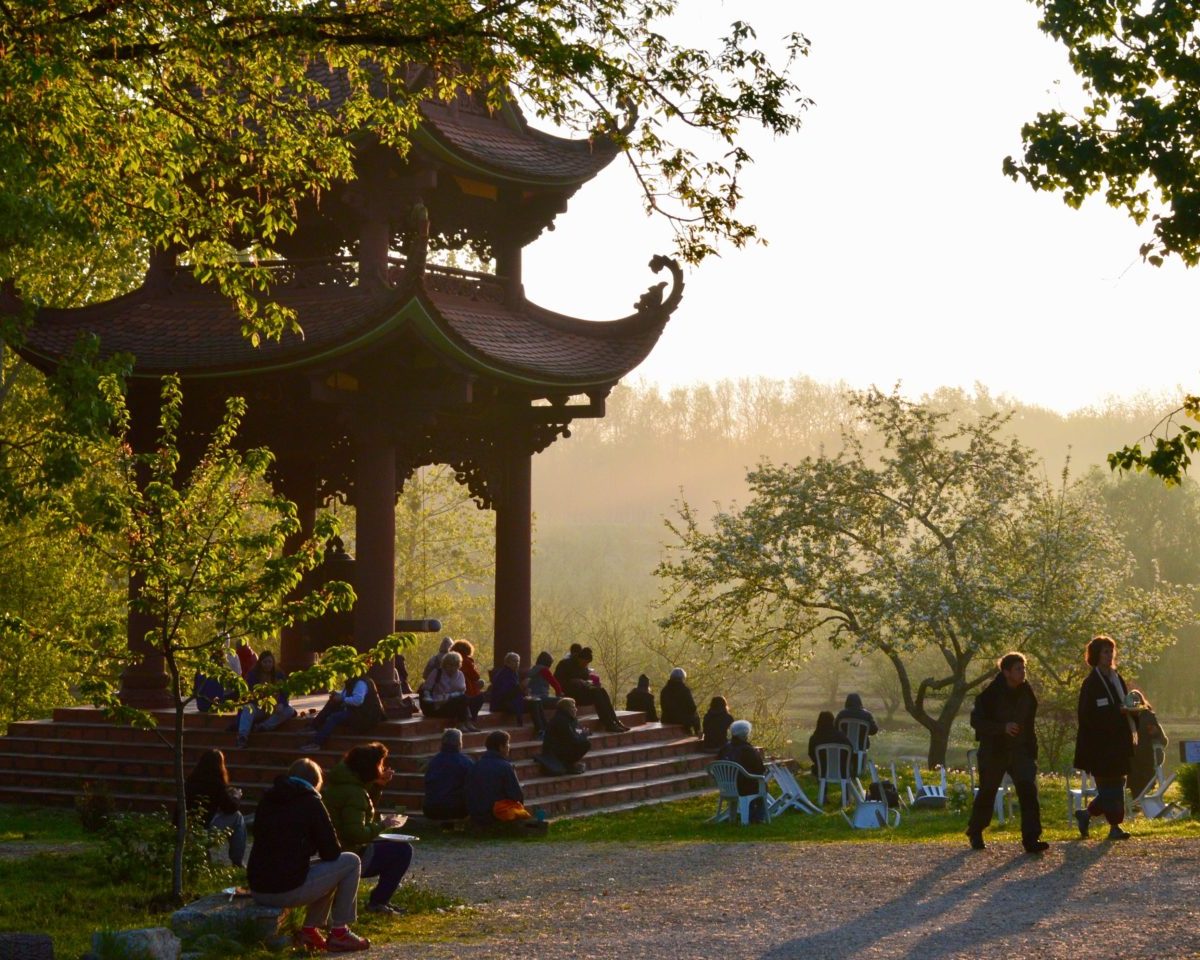 Plum Village France
Established in 1982, Plum Village in southwest France, near Bordeaux, was Thich Nhat Hanh's primary home in exile for almost forty years until his return to Vietnam in 2018. It is a monastic retreat community or sangha and home to more than 200 monks, nuns, and resident lay-practitioners who live there permanently. It is the hub of a global network of practice centers in Asia, Australia, Europe, and North America that includes the Asian Institute of Applied Buddhism in Hong Kong and the European Institute of Applied Buddhism in Germany. The Plum Village Summer Opening, an annual mindfulness retreat that takes place over the entire month of July, is a wonderful gathering of families and other practitioners from around the world.
Plum Village: Lower Hamlet
Meyrac, 47120 Loubes-Bernac, France
Phone: +33 53-94-75-40
Fax: +33 53-94-75-90
United States Retreat Centers
Deer Park Monastery, Southern California
In 2000, the Plum Village Community of Engaged Buddhism established Deer Park Monastery in Escondido, California, near San Diego.
Deer Park Monastery: 2499 Melru Lane, Escondido, CA 92026 USA
Phone: +1 (760) 291-1028
Fax: +1 (760) 291-1172
Blue Cliff Monastery, Upstate New York
Set in the lush green Hudson Valley of New York an hour and 30 minutes away from New York City, Blue Cliff Monastery was established in May 2007 and is an extension of Plum Village meditation center in France. Like its root monastery Plum Village and sister monastery Deer Park in Escondido, California, Blue Cliff welcomes anyone who wishes to learn and cultivate the art and practices of engaged Buddhism through mindful living. Blue Cliff's 80 acres of woodland and open space offer a peaceful sanctuary for guests. Its proximity to NYC and its setting in the beautiful mountains of NY State make it an ideal location for the cultivation of the path of peace, reconciliation, and happiness. The monastic community of thirty monks and nuns welcomes you to join in their daily life of mindful practice.
Blue Cliff Monastery: 3 Mindfulness Road, Pine Bush, NY 12566 USA
Phone: +1 (845) 733-4959
Fax: +1 (845) 733-4300
Email: office bluecliffmonastery.org
Magnolia Grove Monastery, Mississippi
Magnolia Grove Monastery in Batesville, Mississippi, is the realization of a dream held by a compassionate community in and near Memphis, intent on establishing a center for mindfulness in the tradition of Zen Master Thich Nhat Hanh. In 2005, Magnolia Village was little more than 120 acres of purchased by a group of committed individuals and families. With hard work, dedication, and coordinated effort, they created a large meditation hall with an adjoining commercial kitchen to feed participants, and they built by hand a guesthouse to host 120 laypeople.
Today, more than twenty monastics from Thich Nhat Hanh's monasteries live in residence at Magnolia Grove Monastery.
Magnolia Grove Monastery: 123 Towles Road, Batesville, MS 38606 USA
Phone: +1 (662) 578-2077