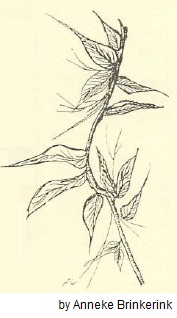 On June 26.1992, nine new Dharma teachers received the lamp transmission from Thay in a beautiful ceremony at Plum Village. They were Dinh Thi Van Khanh, Christopher Reed. Wendy Johnson, Nguyen Ba Thu. Larry Rosenberg , Nguyen Anh Huong . Jack Lawlor. Harrison Hoblitzelle. and Robert Schaibly. The following short verses by Wendy Johnson and Eileen Kiera (offered at her Dharma teacher transmission ceremony in August 1990) seemed especially suitable/or this environmental issue of The Mindfulness Bell.
Walking The Garden Path
Child of the Earth lead us into the garden,
The gate is wide open-in one blade of grass a field far beyond form and emptiness.
Unafraid, we walk the garden-into poison fire, to sweet Dharma rain,
Walking the path of love and action, the path of interwoven roots.
The Wellspring
I go go to the wellspring
following the dusty path
worn smooth by the bare feet of my
Ancestors.
In the deep heart
of the dark forest
I drink pure and cleansing waters.
All that exists
is renewed.