Brother Phap Hien (Brother Michael)
Brother Phap Hien's insight gatha
Remembering your peaceful steps along the ancient path, the sound of the old bell carried me out into the night sky. I return now with a bright message from faraway stars, and Oh, how my weary feet adore the tender earth. We have always known each other. There are thousands of generations of tears, smiles and laughter echoing through the great hall. In this endless embrace with this unfathomable aspiration, my teacher, my brother, my friend, what have we possibly to fear?
Dharma Lamp Transmission Gatha for Br. Phap Hien
The Dharma handed down by wise ones from long ago is like the sound of the rising tide, echoing tens of thousands of songs and poems. Having been brothers and sisters to each other during innumerable past lives we should hold firm to the door of the practice so that the true vehicle can go vigorously far into the future.
Excerpt from Brother Phap Hien's Dharma Talk
It's hard to say anything to a community that is you. When I was six-years-old I went to the dentist and the dentist asked me what do you want to be when you grow up? I had never thought about that question before, but I remember I answered him very quickly. I said, I want to be a farmer. He looked at me and he said, a farmer? What about a doctor or a scientist? I said, no I want to be a farmer. The seed of the simple life and the family life living close to the land was very big in my ancestors.
And then when I was about twelve-years-old my parents separated. That was a great wound for me, a big wound in my heart. I lost all my trust and faith in my family. I remember also at that time someone asked me a question of what I wanted to do with my life and my answer was completely different. My answer was, I want to be alone. I wanted to live in a little house all by myself way up in the north of Canada with no one else around, with long, cold winters. Still a simple life, but with no more family. Actually what I really wanted was to be in the embrace of Mother Earth. But that dream to live alone didn't last very long. When I was seventeen I fell in love. That gave me the incentive to open up a little bit, to try to learn to be honestly close to someone, to share my life with someone. It was a very good thing that that happened. The inspiration of the family life came back into my dream.
About a year later when I began college I did a solo retreat for three days all alone in a desert canyon. I didn't eat anything. It was very hot. I barely wore anything. I just sat on a rock and did nothing for three days. I had never done anything like that before. During that time, without any kind of words or cognitive process, I understood something very deep about myself. When I tried to put it into words it didn't work. But I knew deep inside I had found something that resonated deeply with a place, a home within.
When I was twenty-one I was living in Northern California in the redwood forest. On my twenty-first birthday I received a book, Peace is Every Step, from my next-door neighbor. I was very happy to receive the book and I asked her, what is it? She just said, it's a lot like you. A few weeks later she moved away and I never saw her again. She is a kind of bodhisattva for me because giving me that book opened a big door for me. I read Thay's teaching and I felt as if someone was speaking what was inside of me. But he was able to put it into words, to give clear examples of what it meant to have that inside of oneself and to live it. I tried my best to practice walking mediation right away, but I didn't really understand it. But I did understand that my life had to be about what was going on in the here and now from that point on or it wasn't life. That is what I wanted. I had met the Buddha and the Dharma and a little piece of the Sangha. Soon after that I found myself here in Plum Village.
When I was twenty-four I became a novice monk and I started my life all over again. I didn't realize that I was doing that, but I did. I don't think I have fully realized it yet actually.
Before I became a novice I had had a dream of going to India and Nepal. This was before I had fully met and experienced a Sangha body. I had the idea that I would go there and find a place to touch something ancient. When I arrived in Plum Village and I heard the monks and nuns chanting at a formal lunch in the summer retreat I felt that something ancient, something very powerful. It is strange, but I gave up that dream to travel to the East and then eight months after becoming a novice I went to India with Thay and the Sangha. That next fall I also traveled with Thay and the Sangha to America and I found myself doing walking meditation in the redwood forest in Northern California at Kim Son Monastery one morning. I suddenly realized it was only ten to fifteen miles from the spot where I had first received Peace is Every Step. I had also been very intent on having a family life before I became a monk. In giving up that dream I got the biggest family I could possibly imagine.
The Dharma is very powerful. To be in touch with the Dharma through the Vietnamese Buddhist culture and community has been very important for me. Through my life in the monastery I have learned a lot about place, relationships to others and to environment, which I never knew before; relationship to elder brothers and sisters, relationship to younger brothers and sisters and so on. Being born in Plum Village as a monk is to be born in a group of several brothers and sisters who ordain together on the same day, sometimes as a tree, sometimes as an animal , a fruit or a flower. I was born in the coconut tree family. There were five of us; Phap Kieu, Thuc Nghiem, Ha Nghiem, Phap Hien and Hy Nghiem. We had many elder brothers and sisters who ordained before us also in groups, like batches of children or batches of cookies. There are many of these batches in our community but we make up one family and we are all children of Thay, our teacher. Thay has also been in that same place. He has been a child of his teacher in a community of monks and nuns and so on and so on.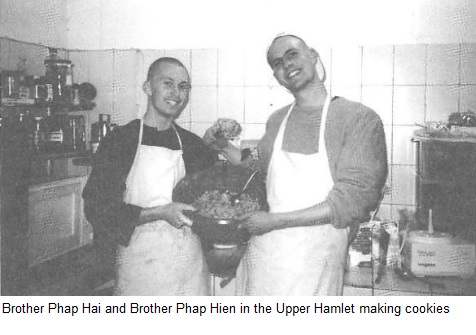 It has been very important to experience that kind of connection as part of my life . When I was growing up I only knew my mother, my father and my two sisters. I didn't have much connection to other people around me. Then my parents divorced and my family broke up and I felt I had nothing. Living in the community of Plum Village I have learned roots. I learned to open my heart and to see my roots, both in my blood family and in my spiritual family. To experience a lineage, a transmission, a continuation has brought stability into my heart. It has brought non-fear into my heart.
This is a great medicine for westerners, wandering souls that we are. Many of us have not grown up, as many brothers and sisters from Vietnam have, with a lot of family members around and a culture that waters the seeds of being rooted, having a lineage, and being aware of one's ancestors and descendants. We have not had that in America for a long time. Many of us wander around in a lot of pain, with a lot of loneliness because we don 't know who we are and we don 't know where we come from. It has been really important for me to enter into the awareness of being a part of a lineage and to experience it living all around me in the community of Plum Village and also in the culture of Vietnam.
I said to Thay several years ago that while practicing touching the earth I suddenly discovered who I was and because of that I was not afraid anymore. I knew who I was and where I had come from. Sometimes the seed of fear still comes up in me. But when I can remember my roots, through my brothers and sisters in my spiritual family and through the generations of my blood family, I can feel within me that I have nothing to be afraid of.
The gatha that I offered to Thay is about that. It is about entering into the stream of practice, discovering my afflictions and about getting grounded in the practice, down through my belly into my feet. I really love to walk on the earth now. It is about understanding, I am you and you are me. It has been that way for a long, long time.
Brother Phap Hien, True Goodness of the Dharma, ordained in 1996 in Plum Village. He received the Dharma Lamp transmission in Winter 2001.