By Azriel Cohen
Shared at the Hiroshima Commemoration Ceremony in Plum Village, August 7, 2001.
Last night, a young man from Germany at the Hiroshima Commemoration in the Upper Hamlet shared with the community how he observed anger arising within himself, when the Israeli-Palestinian group shared that the trauma of the Holocaust was still a source of deep suffering for the Jewish people, and that it affected the situation in the Middle East. He decided to look deeply into the anger that was within himself, and he discovered that though he was born a long time after World War II he himself was still not healed from the wounds of that war. He had ancestors who were actively involved in the Nazi regime. He turned to the community and declared that he personally wanted to do something that might be healing and to somehow find a way to apologize to all the Jews who had suffered. He asked the community to breathe mindfully and support him while he bowed his head to the ground in silence.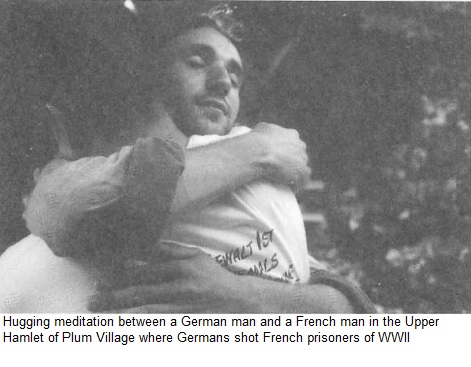 I was deeply moved by what he did. When my turn came up to share my reflections on the experiences of the Israeli-Palestinian group, I offered the following story to this young German man:
My only other time in Plum Village was five years ago. The most moving experience I had was on my last day. At our last Dharma discussion of the retreat, a young woman who I did not know shared with our group a very deep pain that she had in her heart and soul. She was German and was tormented by the possibility that her ancestors had somehow played a role in perpetrating the atrocities of the Holocaust. Though she was third generation after the war, and though she had no certain evidence that anyone in her family was involved, she was haunted by the deeds of her grandparents ' generation. She was obsessed with discovering the truth and finding a way to heal from it. She read every book she could find on the Holocaust, saw films and spent time in archives combing through information to see if any of her relatives were mentioned. Through her eyes she shared her pain and suffering echoed in her voice.
After the circle was finished, I went over to her. I said, "Amelie, I'm named after my grandfather's little brother, Azriel, who was killed in one of the concentration camps during World War II. The last time my grandfather saw his brother was when he was a little boy, so he was unable to ever tell me much about him." Both of us had tears in our eyes, realizing that here we were three generations later, the two sides facing each other. Both of us realized that if there was anything whatsoever that we could do to contribute to healing what had happened, it would be by getting to know each other as humans. I had no plans to go to Germany during my travels through Europe, but I decided to visit Amelie at her parents' home near Munich. We went together to Dachau, one of the more well-known concentration camps and we spent six hours in total silence, walking and just being. The next morning I departed, and though that was the last time we saw each other, the experience will forever be with me.
Last night, during the ceremony commemorating Hiroshima, the young man from Germany and I walked arm in arm carrying candles under the open starry sky. I realized how in the present we can impact on the healing of the past and what seems to be beyond us, and that each of us, in our own little way can contribute to peace if we find peace within ourselves.
Azriel Cohen helped to organize the group of Palestinians and Jewish Israelis who have come two times to practice in Plum Village together.