"Heart to Heart" is a new section of the Mindfulness Bell, where we will publish short pieces on a given topic.
Keep your writing personal and concrete, focusing on the fruits of your mindfulness practice. Preference will be given to shorter pieces, under 500 words. All submissions will be edited. Submit via email to mindfulness.bell@yahoo.com.
The topic for the Winter/Spring 2007 issue will be: what you would like to write to a suicide bomber (see Thây's words about this on page 12). We would prefer to receive submissions by October 15, 2006.
Here is a list of future topics and tentative deadlines, set in advance with the hope that things won't change too much between now and then... Happy writing!
Issue
Topic
Deadline
Winter/Spring 2007
Letter to a suicide bomber
October 15, 2006
Summer 2007
Second Mindfulness Training
February 15, 2007
Autumn 2007
Third Mindfulness Training
June 15, 2007
Winter/Spring 2008
Fourth Mindfulness Training
October 15, 2007
Summer 2008
Fifth Mindfulness Training
February 15, 2008
To launch this section, we present some heartfelt (and even humorous) writings on the First Mindfulness Training.
Committed to compassion and learning ways to protect lives of people, animals, plants and minerals...
Our delightful Tibetan Terrier, Dharma, is under quarantine by the county animal control officials for a severe, unprovoked biting attack on an innocent hiker here in our mountain paradise. It is our custom to daily amble over these magical trails among some of the world's oldest peaks and valleys. Dharma, a feral Humane Society rescue animal, had been captured as a pup in the wild almost two years ago after rampaging through the highland wilderness during two great hurricanes. She is particularly fearful and unpredictably aggressive with small humans. We have five such small-bodied grandchildren. Visits are always fraught with peril and anxiety and constant vigilance. Four previous bites to adults had not yet resulted in serious harm, nor has this current bite done permanent damage, but we fear the operative phrase is "not yet." Dharma is ever on guard, is anxiety-ridden during these visits, and in the year-and-a-half we have loved her into the darling companion she is, she is still only to be trusted with my wife, myself, and our amazing dog sitter. All of the experts we have consulted, including Tibetan Terrier Rescue, agree: Dharma should be euthanized.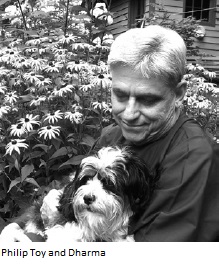 Earnest practitioners that we fancy ourselves to be ought not to be killing, ought not to let others kill–yet we definitely also ought to cultivate compassion and protect the lives of people, animals, plants, and minerals. Unfortunately, especially for Dharma, our world is not only the beautiful, peaceful, controlled environment of our little cottage and dharma hall, it is also the wider world of strangers and children, constant visitors, and uncontrollable circumstances. I have always felt that the precepts, the Mindfulness Trainings, have a certain edge of impossibility to them. And I have also come to feel that it may be precisely because of this "impossibility" that I practice them.
Thus, for every single thing that lives,
In number like the boundless reaches of the sky,
May I be their sustenance and nourishment
Until they pass beyond the bounds of suffering.
–Shantideva, Indian Buddhist Teacher, 8th Century, A.D.
Philip Toy
Black Mountain, North Carolina
Surrounded by her loving family, Dharma was gently euthanized on July 31, 2006.
The colours of my childhood shimmer green and yellow. Dandelions and grasses in a hot July sun. Cold, crisp white sheets warming to the gentleness of the night. Lilac, intoxicatingly sweet, drifting indoors. The colours of my childhood belong to a time long gone, and a person now dead. They belong to my Nanna and the neat council house on a tatty neglected street she inhabited. From her I learned the tenacity of a heart enveloped in kindness and equanimity. Patience and high moral standards held equal sway. Rosaries at dawn, evening contrition, and masses her comfort and strength.
Did I learn to be a better person because of her? Do I teach my children what she taught me? Or do I take the easy, lazy path of modern parenting, beset and submerged by demons? Modern parenting differs so vastly from the austerity of a Yorkshire childhood in the early 70s! Sometimes I long for simpler, less morally perplexing times. How does the Bodhisattva ideal sit comfortably with Barbie and Gameboys? consumerism and killing games?
Ask any parent or caregiver what is the greatest challenge they face, and they'll answer unhesitantly: "nits" (head lice). Not tests, not bullying, not the rising cost of uniforms. This tiny, almost insignificant insect raises enormously complex, soul-wrenching problems. With the central moral principle of non-harming and compassion as one's life's principles, how exactly is one supposed to react when one's cherished offspring is sent home from school, menagerie riding aloft, and not allowed back without a clean head?
No other insect or animal raises this issue for me. Ants, silverfish and spiders merrily waltz around the house as if they own it. The mouse in the attic over-winters as content as a maiden aunt soaking in the warm Mediterranean. Worms are rescued, spider nests painted around, birds fed, plants grown for butterflies.
Head lice are an itchy curse to any school-age child, and schools take the position that no child can return until they are louse free. What to do? Options are limited, traditional shorn heads not sitting well with six-year-old divas. Kill them quickly and humanely, snapping their little bodies with a deft flick of a fingernail, and a heart filled with contrition and atonement? Silent prayers for the dead and dying in a scented bathroom. Comb them out? Each released to its own destiny, karmic fine teeth refusing to take responsibility for their eventual demise. Or, most drastic of all, pungent chemicals shriveling and desiccating innards and limbs? Modern chemicals absolved of ancient worries and intransigencies.
I doubt a satisfactory answer to the dilemma exists. My Nanna, template of compassion, never faced the issue with us, bereft as we were of "friends." Probably she would have tutted and placed human health paramount; chided me for being "soft"; and sent me outside to play, dandelions yellow and grasses green swaying in the breeze. Simpler times, poor preparation for complex modern conundrums.
Kathryn C. Hallas
Wakefield, West Yorkshire, U.K.
After reading the book Seeds from a Birch Tree by Clark Strand, I discovered that writing haiku poetry is a very lovely way to practice mindfulness. I attempted to distill the First Mindfulness Training to only 17 syllables and humbly offer my effort as encouragement to others to try writing haiku. At the very least, you will have a little gatha to remind you of the mindfulness training.
vowing not to kill — I carry an ant outside on a newspaper
Beth Howard
Cheyenne, Wyoming
Earlier this year, a group of practitioners came together as the Ripening Sangha under the guidance and support of Dharma Teacher Brother Phap Tri at Deer Park Monastery. The group includes Order of Interbeing members and aspirants, and we are studying and practicing the Fourteen Mindfulness Trainings. Once a month, we visit Deer Park for a Day of Mindfulness, the Fourteen Mindfulness Recitation Ceremony, and a class that focuses on one Mindfulness Training per month. We have also begun enjoying quarterly Weekends of Mindfulness together.
Each month, we write about our study and practice of the Mindfulness Training of the month. We write journal entries and gathas, rewrite the Mindfulness Training from our own experience, and use other methods to deepen our practice.
In April, I wrote a guided meditation to practice with the Twelfth Mindfulness Training (equivalent to the First of the Five) during my morning sitting meditation time. This guided meditation integrates my practice of yogic breathing, in which one inhales the qualities and aspirations one most wants to embody and exhales the qualities one most wants to release or, in Thây's most recent terminology, "throw away."
Breathing in, I bring looking deeply in Breathing out, I release narrow-mindedness and my need for premature closure (my need to make quick decisions and premature judgments) Breathing in, I bring compassion in Breathing out, I release judgment (of myself and others) Breathing in, I bring understanding in Breathing out, I release disappointment (that things aren't the way I want them to be or think they should be) Breathing in, I bring acceptance in Breathing out, I release attachment to outcome (especially the outcome I want) Breathing in, I bring peace in Breathing out, I release blame and violence (toward myself and others)
Karen Hilsberg Culver City, California