In November 1998, Plum Village sent $2,500 to Sisters Hanh Toan and Hanh Lien from Quang Nga and $10,000 to Hue, to help victims of the recent typhoons in Vietnam. These letters are in response to this aid. On December 14, 1998, after receiving Sister Hanh Toan's letter (below), Sister Chan Khong sent another $6,000, all the money left in the relief budget, to Sister Hanh Toan. From Sister Hanh Toan, Tinh Nghiem Temple, Quang Ngai:
We live in Quang Ngai City, away from the center or the storm and the damage here is small. With your help, we have tried to go to villages where the heavy rains caused creeks to rise, flooding and catTying away houses and crops-places like Binh Son, Ba To, Minh Long, Tra Bong, Sun T§.y. Very few relief groups dare to come to these areas, because the rains destroyed the roads and left them impossible to drive.
After three consecutive typhoons, all families have depleted their rice supply. They eat manioc leaves or other raw forest leaves to survive. And they pray that relief people will come to save them. Hearing that our delegation of Buddhist nuns was coming to the district city, victims from nearby villages tried to meet us in the city. Although their villages are not more than fifteen kilometers away, the trip took nearly two days. The roads and bridges have been destroyed. The villagers crossed mountainous ravines and raging creeks, searching for unflooded jungle so they might reach us. In the end, we faced each other across swollen river waters. The bridge was broken and the water so high and fierce that no one and no boat dared to cross. The hungry victims stood on one shore and we stood on the other, incapable of reaching each other! With tears in our eyes, we left your gifts with friends, hoping they might cross the river in a few days, and continued our journey to Binh Dong.
Binh Dong is a remote village, 45 kilometers from the district city, and the road was very bad. When we got closer, it became impossible to drive. We left our truck and carried big boxes of food over a kilometer on a muddy, slippery road. As we crossed the river with the village on the other shore, the wind and rain became very strong. Our boat nearly threw us all into the river to drown. We sat very still and prayed in deep concentration.
When we arrived safely on the shore, we found everyone thin and pale, looking like hungry ghosts. They threw themselves upon us, pulled our dresses, kneeled down, and cried: "Sister, we are so hungry!" "Sister, my mother is dying, please give me a handful of rice to prepare soup for her!" "Sister, my young children are so hungry, please help us!" The people shivered in wet rags. We saw an old woman wrap herself in a torn mat, waiting for her daughter to return and prepare her soup. But when her daughter came home with some lice, she had already died of cold and hunger. Later, I witnessed another death because we came too late.
Most people are desperate. They have no food, not even a dry slice of potato. The waters are polluted with human and animal corpses, and other dirty, rotting things. People are so thirsty they must drink this water, and we will soon face epidemics of dysentery, diarrhea, cholera, and plague. These people have only wet rags to wear, no shelter, no beds, no tools for cooking, no blankets, no mats. There are 200,000 victims in Binh Son and Binh Dong, and many more in Minh Long, Ba To, Son Tay, and elsewhere. We do not dare to visit now, because we have already given away all of the money you sent.
From Nguyen Thi Kim Hoa on behalf of Binh Dong victims: We send our deep thanks to you for helping relieve our misery following the floods. Disasters crushed us as four typhoons, one after the other, lashed through our village. The waters rose and ran fiercely. The wind tore away trees and houses and threw them about. Everything was carried away by the raging waters. We ran with empty hands, trying to save ourselves.
Now, nothing remains. Nearly all of us are homeless. The sky is our roof and the earth our floor. No one has a grain of rice or a slice of dry potato to fill an empty stomach. No one has a glass of clean water or dry clothes. We look helplessly at those who died, but cannot be buried.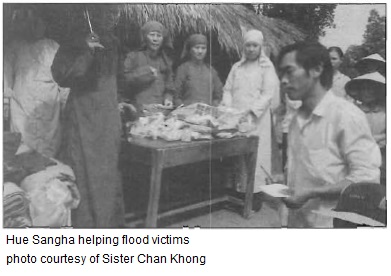 As we faced such tragedy, your sudden presence was a light shedding grace on our misery. We are like one near drowning who suddenly catches hold of a log. We thank the Buddha of Compassion who heard our cries. You have come to distribute the food of love. Your bags for 320 families are not enough for all 200,000 victims in Birth Son, but thanks to your gifts, many children and weak, elderly people have a handful of rice. We bow deeply to thank your divine, immense grace.