I want to thank you for your devotion and work on The Mindfulness Bell. Following a mountain-climbing accident, I spent three years in bed, unable to walk, and five years since then healing, walking—which I am doing with great mindfulness and gratitude. I used Thich Nhat Hanh' s book, A Guide to Walking Meditation, as a primary means of beginning to walk again on this beautiful earth—against medical odds! I am so grateful to each of you who publish these simple, yet profound, works. There are many like myself whose hope stays bright, as well as our ability to learn and practice, due to your efforts. I thank you deeply and keep you daily in my heart and in my awareness of my belief that peace is every step!
Kathleen Morris
Mt. Shasta, California
I thoroughly enjoyed the autumn issue of The Mindfulness Bell. The article on Thay's trip to Asia was absolutely wonderful! Such detail and perspective! I feel I shared some of your footsteps. Thank you.
Andrew Roberts
Austin, Texas
I loved the China journey saga in The Mindfulness Bell. I've read it several times and it's always a new story for me. What a wondrous journey, wonderfully told. It is one of my dreams to journey to China, so I appreciated the rich travelogue, as I am able to experience some of China through your beautiful thick descriptions.
Peggy Rowe
Boise, Idaho
I got a great deal from the article on the Asia trip. It was really well done. Many thanks.
Michael Kahn
San Francisco, California
I was so inspired and graced by your autumn issue, that I was moved to write some poetry on my own. My extensive reading and reflection on the teaching of Thich Nhat Hanh has empowered and guided my personal journey and my professional journey as a clinical social worker, mentor, and healer of youth.
Kevin Howard Dubro
Warrensville, Illinois
I think we should introduce The Mindfulness Bell to people outside our community as well, because it is a practical help to people about how to practice healing their suffering and protecting their children and their family. For me, The Mindfulness Bell is very meaningful. I see Thay and the whole Sangha around the world. And I see the strong support for my daily practice.
The Ha Nguyen
Kitchener, Ontario Canada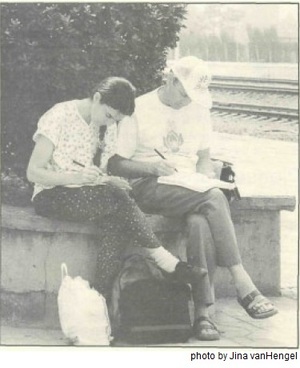 We've been involved in a very stressful environmental campaign up here. In leading three major rallies lately, I've been mindful of Thich Nhat Hanh's calm voice amid the fire in my bones. Still, there is astonishing news. In an historic vote, we saved the huge mountain forest above Vancouver. "Meditation in Action"—tell 'em it works!
Trevor Carolan
North Vancouver, BC Canada
I grew up during World War II and in the 1960s, I was highly critical of the U.S. government's policy toward Vietnam. I was partially sympathetic of people who served, and often at arms-length with the returning survivors of that dark experience of our national life. Consequently, I did not understand the various and complex feelings Vietnam veterans and their families endured. Many of my impressions were unwarranted or false.
In response to an invitation by Vietnam veterans, I joined their group during the autumn retreat at Omega. I practiced deep listening as the veterans described their experiences, pain, and life of suffering, and I shared my stories from World War II. Together we bridged the span of years between us, and I took an unexpected step into mindful understanding. The next day, many other non-veterans joined the group. We discovered health, friendship, and sincere regard for one another. As the barriers dissolved, healing could happen.
I implore Vietnam veterans to continue this mission. I implore nonveterans to do the same. I urge Sanghas to sponsor similar programs. These circles will help heal all of us, and they will become a ceremony memorializing our national wall.
Gene Lovette
Westbury, New York