Nonviolent Civil Disobedience as a Compassionate Response to Climate Change
By David Viafora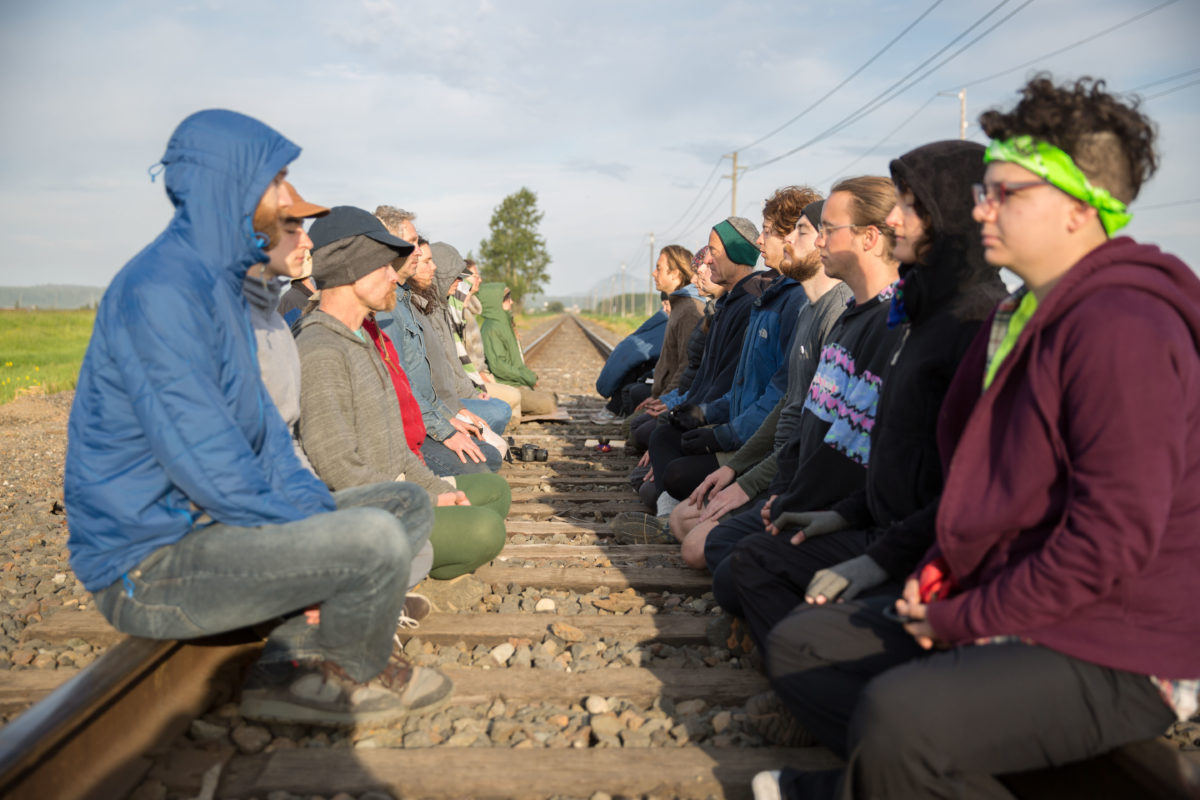 Our caravan of twenty-plus vehicles stretched out along the highway like a small river flowing down the Cascadian foothills towards the ocean and the seaport town of Anacortes, Washington. This river of earth-embracing bodhisattvas began with the "Orca" van, painted black with white sides and a dorsal fin on top. Coursing just behind was our refurbished school bus painted blue and green like Mother Earth, a few vans full of students from Seattle University, and about twenty more vehicles arriving at an intersection of train tracks leading to oil refineries in the distance. Together we quickly and efficiently descended upon the tracks, carrying our supplies—food, water, tents, banners, flagpoles, backpacks, building materials, locking devices, and other resources we might need throughout the weekend. We didn't have much time before the police would arrive, and needed to establish ourselves as quickly and stably as possible to dissuade them from initiating a mass arrest that evening.
As I hauled buckets of food, my tent, and my backpack across the street to the tracks, my heart pounded with anticipation. I continually redirected my racing attention back to my heavy breathing and the soles of my feet within hiking boots upon the stable black asphalt and crunchy railroad rocks. I felt a mixture of excitement and fear: excitement that we were allowing ourselves to stand up with compassion for our world and future, and fear of transgressing authority and of the unknown consequences ahead of us.
This was my first time participating in nonviolent civil disobedience. I trusted my core intention—to unite efforts with others to preserve the beauty and health of our precious planet for future generations—that led me to this collective action at the site of two refineries, the largest sources of greenhouse gas emissions in the Pacific Northwest. But feelings of insecurity and doubt still swarmed my heart, and thoughts spiraled out during the initial stages of our blockade. "Will the police immediately detain us? Should I leave before they start arresting? What are we really doing towards climate change with this temporary blockade? How long will this be on my record and will it affect my next potential employment?" Then, back to my footsteps, back to my breath, carrying food, and setting up shelter. Back to smiling to myself, to our beautiful art banners installed all along the tracks, and to many new and courageous companions facing the same questions.
THE GRANNIES' SECRET WEAPON
Suddenly, I noticed a few of my new friends ahead of me, crossing the street to the tracks. However, they were walking much slower than me, like Thich Nhat Hanh walks, while holding each others' arms. My gaze fell upon their ladylike old-fashioned dresses, wool sweaters, hand-knit scarves, and adorable hats pinned with flowers. Instantly, a deep ease settled into my heart and joy sprang back into my smile. All anxiety dissolved completely behind their humble gait, elderly presence, and undeniable love. This was the love of the Seattle Raging Grannies, as they call themselves, a group of grandmothers who are dedicated to standing up for environmental and social justice. To go along with their granny attire, they wore photos of all their grandchildren around their necks. One of the ladies was a whopping ninety-three years old and had a dozen great-grandkids hanging over her heart. She didn't need to say anything about why she was there that day. We all knew.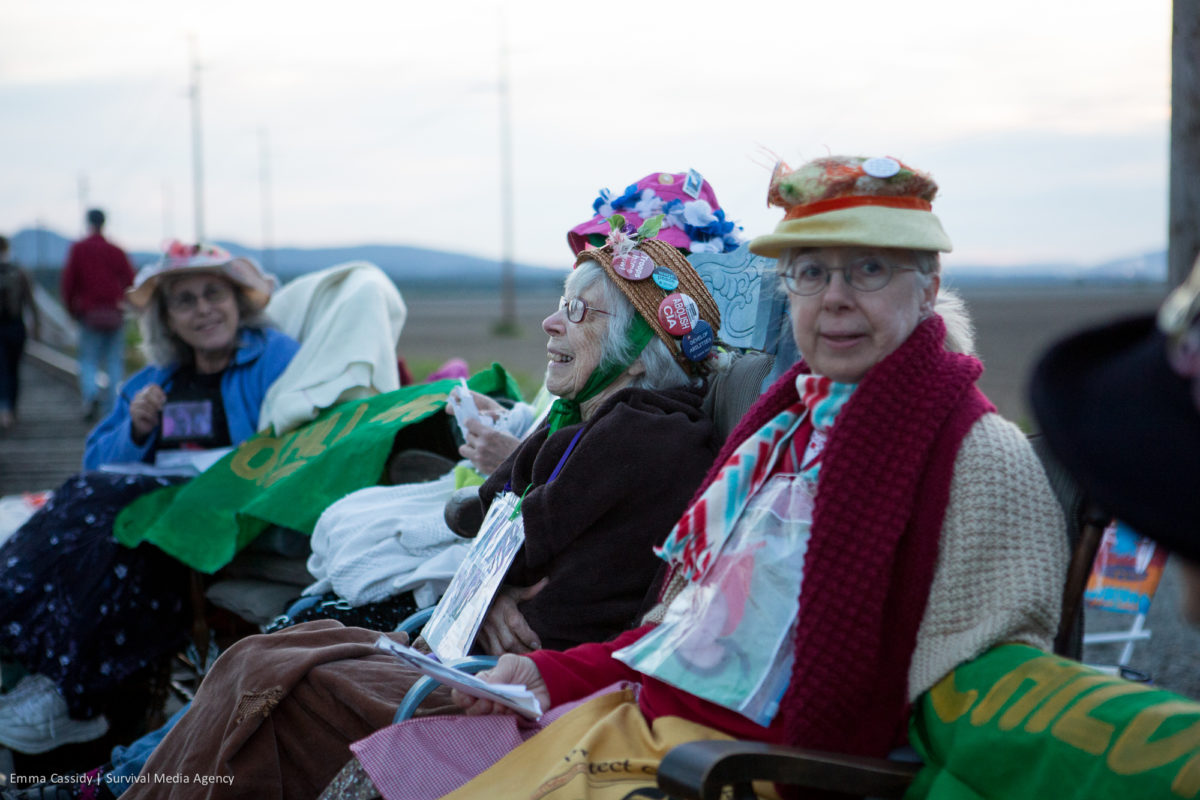 Nearing the end of their lifespan, these grannies weren't there for themselves. They showed up for all of us and for future generations. As I walked alongside them, I smiled boyishly as if I were their own grandchild, saying, "You inspire me so much! We're so lucky to have you here with us!" Their presence was all the support I needed that first day and night of our encampment. Somehow I felt protected and fearless behind their aged and caring spirits. The care they had for the world was blaring out of their old granny scarves and sweaters, disarming any passersby—including the police, who began to arrive in greater numbers. With graceful determination, the grannies chained themselves, their smiles, and their hearts to the tracks, sitting comfortably upon their old-fashioned rocking chairs, which we had carried for them. They situated themselves cozily on the tracks next to the road intersection, buffering the rest of us from the intimidating presence of seventy police and state troopers. What officer wants to arrive at a peaceful protest and give intimidating orders or unkind looks, or arrest a well-dressed granny in a rocking chair? The grannies embodied the secret weapon of love, and they could deescalate even the most frustrated officers and disgruntled petroleum workers passing by. Staying with us that first night, their gift was to buffer us not merely from law enforcement but also from our own fears and doubts. Our elders reminded us that we were supported by preceding generations of ancestors who stood up on behalf of our Mother Earth and future generations.
SENDING PEACE IN BOTH DIRECTIONS
From the outside, our civil disobedience may seem overly dramatic, sleeping on railroad tracks and all. But that was the point! We were saying, "Hey, wake up! We need to stop ignoring this refinery's destruction of fragile ecosystems, as well as global climate change. We don't have time to keep waiting. The health of our planet and future generations is in peril!" Our disruptive actions were intended to push discussions on local, state, and international levels more urgently. We were strongly inviting everyone to look more seriously at what's at risk, as well as the economic and political systems that maintain and protect our fossil-fuel-dependent society.
Our community encampment on the tracks was part of a diverse series of weekend events with Break Free Pacific Northwest. People from across the Northwest gathered together in this mass mobilization to demand immediate responses to climate change, the foul pollution of water, air, and land from the refineries, and a just transition to clean, sustainable energy. Events included an indigenous-led march and water blessing ceremony of two thousand people in front of the refineries, hundreds of "kayactivists" halting oil tankers in unison, and a conference downtown to facilitate discussions about environmental and social issues in the local community. The events in our region were paralleled by mass mobilizations in other cities in North America and Europe that week. This global array of confrontational actions was timely orchestrated to precede high-level United Nations Climate Change meetings in Germany later that May, following the historic Paris Agreements in December 2015.
Two-and-a-half hours into our blockade that first evening, the police began to slowly leave, and we knew we would hold the space through the night. One hundred people gathered to celebrate our small and meaningful victory and plan for the following night and day. During the meeting, I asked, "Would people like a meditation circle this evening and tomorrow morning?" As the adrenaline of our excitement and stress was still flowing high in our blood, it was no surprise to see the smiling and appreciative affirmations. And thus we began a program of regularly scheduled evening and morning meditations as part of our blockade.
The high emotions made for some extremely satisfying meditation sessions together, as our bodies were longing for decompression and our hearts for peace. To our delight, the train rails offered a strangely comfortable seat to rest our bums, and the wooden tracks were soft enough to rest our knees and legs. Under a bright waning gibbous moon and stars, or under the dawning sun, and against a backdrop of refineries exhaling gasses, we breathed in the air and soaked in Mother Earth's nourishment to support our continuing efforts. Sometimes fifteen of us, sometimes just a few, we rooted ourselves upon the tracks together in silent and calm awareness, offering ourselves, each other, and our world some peace before the unknown day or night ahead of us.
These were some of the most savored moments in the protests for me. And I felt gratitude from so many others who seemed to need that quiet stillness just as much as I did. One friend shared with me after sitting together that he felt we were all sending our peaceful and loving energy into the train tracks, which traveled for miles and miles in both directions, to the production of fossil fuels on one side of us and to its consumption on the other.
All Saturday, we held the blockade, and our numbers grew to 150 people staying the night. We optimistically planned for a march of one thousand people down the tracks the following day. To our alarmed surprise, the volunteer night patrollers awoke us at dawn, and within sixty seconds, several dozen police and state troopers surrounded our encampment. Some of them had ski masks on, so we couldn't see their faces, only their eyes. It was a bit shocking to see them, fully armed with guns and clad in black riot gear in front of our tents. We were a peaceful group, speaking up for Mother Earth.
My breath was my best friend that morning, grounding me and reminding me that I was always there for myself. While their presence was initially quite intimidating, I later conversed with individual police officers. I heard and felt that some of them wished us no harm, praised the goodness of our intentions, and understood the plight of our world. Maybe behind those masks, they were afraid too—afraid to be seen, and afraid of what may be happening to our planet. If these police haven't already understood, maybe at some point, they or their children will understand that our world needs to reverse the destruction caused by the climate crisis. Fifty-two of my friends stayed, willing to be arrested, while the rest of us were allowed to walk away. I don't think my descendants minded that day whether I was arrested or not. They knew that I showed up, stood up, and learned a lot, even while walking away.
Our encampment lasted two nights, forcing the refineries to cancel trains and oil tankers from Friday through Sunday, the longest oil train blockade ever in the Northwest. Combined with mass actions around the country and world, collectively we generated a lot of attention to look more deeply at the seriousness of our global predicament.
THE VOICES OF OUR DESCENDANTS
A resounding theme kept surfacing within and around me during these events, and the grannies embodied this theme beautifully. Months before the blockade, and even before I attended trainings on nonviolent civil disobedience, I kept having flash visions that I was looking my unborn children and grandchildren in the eyes, given their awareness of the health of our planet and all its species. It felt as if my life actions were naked and fully exposed to their eyes; I knew how I truly measured up in my response to climate change and its effects upon future generations. Just a brief look in their eyes was enough to send shivers down my heart and cause flinching pain in my gut. But this was also where my deeper aspirations could take root.
Throughout the events, I could see others expressing similar visions in their own ways. The presence of future generations was vibrantly alive in us. During our meeting circle at the encampment, we often sang this chant together:
"People gonna rise like the water, we gonna calm this crisis down.
I hear the voice of my great-granddaughter, saying 'Stop these oil trains now.'"
The voices of our great-grandchildren in us truly led all of our actions that week. We didn't have to do anything except show up wholeheartedly. Thay has taught us to allow our ancestors to live and breathe through us, as well as guide us in difficult situations. Our descendants hold the same power within us. We can allow the voices of our descendants to speak through us in each moment. Let our ancestors speak, but also let our descendants speak. Let our ancestors walk for us, and also let our descendants breathe for us.
Breathing in, I see the presence of all my descendants within me.
Breathing out, I invite my descendants to take refuge in the peace of my gentle breaths and light smile.
Breathing in, my descendants sit with me.
Breathing out, my descendants breathe and smile as me.
We can do this at any time or with any activity, but I find it easier to tune in to the presence of my descendants within me during periods of focused practice, such as sitting or walking meditation, which then naturally carries into other realms of daily life. This practice energizes and fascinates me, because it reveals the immense benefits of my practice for myself and for future generations.
Can we hear the voices of our great-grandchildren speaking to us? How do we listen to them, and what are they saying? When we look into the eyes of our descendants, what are we transmitting? Is it courage, care, and fearlessness? Or is it disappointment, sorrow, and shame? Our descendants offer a powerful mirror, reflecting the value of our life actions and revealing our higher potential.
In her book, The Great Rising Tide, Kathleen Moore grips my heart as she speaks to her grandchild of the future: "What will I say when my granddaughter comes to me with her own baby in her arms and real pain in her voice and asks me, 'What did you do to protect the Earth from this devastation?' I cringe when I imagine what she might say ...
'Don't tell me you didn't know. You knew.
Don't tell me you thought there was enough time. You knew there wasn't.
Don't tell me you didn't know what to do. Anything would have been better than nothing.
Don't tell me the forces against you were too great. Nothing is greater than the forces against us now. And now, what would you have me do?'"
I would like to rewrite this conversation as one that I wish to have with my unborn children, even if it's a lot to live up to:
What will I say when my grandson comes to me with his own baby in his arms, tenderness in his voice, and compassion in his eyes, and asks me, "What did you do to protect the Earth from this devastation?" With care and resolve in my heart, I imagine what he might say:
You knew. You kept learning to better understand what was happening, and helped others to understand.
When you knew there was no time to waste, you responded immediately, involving us and others.
You sought out ways to understand what to do. And when you didn't know what to do anymore, you tried new ways.
The forces against you weren't too great. You had a compassionate community to support you and the wisdom of elders to guide you. And your actions have continued a path of courage, wisdom, and love for us to walk too. Thank you.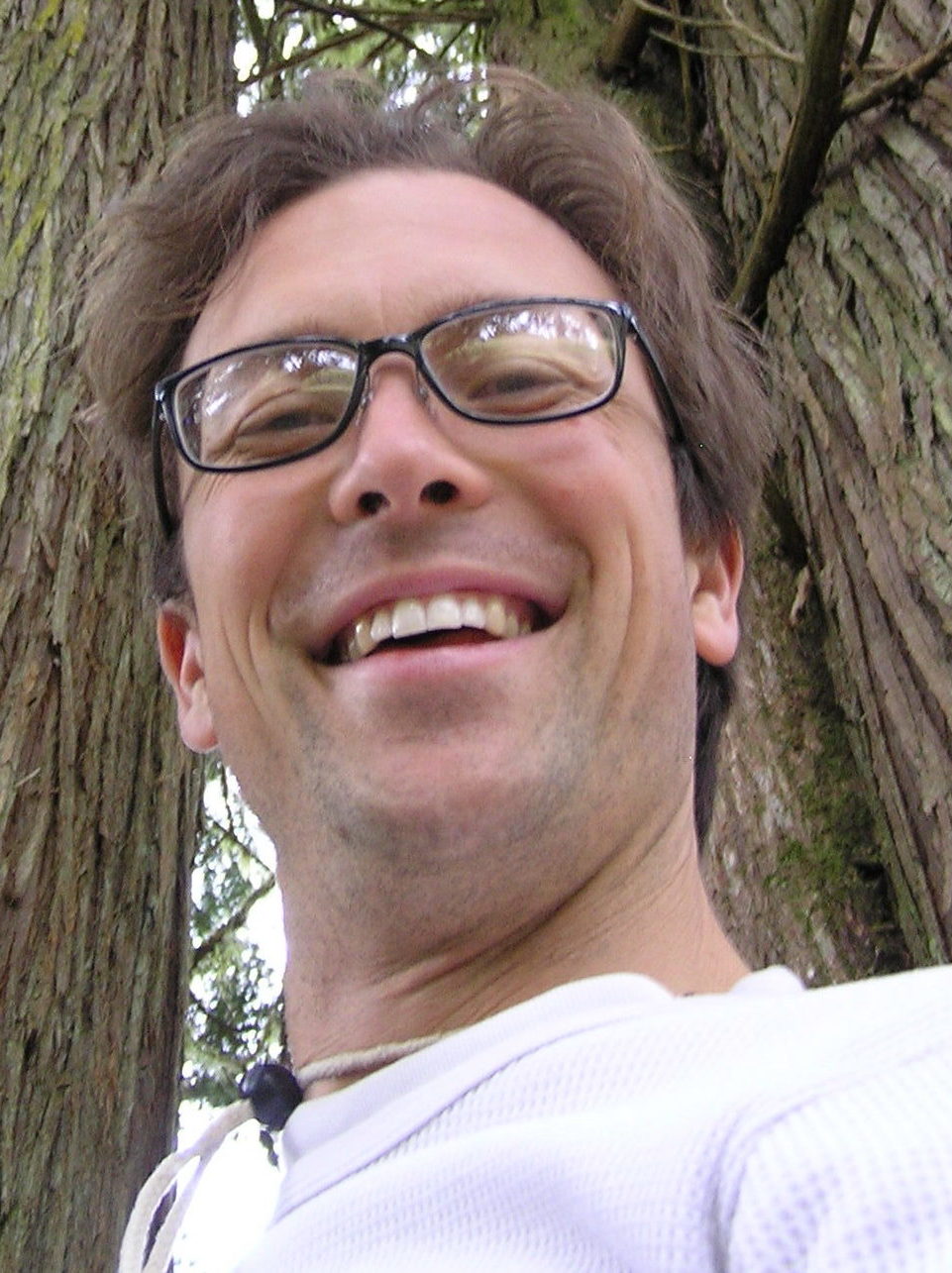 David Viafora, True Zen Mountain, is traveling this year to visit and document lay practice centers in the Plum Village tradition. After traveling, he aims to live in a practice community that embodies ecological sustainability.