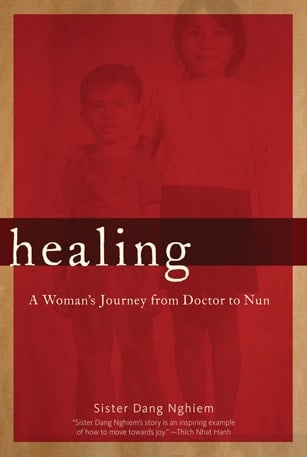 Healing
A Woman's Journey from Doctor to Nun
By Sister Dang Nghiem
Parallax Press, 2010
Soft cover, 146 pages
Reviewed by Judith Toy, True Door of Peace
Sister Dang Nghiem's story begins in Central Vietnam, where she was born during the Tet Offensive in 1968. She takes the reader with her to Saigon, to medical school in California, to Africa, to Plum Village, back to Vietnam with her teacher, to the late Bat Nha Monastery, and finally to Deer Park Monastery. Huong Huynh was the child of a Vietnamese mother and a U.S. soldier. At the behest of her beloved grandmother, who raised her until she was six, she made three vows: to raise her brother to be a good person as they journeyed to the U.S.; to get a good education; and to become a nun. As her life has unfolded, Huong Huynh, now Sister Dang Nghiem— "adornment with nondiscrimination"—has ultimately fulfilled all three vows and lived into her new name.
The victim of a torn family, sexual assault, racial taunts and gender discrimination, multiple foster placements, an unknown father, a wounded mother who disappeared when her daughter was but twelve, and a fi who drowned and whose body was never found, her strength in the face of immense suffering is the stuff of legend. Yet she does not tell it that way. She carves out a fearless inventory of her thoughts and actions as, growing up with great energy and determination, she moved from inner and outer war to a life of true peace. How she has honed herself, constantly beginning anew, is a profound teaching.
Reading her book is like having tea with Sister Dang Nghiem. We learn exactly who she is. Humbly, she recounts intimate stories of the horrors as well as the subtle joys, the small aggravations and the sweet triumphs of her pilgrimage through an extraordinary life. Nor does she paint her life as a done deal—more like a flowing river that inevitably hits the rapids. "I once was a river, a river falling in love with a cloud and chasing after it," she writes. But after many years of practice as a nun, Venerable Dang Nghiem has realized she must release her attachments, because one day she will be left with only her "two empty hands." She has realized that if she is truly present in the moment, she will see that her two empty hands hold the world.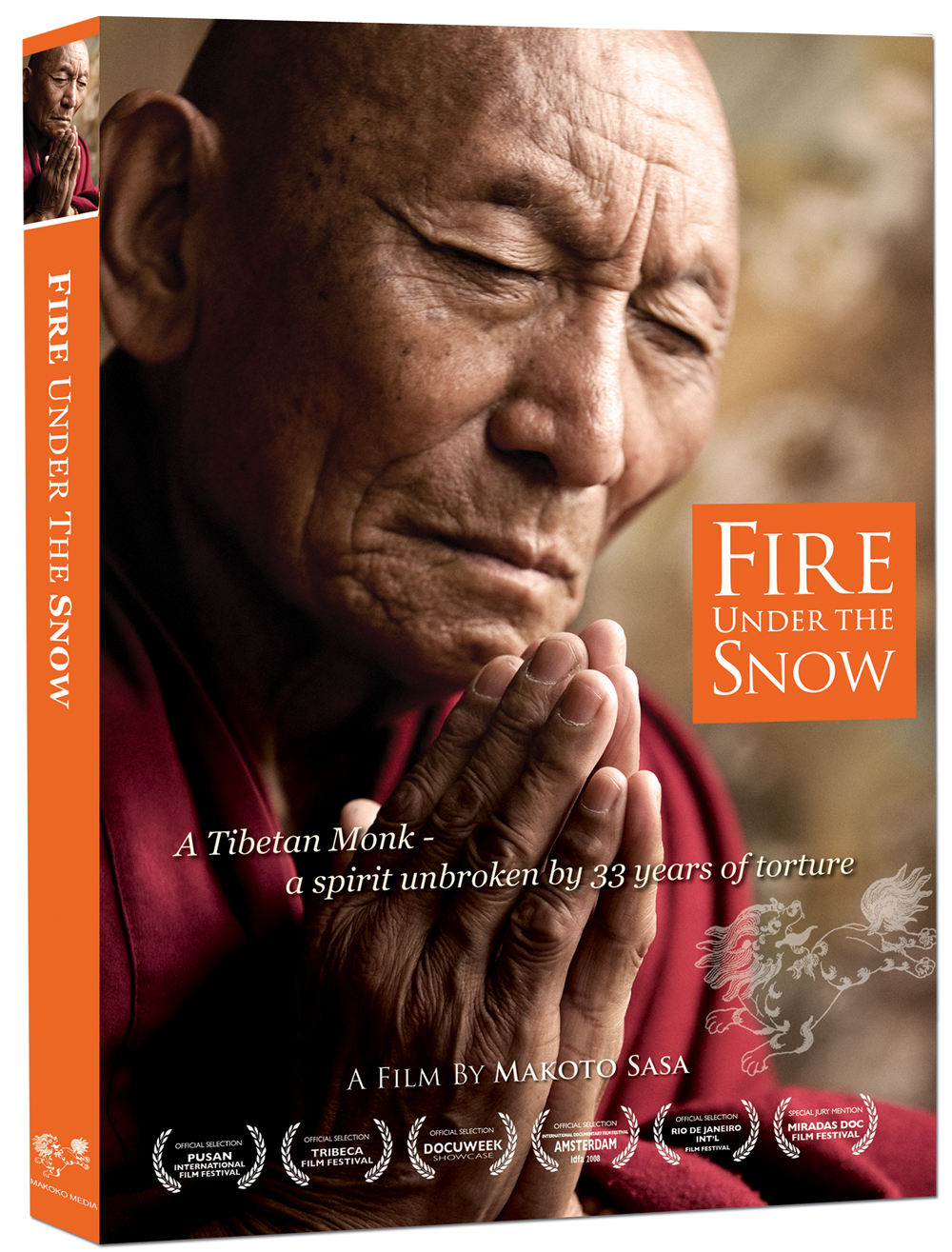 Fire Under the Snow
A Tibetan Monk – a spirit unbroken by 33 years of torture
A film by Makoto Sasa
Running time: 75 minutes 2008
Reviewed by Judith Toy, True Door of Peace
Arrested in Tibet by the Chinese Army in 1959, the Venerable Palden Gyatso spent thirty-three years in prisons and labor camps for the "crime" of peaceful demonstration. Tortured, starved, and sentenced to hard labor, he watched his culture destroyed, and his teacher, friends, and family displaced, jailed, or killed. The film covers Palden's birth in 1933 and follows him through the long nightmare that began with the Chinese invasion. It explores the escalating cycle of interrogation and physical violation that ended decades later with Palden's escape from Tibet and a cathartic meeting with His Holiness the Dalai Lama.
Just after his escape from Tibet in the 90s, I met Palden on a rainy country road in Bucks County, Pennsylvania, marching with a small group of monks and laypeople who carried the flag of Tibet. On our way home from a retreat, my husband and I happened upon the Free Tibet march launched in Washington, D.C., heading for the United Nations in New York City. I joined the march. Palden stayed at our home for five days, along with the late Thubten Norbu Rinpoche, the Dalai Lama's elder brother, and Larry Gerstein, president of the International Tibet Independence Movement. What a joy it was to cook and serve them!
We were distressed by the tortures Palden described. Still, he laughed often and remained cheerful but resolute. All of his teeth had been shattered by a cattle prod placed directly into his mouth. He was hung by his thumbs. He ate dirt. One time, in prison, he vainly spit into the mouth of an infant to keep it alive. Tears came as I listened, and I asked him, "How did you survive?" "I became a monk when I was ten years old," he replied, putting his arms around me while I cried.
Palden harbors no anger toward the Chinese. He has made it his life's mission to bring to light the extreme human rights abuses of China that continue to this day, "so that it will stop." In our home, in our sweet little breathing room on the second floor, Palden spent many hours composing The Autobiography of a Tibetan Monk, on which the film is partially based. Fire Under the Snow reminds me of the roots of the Order of Interbeing—mindfulness and inspiration in the face of unbelievable duress.