By Brendan Sillifant
My search
I have had a deep affinity with the practice of mindfulness since I was a teenager. I had come across it in a variety of forms from different sources. From the Buddhist traditions of Thailand, Japan and Tibet, and from modern self-help psychology also. As a young man I wanted to learn to live my life fully, and I set out to travel for two years visiting different practice communities in North America looking for a teacher and a Sangha. That is where I first attended a retreat with Thay. I was drawn to his teaching which seemed so appropriate for modem society, deep and yet simple. I particularly appreciated the emphasis on joyful and continuous practice.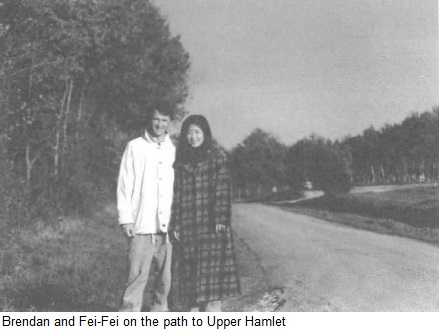 Not being caught in dualistic thinking
I then came to practice with the Plum Village Sangha for six months in 1991. The Sangha was a small community made up of both monastic and lay practitioners. When I first came to Plum Village it was my love of mindfulness practice that brought me here, I had never had the thought to ordain. But after a time that wish grew in me, although that wish in me was still quite innocent, even naive. My teacher was a monk and I wanted to be like him. Nevertheless I made the determination to return to New Zealand, to sell all my worldly possessions, spend some precious time with my family, and then return to Plum Village to ordain.
Whilst in New Zealand I attended a Chinese Chan retreat in order to keep my practice strong. The retreat was held each weekend for almost two months. During this time I grew quite close to a young woman who was also practicing at the retreat. The blossoming of this relationship created a lot of confusion in me, it seemed like a conflict, to ordain or to marry. I wanted both, I wanted to be with the young woman I was growing to love, and I also wanted to practice wholeheartedly. I spent many months trying to make a decision between these two alternatives, trying to look into my real aspirations and yearnings.
Eventually I came to see that there was no conflict between these two things. When I looked deeply into my concept of monkhood, I found that what was actually important was to see what were the elements present in monastic life which would be supportive to my practice, and to find ways to bring these elements into my life and the life of my partner. With this understanding, there was no longer a decision or a choice that I needed to make. In my daily life I tried to blend my two loves, and I learned not to be caught in dualistic thinking between monastic life and lay life, but to seek to create a life with all the positive conditions present. I found I could have both a loving marriage and a strong committed practice, and there was no contradiction between the two. I experienced my relationship as a support to my practice, not a hindrance, even sexuality. My relationship supported my practice and my practice supported my relationship. I experienced these two things as a wonderful support for each other.
Relationship supports practice
My wife and I live closely together, and as a result we have grown to know each other quite intimately. This intimate understanding enables us to offer support and guidance to each other, helping each other not to fall into habit energies. An intimate relationship also provides comfort, soul sustenance, and nurturance, which can give one strength to overcome difficulties in one's life and practice. I experience my relationship as a kind of Sangha, it supports me in the same ways as the greater Sangha does, yet very intimately. I feel very fortunate to have a small Sangha within the big Sangha. As practicing partners we also help balance each other. When one person feels sad or anxious, the other can help him or her to feel bright or relaxed again. When overcome by wrong perceptions about someone or some situation, the other can provide alternative ways of looking. When we need to nourish the five-year-old boy or girl within us but are unable to do so, the other can provide that loving embrace. When we need the firm words of a teacher or Dharma sister or brother to put us back in the practice, the other can provide those words to set us straight. We practice in some ways as a single body, being aware of our own mental formations and also the mental formations of the other. So we have both our own mindfulness to rely upon and when that is weak we also have the practice of the other to rely upon. We practice to transform our own afflictions and also the afflictions of the other.
Practice supports relationship
The practice of mindfulness is a wonderful support in cultivating a loving relationship. It deepens our ability to speak lovingly, listen deeply, and understand each other. Mindfulness practice keeps our relationship fresh and helps us not to fall into negative habits. It gives each person more self-understanding and stability so we are more secure in ourselves, as a result we become much less prone to reading into the relationship what is not there. In addition to this the presence of the greater Sangha helps not to be isolated in our couple-ness. Sometimes two people become so much alike in character and view, that they cannot offer the other a new or different way of looking when needed. Dharma and Sangha can be a great support in offering clarity in situations that are usually dominated by habit energies. So when one person in a couple is lost in confusion, the other does not also become lost but can offer new clarity and fresh ways of looking into a situation.
Conscious watering of positive seeds is one of the tools of the practice that can be a tremendous support to a couple. Many couples we see around us are fresh and loving in the beginning, but after many years the habit of blaming, arguing, and criticizing each other begins to give the relationship a sour flavor. And at one point it seems the relationship is so infused with negativity that the path to recreating a positive healthy love is such a difficult task that many couples give up, thinking its easier to start over with another person. The practice of mindfulness, of being present to each other and for each other, already increases an awareness of the preciousness of each other. The practice of watering the flowers in each other helps us to be aware of the positive qualities of each other, and to express our appreciation and gratitude towards each other. If over time we are able to water the positive seeds more than the negative seeds in each other, then the ability to appreciate and acknowledge the wonder and beauty of the other will always be present, even in the midst of difficulty. As a result, when there is disharmony, the motivation will be not to hurt the other, but to heal the relationship and to reestablish harmony between us.
From Attachment to Freedom
I have spoken about how I see that an intimate relationship can be a wonderful support to one's practice. And now I would like to say something about the obstacles to meditation practice that can sometimes arise in a relationship.
We hear a lot about attachment in Buddhist teaching, and we may be involved in an intimate relationship and ask ourselves, "Well, what does attachment mean to me in my situation?" We need to look deeply into this area of our lives, because the practice of non-attachment can greatly enhance our relationship. Developing non-attachment does not need to go against our relationship. We need to look at our relationships clearly, not just follow an ideal we have heard about. What is our real experience of attachment, in what ways does it truly sustain us and in what ways does it make us suffer?
In our life we do take refuge in many things, we rely on many things. As children, and still as adults, we rely on our parents, we rely on our teachers, and on our friends. We rely on certain colleagues at work, we rely on our community of practice, and we rely on the three jewels. If suddenly one of these refuges is not there, we feel its lack, we suffer. This shows us the presence of attachment. Nevertheless we have been enriched by the presence of these people in our lives. Their presence has given great beauty to our lives and we would not wish to have been without them. We are attached to these people and situations because they have contributed so much to us. So the question is not to abandon these things, because we know that without them our life will be less rich, less nourishing. The question is, rather, how to bring the spirit of non-attachment into our relationships, so we can profit fully from the presence of the other whilst also maintaining our freedom and our sovereignty. The practice of non-attachment can lessen any unhealthy dependence that exists in our relationships and can allow our love to be light and joyful.
It is interesting to look deeply and to see in what way dependence is a wholesome and necessary part of our human and spiritual life, and in what way does it limit us? Does our dependence support us in becoming whole and complete or do we rely on the other person to complete us? We take refuge because we need support on our path to wholeness. But if our object of refuge or our way of taking refuge becomes a barrier to becoming whole, whether it is refuge in the Buddha, the Dharma, and the Sangha, or in our partner, we need to re-examine our way of taking refuge. A true teacher does not want us to only depend on him or her for stability, he or she wants to strengthen the teacher within us and will direct us to rely on that teacher more and more over time. The disciples of the Buddha took refuge in the Buddha, their teacher. Yet near the end of his life the Buddha instructed them to take refuge in the island within themselves, because that island is the teacher within which will always be with them, it is a stable and reliable refuge. The Buddha knew that it is this island which is the real object of refuge.
I will give an example: My wife Fei-fei is someone who is very confident, she enjoys being in front of groups of people, and can be her best on stage. But me, well its something which makes me a bit nervous, something which I would prefer to avoid if possible. So I could say to her, "Fei can you talk tomorrow for me, I don't want to speak in public." I can rely on her in any situation where I have to speak in front of the community, and thus avoid ever having to challenge myself and grow. In did this she would become more and more confident, with all the practice she would get, and I would become more and more shy. And an imbalance would result in our relationship and also in me. I would become incomplete without her. So this would be a way of taking refuge which would prevent my becoming whole. Alternatively I can learn to see Fei-fei as a teacher and can learn from her strength in this area. I can try to emulate her confident presence, thus her presence can be a source of strength for me that supports me becoming more whole and less dependent.
This is something to be aware of in a relationship, because we may have been attracted to our partner because they have certain qualities that we lack, to complement and complete us. But we can rely on our partner in a constructive way that helps us develop and transform our weaknesses, thus overcoming our initial dependence and becoming more free. In this way our relationship can take us in the direction of greater dependence or greater freedom and wholeness, depending on our way of taking refuge.
From attached love to boundless love
Our relationships can lead us into a narrow isolated love or a broad inclusive love, and this also depends on our way of taking refuge in each other. Sometimes our way of loving, our way of taking refuge in each other is a way of hiding from the world around us. And the more deeply we invest in each other the more deeply we cut ourselves off from others. So our way of taking refuge in each other becomes a prison for us. Even taking refuge in the Sangha can be like this. Perhaps we mix only amongst our close brothers and sisters in the Sangha, and we hide from the people who come to the community to practice, we may even hide from certain people in our own community. This is a form of attachment which may imprison us and keep us from opening our hearts to all those who cross our path in life.
Our love, to be deep and fulfilling, cannot be limited to only one person. If we love one person yet are alienated from others then our love will grow in on itself, it will not flower. It seems natural for a relationship to want to express itself in service of something greater. Perhaps that is why it seems so natural for couples to want to have children, so that the love that is cultivated between two people can seek a greater expression and flowering. When we can love one person we can love others also, love needn't be limited to one person. For this we need to be able to see the deep nature of the one we love. To see that that person contains her mother, father, grandparents, a whole lineage and culture. Our love then becomes embracing and we can learn to accept the things in the other person which are the most difficult for us to accept. Mindfulness and looking deeply helps us to see beyond the appearance of the one we love, so our small love becomes a door to great love. The relationship becomes a laboratory or testing ground for our love, allowing us to cultivate a mature love which then extends to the many people we come into contact with. In loving one person we do learn to love many people, because the person we love contains multitudes.
Over the years I have been together with my wife I see more and more how deeply she is the continuation of her parents and ancestors. That in marrying and making the vow to love her, I have married and made the vow to love also her parents, siblings, grandparents, society, and indeed all beings. A couple relationship is really the coming together of two streams, not just two people, so there is a lot of potential there, potential for strife and for strength. And for certain our love will be cultured and matured over the years, like a good cheese.
Sexuality
Sexuality is another area that can easily become an obstacle to our practice if we are not skillful. But my experience tells me that sexuality can be an integral part of an intimate relationship, and also an integral part of a spiritual life and practice. We sometimes make too much out of sexuality by either being preoccupied by it or by not wanting to have anything to do with it. But sexuality can be a beautiful and nourishing part of a committed relationship. We try to bring the practice of mindfulness to every area of our lives and sexuality is an area of our life that also profits from the practice of mindfulness.
With the practice of mindfulness the sexual act can be no less than a sacred and beautiful ritual that is performed in deep concentration and joy, a deep expression of love and care for each other. With mindfulness present we are able to maintain a peaceful and relaxed presence, without becoming lost in sensual desire. Desire is an obstacle to peace, and it can also be an obstacle to deep communion, because the other becomes an object of desire, and we lose the deep love and intimacy that is present. Sexuality is a form of expression between two people that can nourish joy in being together, and helps establish closeness and love. But this is only possible in the context of a committed relationship where attention is also given to other forms of communication. Sometimes sexuality is sought outside of a committed relationship, because we yearn for intimacy but we do not know how to establish real intimacy. Perhaps in our relationship there is so much misunderstanding and so many small unresolved hurts that there is no longer intimacy between us. So we naively seek intimacy elsewhere, in new relationships which do not have the same baggage of suffering. We need to remember that intimacy comes from the meeting of hearts not bodies, the meeting of bodies is only an expression. And for the meeting of hearts to be deep and present even after many years together we need to practice constantly.
How do we maintain our love over many years?
In the early days of a relationship there can be a lot of excitement, passion and romance. These feelings can be very compelling and attractive, they set our heart pumping and make us feel very alive. Our love is fresh and new, filled with hope and expectation. We do not know the other deeply and we imagine how wonderful they are. After sometime of being together, we begin to get used to one another more. We think we know pretty well everything there is to know about them. We quickly settle into a routine; our relationship becomes mundane, ho-hum, perhaps even boring. Things are ok, but not very alive. We think back to the early days and remember how fresh and wonderful it was to be with each other. But we don't know how to return to that freshness again. We think we need to do something spectacular to get the vitality back into the relationship, like taking a romantic holiday on a deserted island in the Bahamas.
But it is much simpler than that. We just need to be more attentive to maintaining our full presence for our loved one, and not fall into the habit of taking each other for granted. Fei-fei said that when we first met, she thought I was very romantic. For my part, I do not really feel I am a romantic person, neither do I aspire to be. But I think what gave this impression, was that I practiced really being there for her, giving her my full attention when we were together, and perhaps she had not experienced this kind of attention very often before. This kind of mindfulness is the tofu and potatoes of our love, it is the daily food of our relationship. And with this steady loving presence our relationship stays fresh and vital, even if our life appears very routine.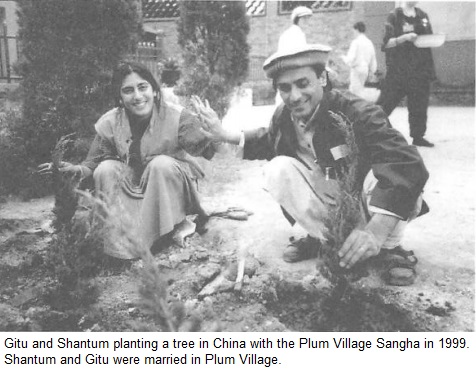 Personal Time versus time for each other
Another way in which we might consider a relationship as an obstacle to a solid practice is that we may feel we have less space in our lives. I sometimes hear people say that they need more space in their relationship. They need time away from their partners. I have had this feeling occasionally in my relationship, although I feel lucky that this feeling comes up very seldom. For me this is a signal to look deeply, of course I can honor that feeling and take the opportunity to go for a walk by myself. But I need to ask myself, why do I not experience enough space in being together at the moment? I cannot just say that I need space and that's normal , and take my space. Perhaps our way of being together has settled into a habit of being too talkative. We may have been spending excessive time gossiping about others. Or maybe there is some tension in our relationship that makes it difficult for us to be at peace in the presence of the other. All these things are signals to us to pay more attention to the quality of our time together, and the quality of our practice together. Just as the Sangha is a support for our practice so to can be our couple relationship. And when we return there we find a refuge of warmth, space, acceptance, ease, and peace. If these things are not present in our relationship, it is because we have not cultivated our relationship in a skillful enough way.
Oneness - from individual to couple
Life as a couple has a certain vitality and richness which takes us beyond our individual desires and aspirations. We are two but we are one, and we really need to learn to think, feel , and see as one, or there will be conflict. If we continue to follow our own wants and needs and the other continues to follow their own wants and needs, we will not find a deep harmony and unity in our relationship.
For our love to return to us a deep sustenance for our soul, for there to be a deep intimacy between the two of us, we really need to learn to see the happiness of the other as our own happiness, and our happiness as the happiness of the other. This is not an attitude of sacrifice, because in sacrifice there is still duality, there is still "I" give up my needs to satisfy "your" needs. Where there is sacrifice there is still the unconscious debt of the other that we hold in our hearts and expect to be paid back sometime. To see that our happiness is one is to see that giver, gift, and receiver are one. We don't want to sacrifice because we know that deep down, for the other person to be happy, we also need to be happy. How can the other be bright and cheerful when we are moping around, feeling tired all the time having given beyond our capacity. So to give to ourselves, to nurture ourselves and our own deep peace and joy, is to make an offering to the person we love.
Recently Thay has said that practicing as a Sangha is like practicing as a couple. It can be a true practice of non-self to see that we are one body, and that we can no longer seek only for our own happiness without considering the happiness of the other. As a couple we become so interconnected, that this way of thinking no longer functions well. We simply have to learn to think in a new way, a way that really acknowledges our true interconnectedness, our interconnectedness as a couple, as a Sangha, and as a world.
Brendan, True Virtue of Loving Kindness, lives in the Upper Hamlet with his wife, Fei-Fei.