By María Jiménez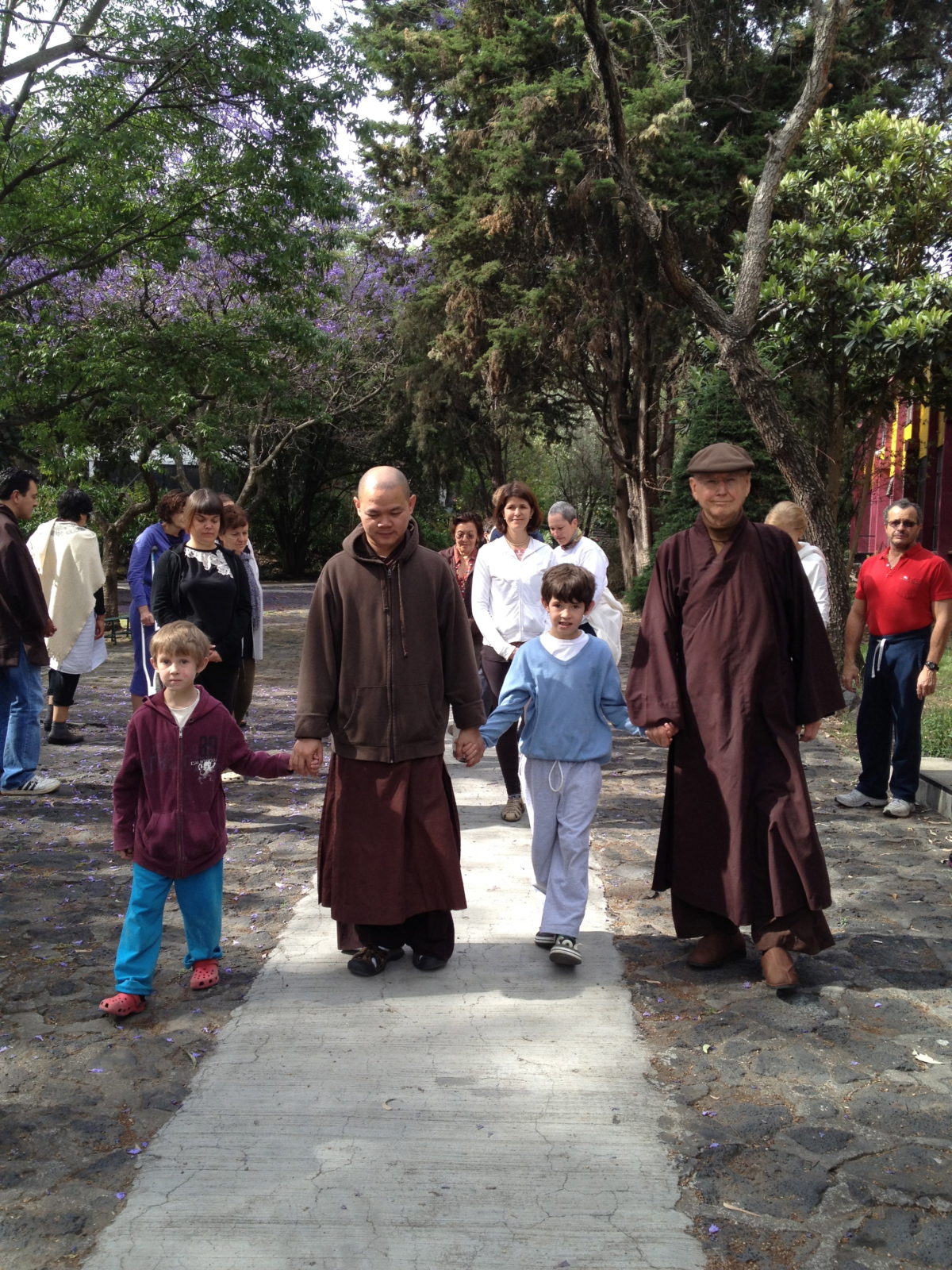 The Felicidad family, originally from Mexico City, was spread out. Some of us had known each other a long time; others, however, weren't aware of the existence of happy and enthusiastic brothers and sisters in search of someone with the same last name. But thanks to the efforts of our Sangha in February of 2012, hundreds of emails went out and arrived like rainfall of flowers inviting people to "Coming Home: The Road to Our Happiness," the big family reunion to be held in April. The response was immediate. Thirty-six sisters and brothers accepted the invitation, because who wouldn't want to come back home? Who wouldn't want to find the road to happiness? Besides, Thay Phap Lac and Thay Phap De, two monks from Deer Park Monastery, would be coming to share ways of conscious living with us and to converse intimately with the earth.
The location of the retreat, Casa Xitla, is a big old house surrounded by gardens in the southern part of Mexico City. It is a spacious place that invites one to withdraw and reflect; silence is the order of the day here. Thanks to the infinite goodness of Mother Earth, our encounter is dressed in violet; at this time of the year the jacaranda trees are in their most conscious here and now. Our hosts, a community of people in charge of administering and caring for this place, are an example of interbeing. As in a colony of bees, they organize themselves to live in harmony: they care for the water, use solar energy, protect the vegetation, and maintain a compost heap.
On April 4, Casa Xitla begins to buzz with our arrival. The brothers and sisters who organized the retreat and the monks Phap Lac (Happiness Monk) and Phap De (Young Monk) await us with their conscious presence. The smiles with which they greet us are an unmistakable sign that we have arrived home. Adults, some in couples, some with their families, and the majority alone, begin to fill up the space and prepare for the experience of the next five days. The majority of us come from bustling cities; we are full of expectations, with our minds agitated. The sweet sound of the bell, the conscious embraces of our sisters and brothers, the dim lights in the hallway on the way to the bedrooms, the shade of the trees, and the night remind us that we have arrived home. In an instant, all these signs come together, form a stream, and invite us to flow as a single river. "Happiness is here and now," they whisper in our ears.
The Fountain of Life
In the first Dharma talk, Brother Phap De delicately suggests that we observe in our inner selves the impulse to do things: eat, read, talk. He proposes, instead, that we walk or write. "Life comes from within ourselves; we can feel it; we can connect ourselves with the fountain of inner and outer life, all united." Like an expert gardener, the brother knows that before planting the seed, we must loosen the dirt. He invites us to recite gathas. It's impossible to turn down his invitation, knowing that we can cultivate flowers in the garden of the heart.
At five o'clock in the morning, the bell wakes us, and a half hour later we begin guided meditation. Our bodies are tired; the majority of us aren't used to waking up so early. However, our conscious inhaling and exhaling wake us up and fill us with joy. At 6:30 a.m., our sister, Norma Inés, better known as Hapinés, guides us down the roads of Qigong. With the noble bamboo pole at hand and the sweetness of her voice, we travel to the interior of our bodies, feel how our muscles stretch, and begin a dance that connects us with the foliage of the jacarandas. The pivoting of legs, trunks, arms, and eyes lifts us to the clouds and slowly and softly allows us to take root in the earth.
The morning advances. The bell invites us to share a delicious breakfast, which we enjoy slowly from the silent line. We share the table and the reading of the Five Contemplations. We eat slowly, looking to feel in every mouthful the flavor and goodness of all the beings who prepared it and made it possible.
Work meditation offers us the opportunity to do chores in the garden, which for some of us are unusual; some chores are light, like picking up leaves and branches; others are heavy, like lifting and moving the compost. Cleaning and arranging the building and preparing food for the whole group are some of the other tasks at hand. We have the opportunity to learn and to teach, to lead and to follow, to see our old habits as we work, to smile, embrace, and be present in the here and now.
At ten in the morning, the bell calls us to walking meditation. Our sister Gaby shares her experience:
I remember that marvelous walk as an experience of conscious enjoyment that keeps love, peace, calm, serenity, and forgiveness alive in my memory. I return to live in plenitude and to understand and experience interbeing with my new Felicidad family, to feel myself as part of nature, to be present, feeling the caresses of the air and the heat of the sun on my skin. I feel how Mother Earth receives me and comforts my every step, and I see and feel the happiness of the monastic brothers.
I remember Phap Lac's talk about forgiveness. Nine months ago I'd signed my divorce from the father of my children and I had such an emotional charge that I asked myself how I could forgive myself for the guilt that I felt. I asked: 'Is it strange that after years of sharing a life with someone you loved, you now ask yourself how to forgive?' The walk was about to start and the brother said that we should invite our loved ones to walk with us. He suggested that we take the hand of one of the members of the Felicidad family and even that we invite our absent loved ones to come with us.
The sensation I felt is indescribable: I imagined my little children, Emilio and Sofía, at each side, felt their still-tender hands, and felt the peace and love of being united as one. I advanced slowly and smiled genuinely and lovingly, with gratitude and respect. Later I invited my parents and sister to walk hand-in-hand and felt the same sensations. Finally, uninhibitedly, with thanks, and in peace, I invited the person who had been my partner for ten years. I embraced him while I walked, thanking him for having shared his time, space, and love, for having participated with me in giving life to these two gifts. I decided to forgive the things that we consciously or unconsciously did when we lived together that hurt or damaged us or made us uncomfortable and I smiled at him. We stayed together like that for a few moments. Then I let go of his hand and saw him go, smiling and relaxed.
Drops in a River
At the end of each morning, Thay Phap Lac and Thay Phap De, taking turns, offer us a Dharma talk. Next to them a Mexican sister or brother listens attentively and interprets simultaneously. During these talks, the words of Phap De and Phap Lac weave in interbeing. Phap De speaks of his own life experience and shares the stories of his parents and the seeds they deposited in him. He shows us how the spiritual life of our ancestors is connected with our own. And he invites us to recover the spirituality of the people who inhabited these lands before the arrival of white people. Our spiritual realization, he says, is a matter of integrating ourselves like drops of water in a river that has flowed for thousands of years. This moves us, because in Mexico, indigenous blood is an underground river that only awaits our glance to revitalize us with its powerful energy.
Thay Phap Lac offers other seeds. With soft strokes he recreates his experiences in the company of our dear master Thich Nhat Hanh. The words of Phap Lac have the power to bring Thay to our encounter: we can see and feel him; the voice of the brother becomes the voice of Thay. With simple stories of day-to-day life, Phap Lac reveals the efficacy of our practice. He shares a story of a single mother who learned to enjoy working meditation, and that of Thay, who, having suffered an injury in a crowd in Vietnam, sat down calmly to drink a cup of tea. Phap Lac is also a master of dispelling uncertainties. To a sister who has doubts about forgiveness, Phap Lac says sweetly: "The only help you have is your happiness. Only love can cure—love with compassion." This teaching is an outstanding moment during the retreat.
After lunch comes total guided relaxation. We lean our bodies against the earth, which generously receives our tensions, our tiredness, and our worries. With our minds we pass through each part of our body, we smile at it with thanks, we loosen it, and we relax. We listen to our guide from afar, as if in a dream. He sings to us a sweet song that rocks us and he brings us back, little by little, to the happiness of the present moment.
The Dharma sharing at mid-afternoon is a moment of encounters. Some of us know each other from long ago, others have seen each other a few times, and there are those who are meeting for the first time. In two groups, each guided by one of the monastic brothers, we focus on practicing compassionate listening and loving speech. Little by little, our hearts open as we share happiness and sadness, presences and absences, hope and despair. We offer our loving presence to our friends; we receive their experiences and their smiles.
After supper we have another guided meditation, and then go off to sleep smiling, crossing the garden of Casa Xitla in silence, now lighted by a moon full of the here and now.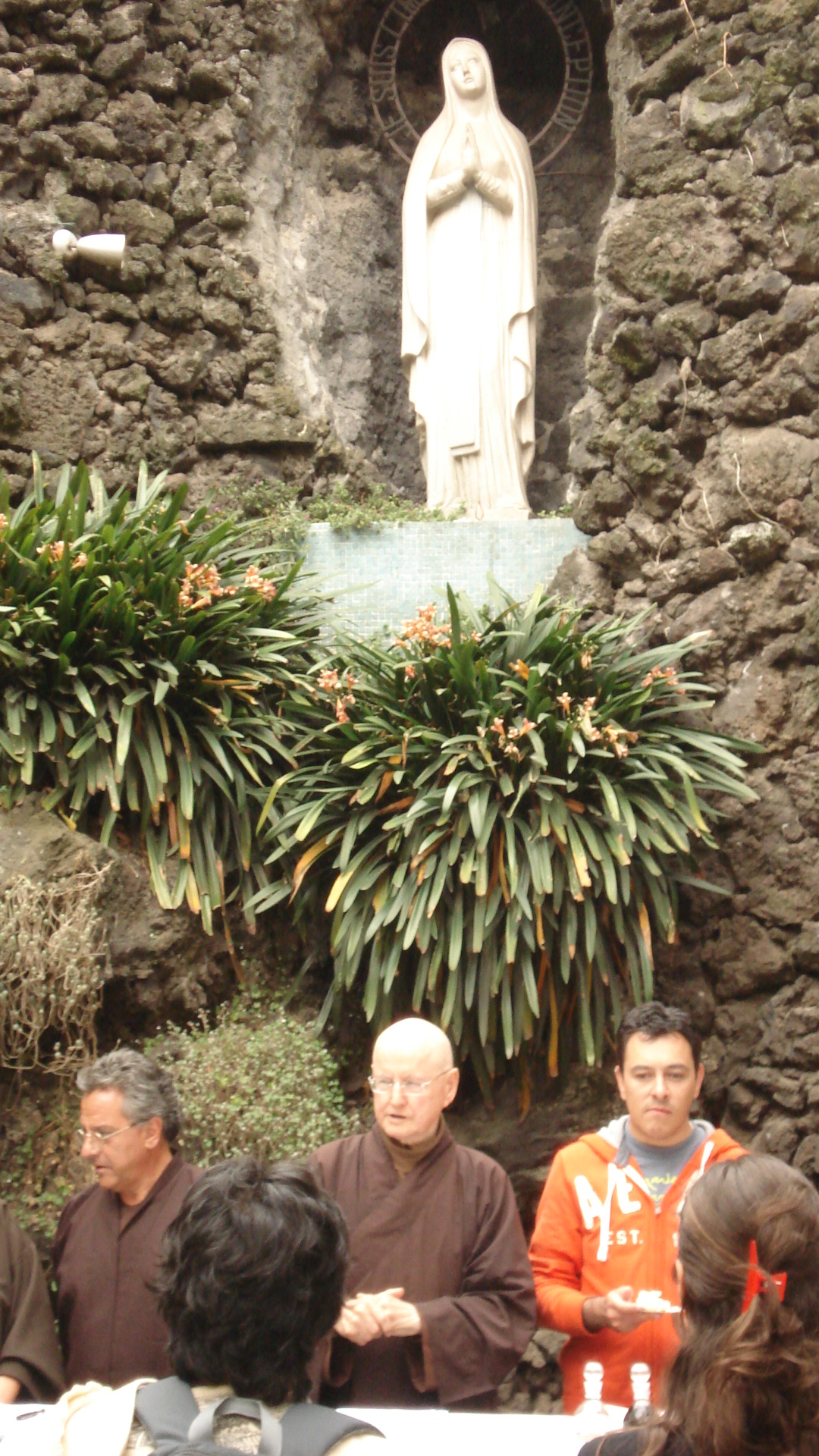 Like Water Reflecting
The second night, five sisters and brothers who have taken the Five Mindfulness Trainings share their personal experiences and reflections. The struggles and the joys of the road of Dharma parade before us. We hear that the trainings are like the North Star, a light that orients us. As the days go by, the question continues to arise: Who will take the trainings? Many of us are confused. We don't know if we can meet the goals, if we should or want to commit ourselves. Thus three days pass. In Dharma sharing, some people express their decision to take the trainings. Others reveal confusion or a negative decision. We all listen with care and attention. Eleven brothers and sisters take the vow to revere life, practice generosity, look for true love and fidelity, practice loving speech and deep listening, and procure a nutritious and healthy life. It is beautiful to share this intention, knowing that these trainings will take us all our lives, and that we are accompanied on this road.
One memorable practice is that of starting anew. One night, Laura and Jorge water their flowers in front of the community. At first, they look each other in the eyes and each says the virtues that she or he sees in the other. Then they offer apologies for the discomfort or suffering they have caused each other. We see how their words turn into sun and water, the nutrients of the seeds of love and compassion. They give us a living example of the fourth training: our eyes witness the fact that loving speech and compassionate listening are the tools of the artist who creates reconciliation and peace. Later, Thay Phap De invites us to practice in couples. Some of us are with our life companions and we practice with them. Some are with parents or children. Those who have come alone pair up and practice watering the flowers of an absent person. It's an intimate time, deep and hopeful. We learn that it's always possible to start over.
As the days pass, we cultivate silence, but also listening. Mónica, Hapinés, and Laura help us to sing in key, inspiring cantos. We give thanks to life with our Chilean sister Violeta Parra. With Mercedes Sosa we remember that everything changes and with Fito Páez we offer our heart. Phap De teaches us an Irish blessing: "May love hold you in the hollow of her hands." During the last night's gathering we all sing "Cielito Lindo," a traditional Mexican song, which our monastic brothers love. Three children who have lent a special touch to our time together, David, Elías, and Sofía, sing the turtle song, and Fausto thrills us with a cappella numbers. His crystalline voice reminds us that we are like water that reflects what is beautiful and true.
The last day, we finish our meditation by walking under the shade of a jacaranda. With the children cross-legged at their sides, Phap Lac and Phap De teach us the art of waking up the bell. Only five days have passed, but the conditions of the retreat have let the people of the Mexican Felicidad family recognize each other in interbeing. Without coming or leaving, neither before nor after, we embrace firmly and then let each other go. We know that each of us is in the other and that the other is in us. We leave Casa Xitla wide awake. We have learned to recognize that the present moment is a wonderful moment.
Thank you, dear Thay; thank you, dear family.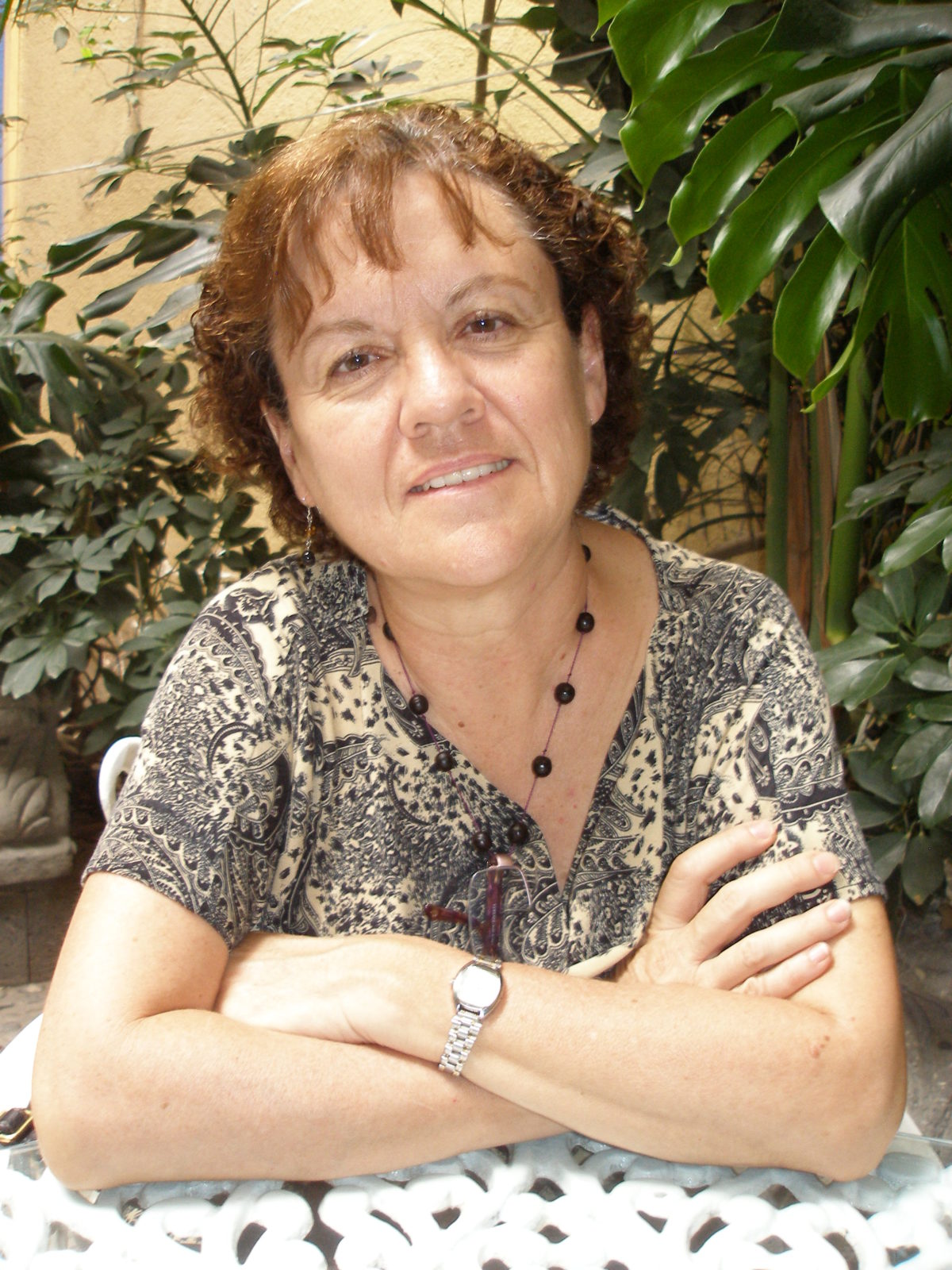 María Jiménez, Felicidad Valiente del Corazón (Courageous Happiness of the Heart), is a professor at Autonomous University of Mexico City (UACM). Maria enjoyed the retreat among jacarandas twice: the first time while living it and the second while writing this article. Two other members of the Sangha in Mexico City, Jorge Hirsch and Gabriela Rosales, contributed. Their voices are a vehicle to convey the sound of a single river: the Felicidad Family.