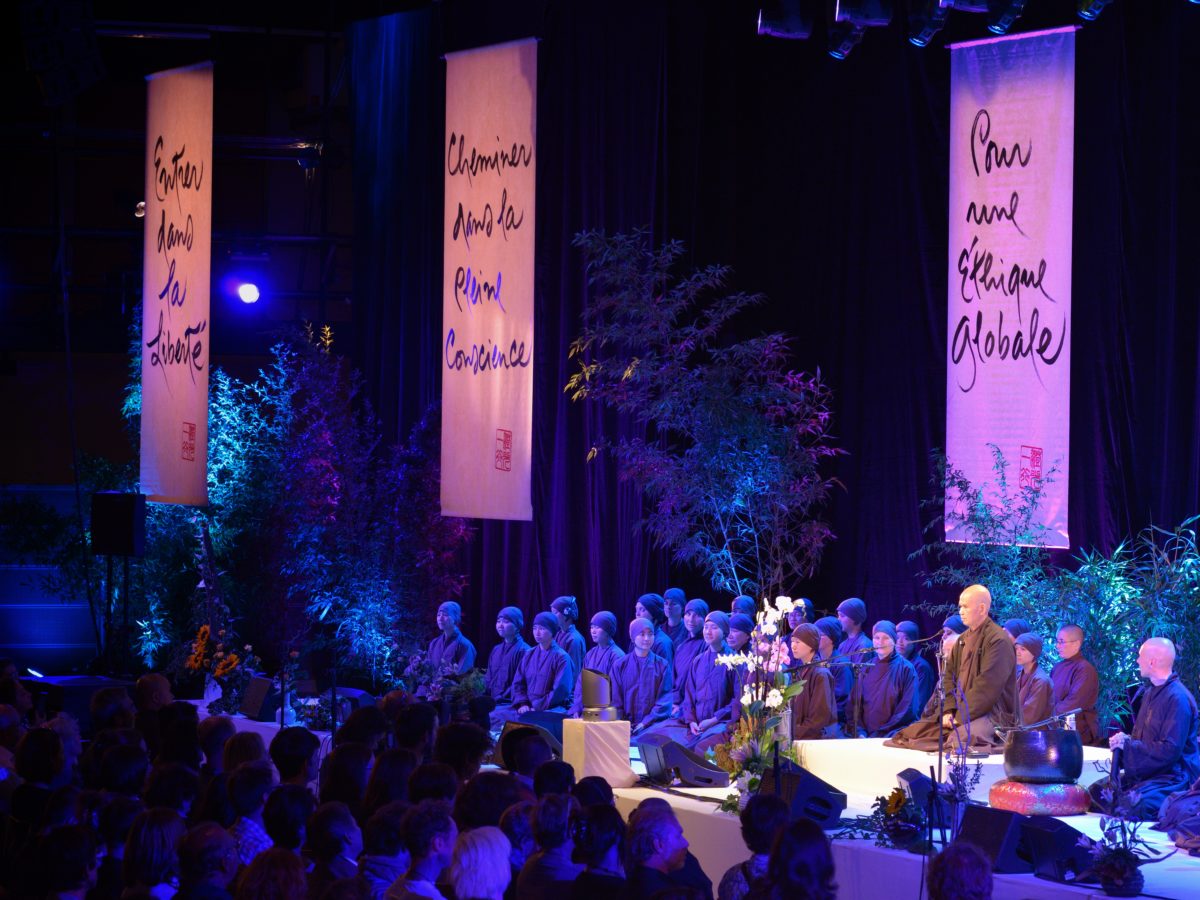 We Have a Dream
Last September, twelve enthusiastic people came together in the Source of Compassion meditation center in Berlin. Our vision: a green residential community in Berlin, in the tradition of Thich Nhat Hanh. We would be excited to have English-speaking Sangha members from various countries participate. Would you be interested in joining us?
We envision that in the residential center, all inhabitants will have their own apartment where they live alone or with their family. They will continue with their outside work but will live and practice together as a Sangha. There will be enough space for young and old, families and singles, locals and foreigners.
We are a colorful group of longtime practitioners; most of us have taken the Five Mindfulness Trainings and four of us are Order of Interbeing members. Our professions include naturopath, teacher, drama therapist, hospice worker, and film director. Among us are eager eco-gardeners and a vegan/vegetarian cook.
We are looking for more support. We're specifically searching for OI members as well as for an architect and someone who has studied finance. It would be best if these people were also OI members or longtime practitioners who would like to participate in the founding of this center. Families with children are wholeheartedly welcome. If you also dream this dream, please get in touch with Aleksandra Kumorek at akumorek@hotmail.com.
Thich Nhat Hanh Foundation Sangha Building Project
Thich Nhat Hanh has taught us that without Sangha, there is no Buddha and there is no Dharma. Sangha is essential to our practice. With the awareness of the need to help build, develop, and strengthen Sangha, the Thich Nhat Hanh Foundation is honored to support our community with a new initiative—the Sangha Building Project. As part of its ongoing work to provide support for mindfulness teachings and practice programs, the Foundation is providing a start-up Sangha support fund of $10,000 to develop and help build Sanghas. Current examples of Sangha support efforts include:
Dharma Teacher Support– Grants of up to $500 to bring a Dharma teacher to a local Sangha and community for a public Day of Mindfulness.
Sangha in a Bowl – An offering of resources such as instructional and teaching books, a chanting and song CD and pamphlets, a photograph of Thich Nhat Hanh, "how-to" tips, and a bell.
For Sangha support guidelines and a funding application, or to make a donation for the Sangha Building Project, please visit ThichNhatHanhFoundation.org or contact Lorri Houston, Foundation Community Liaison, at: Lorri@ ThichNhatHanhFoundation.org.
True Freedom: Prison Dharma Sharing Practice
True Freedom is a Dharma-sharing practice that connects inmates with lay practitioners through the mail. The program is seeking experienced practitioners with a long-term, solid practice who can offer support by corresponding with an inmate. This is a powerful way to engage our practice while nourishing those who are in great need of support and Sangha. If you are interested in participating, please contact Pete Kuhn at peterkuhnxx@gmail.com for more information.
For our incarcerated friends: This is not a social pen pal program, but is designed for those who would like to share about the joys and challenges of their practice. Because we have a limited number of writers, this program is only available for inmates practicing in the Plum Village tradition. Inmates who are interested may write to us at the following address:
True Freedom
Community of Mindful Living
2499 Melru Lane Escondido, CA 92026