By Joan Halifax
In September, Thich Nhat Hanh quietly stood before nearly 1,000 people in San Francisco and asked the question, "How do we realize peace?" Gathered were world leaders, business leaders, religious teachers, and others. This meeting was initiated by Mikhail Gorbachev and colleagues from around the world, including Nobel Laureates, Presidents and Prime Ministers, and other luminaries. The meeting began an initiative on the part of Mr. Gorbachev to create a global community of individuals committed to a deep inquiry into the challenges that will face us in the coming century.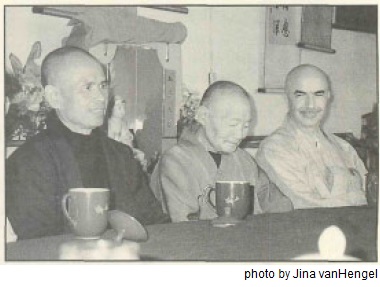 In the midst of the Forum, Thay sat like a Buddha reminding us of what we were really looking for. As some raced to meetings, Thay and 100 others did a meditation walk through the halls and on the roof garden of the Fairmont Hotel. In the steady quietness of the walk, people who were hurrying slowed down, and many joined us. At his keynote address, Thay offered the precepts as guidelines, whether we are Buddhist, Christian, Jewish, Hindu, or Muslim. He reminded us of the ravages of war and the gifts of peace. He encouraged us to slow down and to look deeply into the present moment.
As Thay has said, if we care for the planet, we care for ourselves. If we take care of hungry children, we feed all beings. This sensibility of compassion in action was the awakening bell throughout the gathering. In the closing plenary session, biologist Jane Goodall said, "For me, stewardship has come to mean caring as much as we can, not only for each other but for the creatures, the nonhuman beings with whom we share the planet. It is when every one of us has the empowerment to know that we have the stewardship of this amazing planet in our hands, then gradually we can move towards true human potential for compassion, for respect, and for love."
Richard Baker-Roshi is abbot of Crestone Mountain Zen Center in Colorado. Joan Halifax is leader of Upaya Sangha in Santa Fe.