By Sister Chan Khong
Vietnam recently experienced the worst flooding in over 30 years. Eight provinces are under the fierce waters. We desperately need your help to bring relief to these people. We send money only to the very able friends who have dedicated their lives to helping destitute people, not entrusting your gifts to the unreliable government agents. In comparison with the courageous, compassionate service of these nameless bodhisattvas, our gifts are so small. There are not enough words to thank them.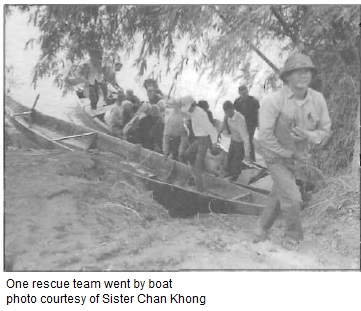 These friends undertake dangerous trips to bring your gifts, evidence of your love, to the needy. They could easily lose their lives, sitting on trucks full of your gifts on muddy, broken roads or tiding through stormy waters on boats heavily loaded with your gifts. These live bodhisattvas radiate the energy of Love and Fearlessness. They go in place of us to face dangers and bring our gifts to the neediest people who are dying of hunger and cold.
Please touch the earth deeply in gratitude for their efforts, and then send your donation to help the people suffering from the storm and floods. Dear friends, even if you can only afford to give one dollar, if you offer it with all your love, then this act will touch three thousand worlds in the cosmos, and the wonderful energy of God, of the Buddhas, will embrace you and protect you and the people you love.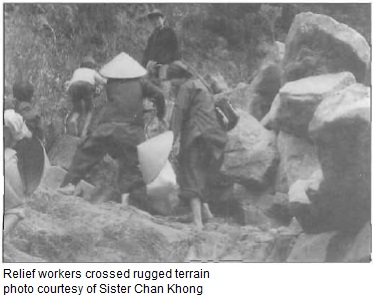 What you can do to help: • $1.00 can buy seven pounds of rice or fifteen instant noodle packages. • $5.00 can buy a blanket for a family. • $15.00 can help one family start their lives again.
Please send your tax deductible donation, marked "for flood victims," to UBC Relief Committee of Green Mountain Dharma Center, P.O. Box 182, Hattland-Four Corners, VT, 05049, or wire funds to UBC Maple Forest Monastery, AL Bank, Route 4, East Woodstock, VT, 05091, Account #01001-24920.