The Journey of an English Buddhist Nun
By Sister Annabel Laity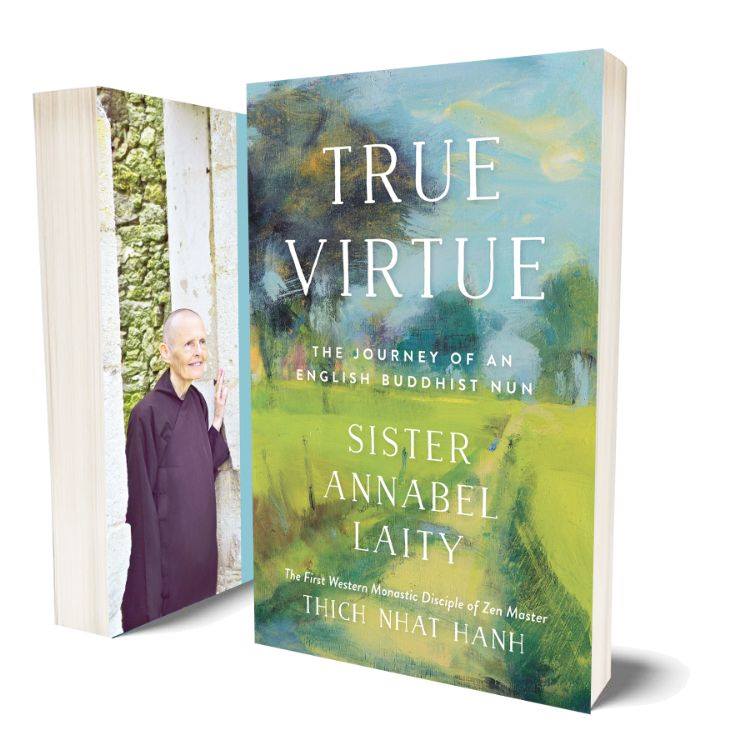 Parallax Press, 2019
Paperback, 360 pages
Reviewed by Valerie Brown
True Virtue is an autobiography of the life and path of monasticism of Sister Annabel, the first western monastic disciple of Zen Master Thich Nhat Hanh. Organized in three parts, tracing her life's journey from childhood to adulthood and from her secular life to her monastic life, it draws the reader into exquisite and intimate details of Sister Annabel's remarkable life through vivid writing, rare and personal photographs, and handsomely illustrated maps, offering significant visual guides.
The book begins with her idyllic childhood in Cornwall, at the southwest tip of England, and moves to her early years teaching Greek and Latin. Sister Annabel discovers a deep spiritual love for India while studying and practicing Tibetan Buddhism. In Part Two, we follow her journey to Italy and back to India, her work to end nuclear war at Greenham Common and with the Buddhist Peace Fellowship, and then her meeting with Thich Nhat Hanh and Sister Chan Khong.
Finally, in Part Three, the reader returns with Sister Annabel to India—this time with Thich Nhat Hanh and the Sangha—and we experience the early years of Plum Village through her eyes. Sister Annabel vividly describes her experiences of traveling throughout the world, supporting the Sangha in Asia, and establishing monasteries. In a brilliantly reflective Afterword, Sister Annabel shares her insights on living as a monastic within a spiritual community.
Adding to her intimate writing are rare photographs from her childhood years and throughout her life: Sister Annabel at three years old, with her father in Little Falmouth, sailing for the first time in the Carrick Roads, her ordination at Vulture Peak, and more. Her instinct to protect all life, preserve scarce resources, and appreciate the natural world was deeply shaped growing up in Cornwall, a place of palm trees, estuaries, and seaside towns. Her mastery of languages and communication was honed by teaching Latin, Greek, and English throughout schools in England, Greece, and Italy.
Reading this book for me was like walking quietly along a forest path in the bright afternoon. I felt deeply present and drawn into the life of this remarkable monastic. Beautifully written, this book is essential reading that offers an intimate portrait of the extraordinary life and spiritual devotion of Sister Annabel—one of the most respected monastics of her time—and traces the robust growth of the Plum Village community worldwide.