By Sister Viet Nghiem
I was born in 1982, the same year as Plum Village. My twentieth birthday, January 10th, 2002, was on a mindfulness day. I received a lot of love that day from the Sangha. I was very moved when Thay wished me a "happy birthday" before starting the Dharma talk.
Later, Sister Phuc Nghiem came into my room and gave me a package in a plastic bag. I could see a yellow-orange color that was very beautiful. It reminded me of the color of the sun playing with the leaves in Autumn. At that time I was still an aspirant and I did not know that the next ordination was coming soon. When I recognized the sanghati robe, I felt funny. Trying on my monastic robe on my birthday had a deep effect on me. I felt like an angel.
I shared my birthday cake with my brothers and sisters. I was so happy, my heart was full and my cheeks hurt from smiling, laughing and singing too much! I realized that I was twenty the same year as Plum Village. But what was the true meaning? Our monastery has been built up wholeheartedly and with great patience. Because all the conditions have been sufficient today we see Plum Village in its many manifestations and I am also one of those manifestations.
I saw that it is a real blessing to celebrate my twentieth birthday here. When I was fifteen, I came to Plum Village for the first time. For me, it was a refuge, a place where I could find the rest and comfort I needed. When I turned twenty I ordained in a family of twenty-one monks and nuns, the Sugar Palm Tree family. I dreamt of having a younger sister or brother and now I have ten brothers and ten sisters! They are in me and I am in them, and together we bring youth to the monastery because we are the cells of the same body, the Sangha body. I see also future generations in me, because by practicing well, I am more able to open Dharma doors for them. When I received the precepts I became a link in a long chain that has no beginning and no end.
To turn twenty in Plum Village allowed me to open up and bloom in the Sangha. I feel fresh because I am twenty for all those who came before me and all those who will come, whoever they are, wherever they are, visible or not visible. I am twenty for my mother, my father, for Thay, for my brothers and sisters, wherever they are today.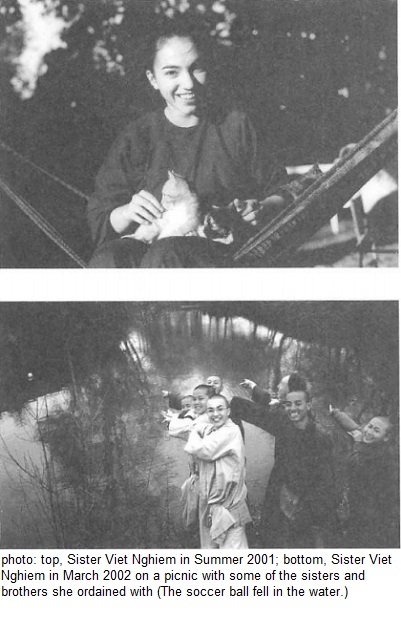 Sister Viet Nghiem, True Adornment with Transcendence, is from Paris, France. After finishing her baccalaureate she came to live in Plum Village and after one year ordained as a novice in February 2002.