By Brother Phap Khi
There are places on Earth to rest from the tiredness of the world. There are places for life, ports of call, places for passing through and transition so that people can finally meet themselves, meet each other, in the light and at the source of spiritual and human love in all its depth and authenticity. Places like this do exist. There may be too few of them, but they are real. These places are as precious as a drop of water in the heart of a desert oasis, a treasured pearl of light in an increasingly blind world. Such pearls of light enable us to glimpse the beauty and wonder of this world, so full of light.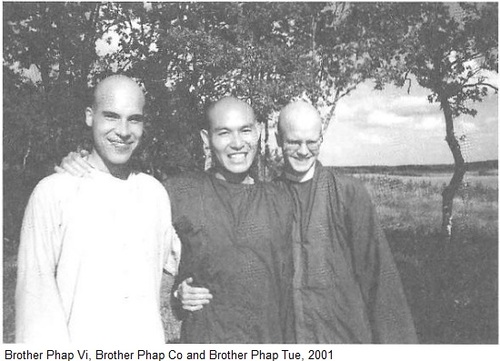 Plum Village is a place of great beauty and nobility, offering us an almost naive and gentle kindness, a generous and young and fresh kindness bringing relief and liberation from our pain.
Plum Village is woven with spiritual wealth. In this Pure Land there is a profound depth of human richness, a wealth of the heart, a wealth of community with monastic and lay brothers and sisters who show deep fee lings of a family spirit in their daily interactions.
Thay is the wisest one amongst us. He is our grandfather, our father, our elder brother, as well as our spiritual teacher, master, guide, and friend. He offers us everything, the most precious things on this earth, in this life, all that can be offered from the heritage of life. He gives us a transmission of ancestral values and spirituality, an education in kindness and humility, acceptance and forgiveness for ourselves and others. Thay is an immense gift, a generous offering of love, a wonderful being in al l his humanity and simplicity.
Sometimes I cry tears of gratitude, inspired by the overflowing grace given to me to see and to hear what is right next to me. I would like to give all the water drawn from the depths of my heart, from the depths of my whole being. I would like to be able to express, more often, my immense gratitude for all the kindness [ perceive here, for the wealth of people gathered here who live together and who love each other almost in silence.
Surely I will never have enough tears, enough ink or words to express what is happening in Plum Village. I see people coming here as survivors of suffering, with distressed and ripped up souls. These are beings who need love, tenderness, attention, and friendship . They need to be acknowledged and listened to. These beings are ourselves. And because they are ourselves it is possible for us to offer them little and then big waves of kindness, brotherhood, sisterhood, care and compassion.
Thay offers us words of truth. They are the words from the heart, lifting worlds, pulling apart the curtains and liberating our inner child and bird. Thay shows us the way leading to right speech, speech of the heart. Thay encourages us to make good use of this speech. Then Thay pushes us, with kindness and a deep love, to send this speech in all directions, because it will bring relief to the other, freeing this sister, this brother from illbeing or despair.
But beyond words, what prevails in Plum Village, in all its splendor, its peaceful majesty and its noble simplicity, is a presence. The presence of silence, a knowing and living silence that is the living Dharma.
Let's ask ourselves the question: What are we all doing together in Plum Village? We come from all corners of the world, from all horizons, cultures and ways of thinking; we come to meet here, to find the kind and loving protection of Thay, for what reason?
To be together, just that. To live together and to love. It is simple. It is the truth. The truth is always simple.
Plum Village is real. Asian faces, light faces, different smiles and light everywhere in people's eyes. It is the same light.
It is certain that I've found my place of pilgrimage here. I walk on the Earth as Thay teaches us, with sacred steps for the sacred Earth. I make light steps, peaceful steps, steps which are the messengers of my gentleness, gratitude, loyalty and love for my friend, the Earth . I walk like that and the contact, the relationship, the communion with my friend, the Earth, becomes more and more intimate and true.
Plum Village, I love you .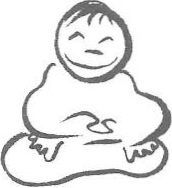 Brother Phap Khi, Instrument of the Dharma, is from France. He ordained in 2001.