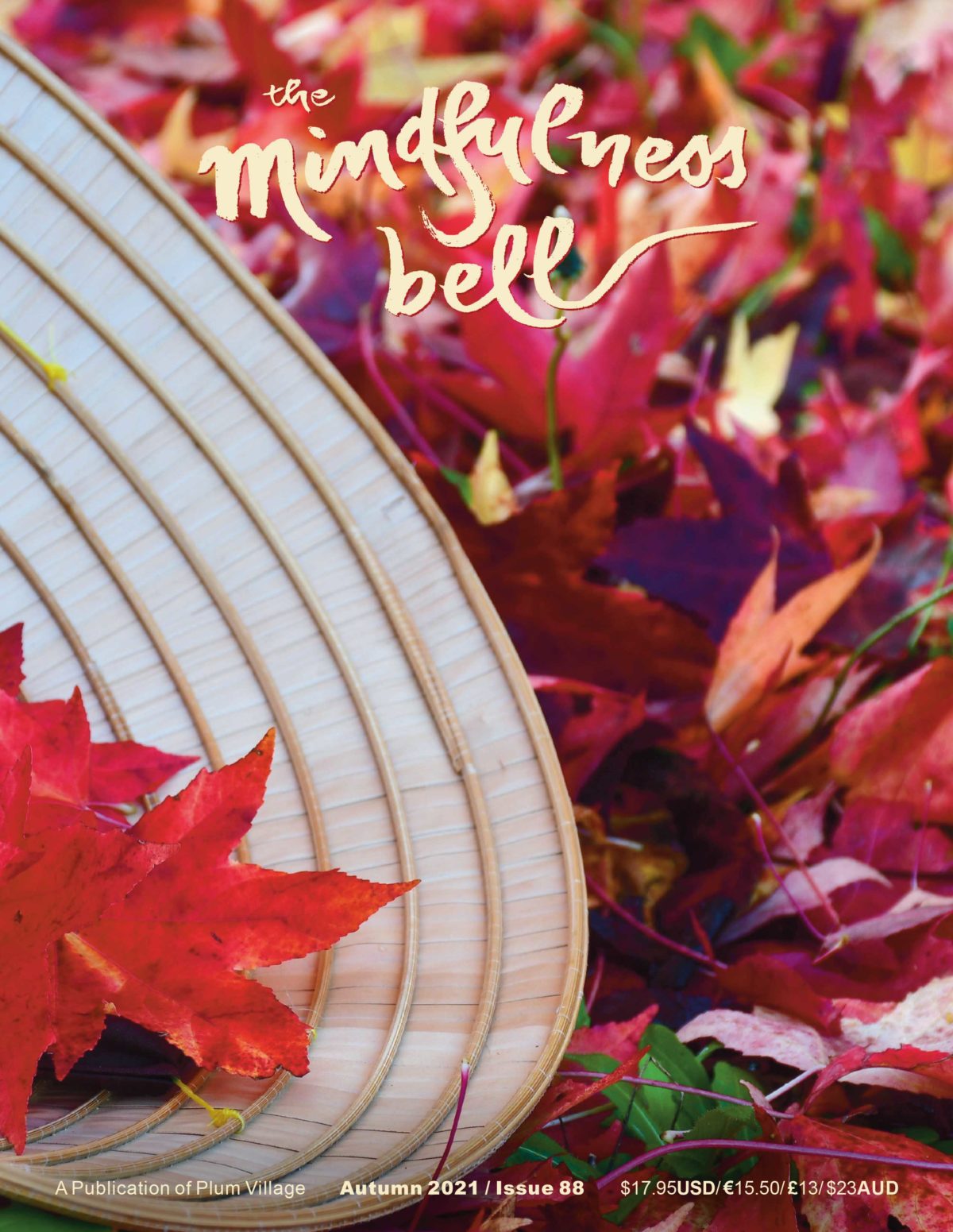 The Mindfulness Bell: Autumn 2021, Issue 88
A journal of the art of mindful living in the Plum Village tradition of Thich Nhat Hanh
This issue is included in our digital subscriptions. Featuring: "The Art of Transforming Suffering" by Thich Nhat Hanh, "Resting Back and Trusting the Unknown" by Kaira Jewel Lingo, "Gathas for the Practice of Mindful Living" with Brother Chan Phap Luu, "Contemplations of the Five Mindfulness Trainings" by Marisela Gomez and Valerie Brown, sharings from practitioners on social justice, service as chaplains, navigating suffering, Wake Up, schools, and much more...
Free U.S. shipping on orders above $30.
A journal of the art of mindful living in the Plum Village tradition of Thich Nhat Hanh.
Issue 88 features teachings from Thich Nhat Hanh, Kaira Jewel Lingo, and much more:
Part Two of Thich Nhat Hanh's Dharma talk "The Art of Transforming Suffering" talks about practising Right View and Right Diligence.
Transformation Roots: Learn about trusting the unknown from Kaira Jewel Lingo, using gathas to help live mindfully, and a friend's transformation with organic gardening.
Social Active Challenges: Our international friends share their practice in the midst of political turmoil and social justice, and their service as chaplains.
Living Harmony: Reflections focusing on the present moment and navigating suffering.
Caring Together: our international friends tell us about being present for our Sangha, school students, and our Dharma teachers' talks.
Sangha Initiatives: Updates about our worldwide LGBTQIA+ community, sharings from worldwide Wake Up Schools teachers, and gratitude from the Thich Nhat Hanh Foundation.
Issue 88 is included in our digital subscriptions.
To subscribe to upcoming issues, access to current plus over thirty years of articles, practice resources, Sangha directory, and more visit mindfulnessbell.org
Orders and payments are processed by Parallax Press, the publishing house of the Plum Village community.
Additional information
Additional information
| | |
| --- | --- |
| Weight | N/A |
| Dimensions | N/A |
| Format | PDF, Paperback |