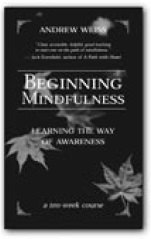 Beginning Mindfulness: Learning the Way of Awareness
By Andrew Weiss
Published by New World Library
Reviewed by Richard Brady
"How do I practice with this?" Often, when I am confronted with a serious issue in my life, I will go to an experienced practitioner and ask this question. The advice I have received has often led me to embrace a variety of informal, daily mindfulness practices.
Andrew Weiss's Beginning Mindfulness, based on Thich Nhat Hanh's teachings, is a wonderful vehicle for just this kind of learning. A long-time member of the Order of Interbeing, Andrew developed this material as a textbook for his ten-week Mindfulness Meditation course at the Cambridge Center for Adult Education. Readers will find suggestions for practice such as downloading the Washington Mindfulness Community's mindful clock computer program as well as classic practices like using gathas throughout the day. Each lesson ends with a "homeplay" assignment, directing the reader to experiment with both formal and informal practices in a variety of ways.
At retreats led by Thich Nhat Hanh, I often meet folks who are looking for ways to form Sanghas of practice when they return home. I suggest offering a study/practice group using this book, which is suitable for both novices and experienced practitioners. Beginning Mindfulness can play a significant role in making mindfulness practice more widely accessible.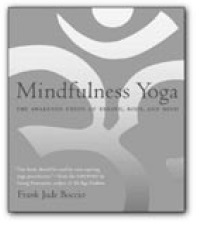 Mindfulness Yoga: The Awakened Union of Breath, Body, and Mind
By Frank Jude Boccio
Published by Wisdom Publications
Reviewed by Barbara Casey
This book is a must-have for all mindfulness practitioners who also practice or teach yoga. In his introduction, Frank Boccio says, "I owe a special debt of gratitude to Thay Nhat Hanh for introducing me to the teachings of the Buddha on anapanasati and the Four Establishments of Mindfulness. They were just the medicine I needed at a desperate time in my life, and they have gone on to transform my life, my practice, and my teaching."
In Mindfulness Yoga, Boccio takes us through the four sections of the Anapanasati Sutra (the Full Awareness of Breathing) and outlines a course of asanas to practice according to each teaching. Rich with personal stories, and interspersed with guided meditations, this text offers a way to deeply connect with our bodies and our feelings through the practice of yoga.
The design of the book is a pleasure. The photos of the poses are clear. Each page stays open so you can practice the pose while referring to the illustration. Both content and design are richly inviting.
As a student of Thich Nhat Hanh, I have learned that the two sutras on the Full Awareness of Breathing and the Four Establishments of Mindfulness are at the heart of my practice. Every year I try to spend some weeks focusing on each one, and each time I learn a bit more about myself. This book makes me want to join with Sangha friends and return to these teachings in a new way, using my body as explorer. Anyone want to join me?