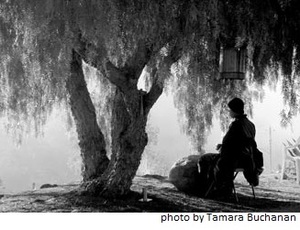 From January through March, the entire monastic Sangha gathered at Deer Park Monastery in Escondido, California, for the annual winter retreat. Lay practitioners were invited to join them. Every Friday, 100–150 lay friends arrived and departed, some staying for a week, some for a month or more. This flowing, ever-changing Sangha was held in stability by the practice of the monastics and a core group of lay folks who were able to stay for the whole retreat.
During the three months, Thich Nhat Hanh gave Dharma talks in English and Vietnamese, focusing on the teachings of our ancestor Linji, and on the sutra on The Full Awareness of Breathing. Other activities included the celebration of the Vietnamese New Year, Tet, which included oracle readings from a centuries-old poem; ten days of the Linji Great Ordination Ceremony; two almsround processions at nearby parks; and a public talk by Thich Nhat Hanh.
The following offerings come from a few of the practitioners who were able to share in the life of the Sangha, as we walked, sat, and ate in mindfulness. From doing laundry and making soy milk, to walking with Thay to his garden, every aspect of the day was a rich feld of practice. May the peace and transformation of that time together benefit all beings.