at the Great Ordination Ceremony
Deer Park, California
February 13, 2004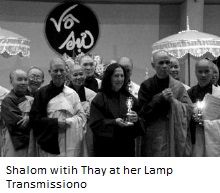 Respected Thay, respected Venerables, brothers and sisters and friends, I offer Greeting to this House, greetings to the people and to the ancestors of this House. Greetings to the land, the mountains, the rivers, and the sea. Tena koutou, tena koutou, tena koutou katoa (translation: Greetings, greetings, greetings to you all). In New Zealand, this is a traditional and respectful way to begin to speak as a guest of another community.
I have a sense that if I were to turn and look behind me I would see the New Zealand Sangha sitting, supporting me, and see my beloved daughter, who ten years ago insisted that we sell our house and go to Plum Village. She was eight, and she was very wise.
About fifteen years ago somebody put a book of Thay's in my hand. I read one page, and that page was the beginning of the lamp transmission. I didn't know anything about Buddhism, but I knew that this man knew what I wanted to know. For me, it is very beautiful to see this physical manifestation of the lamp, but the lamp of the Dharma, the lamp of Thay is in here, in my heart.
With my mother behind me and my daughter in front of me, there is a hardness in our family line. The practice gave me a lot of courage to transform that hardness so my daughter wouldn't have to suffer so much. In the early days at home I would literally stop when there were difficulties between me and my child, and I would turn to Thay and I would say, "And what am I supposed to do now?" Many of you will probably know what he answered. He said, "Shalom, do the dishes." Because that was what was in front of me. And I would do the dishes, very mindfully, and the difficulty between us would calm down.
A few years ago I was very sick. I'm not quite sure how this will sound to you, but it was a wonderful experience! It was very difficult and there was pain, and for many days I felt as if someone had pulled the plug out, because there was no energy, and this body suffered a lot. But something wonderful happened. I could experience for myself the softening of that hardness. I felt a lot of compassion and a lot of love for this body. I could feel the energy of the teaching from Thay, of the mother holding the baby.
Some mornings I would wake up and walk from my bed to the kitchen, and I would get halfway through cutting an apple, and there would be no energy left, so I would have to put the knife down and leave the apple half cut, and walk mindfully back to bed. My body was very ill, but my mind was very clear. So I lay in my bed and I breathed in, and I breathed out, and I could do that quite easily. I could look out at the hills and the sky, and I was very happy.
It's very wonderful to sit together and receive the Dharma lamp, all of us. I'd like to say to my lay friends: Don't wait for the Dharma lamp that looks like this. It is a great good fortune for us to be able to be here. I wish you all well. I wish you well in body, heart, and mind, and I thank you for supporting me and teaching me.
Shalom lives in a community of mindfulness practitioners called Dharma Gaia Garden. They welcome guests throughout the year, for organized retreats and for informal visits. Some scholarships are available
The Path of Emancipation, a twenty-one day retreat, July 10–31, will follow Thay's teachings from the book of the same name. Cost: $400 plus dana for the teachings.
Write to Dharma Gaia Garden, RD1 Coromandel, New Zealand; phone (+ 64 7) 8667995
Shalom's Insight Gatha
The deep purple delphinium drops her petals one by one. Magnificent! And my countless faces appear and disappear, bubbles on the ocean's surface. Beauty and pain quiver my ripening heart. The earth trembles. I step gently, this foot anointed by the bodhisattva's hand.
Thay's Gatha to Shalom
The seed that has been planted in the Precious Land now has a chance to be penetrated by the spring rain. Day and night, let us dwell peacefully in the position of touching the earth so that everywhere flowers will bloom and reveal our true mind.