Reflections from an OI Retreat at Deer Park
By Caleb Cushing, Jerry Braza, and Chau Yoder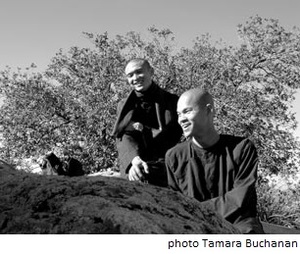 "Because of his or her experience, he or she is a refuge for younger sisters and brothers for whom the practice is still something new."
Throughout the weekend, we focused on how mentoring builds and sustains the quality of practice for individuals and Sanghas, both in our home Sanghas and throughout the fourfold Sangha worldwide.
During the weekend, our small groups reflected on how to support each other and our Sanghas through the mentoring process. Reflections from the group discussions included the following insights:
Mentoring is like gardening or parenting: practicing by example is "What you teach, teaches some; what you do, teaches more; and what you are teaches most."
Sangha is a place for individuals to stretch, grow, share truth, and build solidity within Our family Sangha is our primary practice group.
There are many styles of conflict resolution and Sanghas must accept the differences of their Sangha members, such as age and cultural viewpoints.
Joyfully together, forty-two Order of Interbeing members and aspirants gathered for a weekend retreat at Deer Park Monastery, guided and supported by thirty-three monastics. Together we practiced and shared insights using a small group process. Brother Phap Tri offered us an invitation "to get to know ourselves, across our cultures, Vietnamese, Western, monastic, and lay." Collectively, we reflected on the art of Sangha building through the mentoring process.
In Joyfully Together, the Art of Building a Harmonious Community, Thay defines "mentor" as someone who has practiced for some time.
What we can do to enhance our connections through mentoring:
Develop ways for lay Sanghas to connect with monastics, such as inviting them to lead regional gatherings and local At monasteries, they could offer classes in mindful manners, Vietnamese language, cooking, and singing.
Lead groups of aspirants in OI
Encourage Second Body practice which creates support and strengthens friendships, and Shining the Light ceremonies which help facilitate insight and deepen
Create regional groups and communication tools like a regional directory of Sanghas, OI members, and Dharmacharyas, newsletters, and regional
Organize a regional OI Retreat each year at Deer Park Monastery and a national OI retreat each year or
Visit many Sanghas! Develop friendships through spending time
Order of Interbeing member Caleb Cushing and Dharma teacher Chau Yoder live in Northern California. Dharma teacher Jerry Braza lives in Oregon.