By Jay Rabin
I was excited and anxious. Thay was about to give his first Dharma talk at the winter retreat, 2004 at Deer Park. Being a New Yorker and having experienced crowded conditions, I reserved a great seat far in advance.
Reserving a seat consisted of putting a jacket over a pad and cushion. I could not sit in the meditation hall and wait because my legs couldn't sit that long. I asked the fellow next to me to save my place and looked in from time to time to make sure my seat was still there. Fifteen minutes before the talk I went in to protect my seat and to prepare for the Dharma talk.
I am excited: I have a primo seat for my first retreat with Thay and his opening talk.
Five minutes before the talk begins, it is announced that the talk will be in Vietnamese and if you need translation you must sit in the back near the translation equipment. What! This is not good. I am not happy. The people who have come up for the day have all the good seats. This is not fair; I have paid to be here for the whole retreat. This is not organized; this is not going my way. Don't they know who I am?
I scramble around. There are no spaces available near the translation equipment and I have no headphones. A small stream of smoke has begun to come out of my ears. A rumor goes around, there are headphones being given out by the back doors. I rush out, get a pair and hurry back inside to find a place to sit. There are no extension cords so everyone is crowded around the small boxes of plugs. Now I have a new problem: there is no place to sit to be plugged into the equipment. The small stream of smoke coming out of my ears is getting bigger. Anxious and upset, I cannot find a place to sit.
Suddenly a voice calls out my name. A fellow I recently met is beckoning me over. He is aware of my predicament and is making room for me in an already crowded area. He is exhibiting the spirit of a Gentlemanly Angel. Then he spots another person in a similar predicament and invites her over, so we all make room. The Gentlemanly Angel spirit seems to be contagious, as I invite another straggler over. We are tight as sardines and quite uncomfortable, but because of our Gentlemanly Angel, we all get to hear Thay's Dharma talk. We also get to start acting like a Sangha, looking out for one another instead of focusing only on ourselves.
I got to experience love, compassion, and consideration in action. I got to look at my own actions, selfishness, expectations, and silliness. I think the Gentlemanly Angel potential is in me; it is just a matter of being mindful and living the life I aspire towards, the life of the Mindfulness Trainings.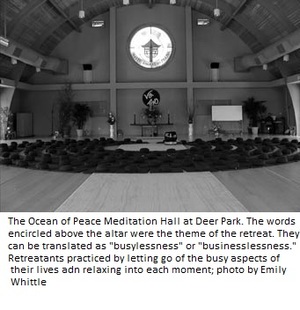 Jay Rabin, Continuous Service of the Heart, lives in Solana Beach, California. He spent the winter retreat with Thay and the Sangha at Deer Park, and received the Five Mindfulness Trainings there.