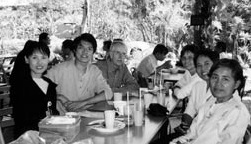 By David Percival
There is an oasis of mindfulness amidst the congestion and noise of Bangkok. It is the new community of friends who, with the assistance of Sister Linh Nghiem, formed a Sangha in Thich Nhat Hanh's tradition. This group of sincere, committed practitioners is dedicated to making Thay's teachings available—a noble effort in this country where Buddhist practice traditionally follows the Theravada school of practice.
My partner and I were fortunate to meet with some of the members in early January 2004 for a delicious lunch, followed by discussion and sharing. We could feel the collective energy of mindfulness at our small table; we experienced joy, openness, and acceptance. We were at home.
The Sangha of Mindfulness welcomes everyone from Thailand or visitors from elsewhere. They also anticipate forming another Sangha soon in the city of Chiang Mai in northern Thailand.
Please contact for additional information and directions:
Ms. Kittiya Pholkerd p_oay@hotmail.com Cell: 01-929-9396 Home: 02-977-0426
Mr. Pongsathorn Tantiritthisak pongsathorn_t@clickta.com Home: 06-668-5866