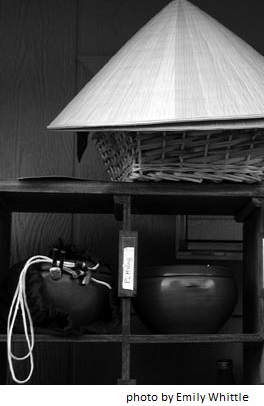 By Phap Thanh
We went on almsround today. I walked slowly in meditation. My mind focused on my steps, behind my elder brother. As I walked people offered me food. I opened the lid and held out my alms bowl to them.
As I walked on, in the corner of my eye I saw a little girl, about three years old, in her mother's arms. I realized that the little girl wanted to offer something to me, so I stopped and looked at her. She had an apple in her hands. She held it tightly. Her mother encouraged her to put the apple into my open bowl. The little girl was hesitant; there seemed to be a resistance in her. Very, very slowly she began to lower the apple into my begging bowl. I stood quietly, observing this wonderful and slow process. She lowered the apple a little further into my bowl, but it seemed that she was not ready to let it go.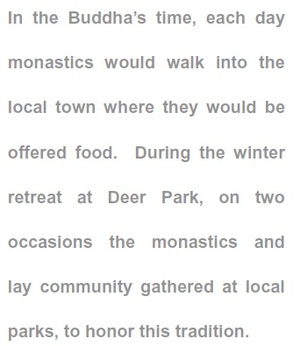 With more encouragement from her mother, she then released her grip on the apple and it rolled into my bowl. I could sense the little girl was ambivalent about letting go of something so wonderful and precious as this apple. I offered her a smile and bowed a thank you.
I felt very grateful for having been the witness of that moment in the little girl's life. Maybe this was the first time she encountered the painful feeling of giving something away that was precious to her and at the same moment the joyous feeling of giving to benefit someone else. When she finally dropped the apple, it seemed like a new experience for her, like a relief.
I closed the lid of my bowl and walked on with slow steps. I felt very happy to carry this apple in my bowl, because with it I carried the little girl's compassion. I carried the little girl's experience of giving away her own food to someone else, someone that she didn't know.
Later on the whole Sangha sat down to eat together in silence. I held the little girl's apple in my hands and I still felt grateful for her sacrifice, for the pain she was going through to release it. I felt, with an apple given like this, many people could be fed. From this one apple, thousands of hungry children could eat and satisfy their burning hunger. I felt, with this generous attitude the little girl had shown towards me, so many starving children in the world could be fed. I ate the apple very slowly and tears ran down my cheeks.
Phap Thanh is from Germany and currently lives in Plum Village.