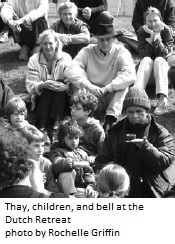 May 1-4, 2006
The Food!
We had to eat in silence – I wasn't expecting that!
It was vegetarian food but sometimes you wouldn't have guessed it.
The Vietnamese springrolls were especially yummy.
Every morning we had muesli or cornflakes which was really yummy.
The Kids program!
We played games and lots of football in the kids program.
Extra information:
My wrist got really hurt during football!!!
The feeling you get!
I felt really calm
—Yoram, age 10
I enjoyed the retreat very much. The children had their own children's program and that was quite nice. We were also allowed to join the meditations, I did that twice. Once at half past six in the morning. The other was 'total relaxation' or something like that. There I fell asleep.
There were also four monks and nuns who assisted the children's program. Their names are Monkey, Grape, Shiny and Chadder. I had expected that if you would run or talk, they would say: "Hush shut up, don't run." But they didn't do that.
I learned that in Buddhism everyone does everything with mindfulness: eating and walking mindfully and pay attention to your breathing. We also did that. Me and my brother enjoyed it so much that we have said to our parents that we want to go to Plum Village next year.
—Bente, age 11