By Bill Welch
Last August, the Mindfulness Practice Center of Fairfax opened, operating in rented space at the Unitarian Universalist Congregation. The church, located in Oakton, Virginia, offers several advantages to the center: eleven wooded a res; a supportive congregation, staff, and ministers; proximity to Anh-Huong and Thu Nguyen, the primary teachers at the MPC; and its location approximately in the center of Fairfax County, Virginia, a large suburban area directly west of Washington, D.C.
In the short time the center has been open, many participants have experienced significant, positive changes. Kay, a therapist, shared her thoughts in a letter to Anh-Huong and Thu.
"I hold on to the practice much better since attending the Center. I notice the moon often, when I attend the Center often. Instead of noticing the moon only on vacation, I now find it is there on Tuesdays and Wednesdays as well. ... The practice of maintaining my center while increasing my field of awareness greatly enhances my work as a therapist. After a few mindful breaths in the midst of a chaotic family, I am present to offer my best. I have also incorporated the practice of conscious breathing into my work by introducing bits of it to interested people."
Jim, interested in Buddhism since childhood, was well read on the subject of meditation, but "had a difficult time comprehending the instructions, much less putting it into practice." He longed for a place that could offer him instruction. Plagued by anger, stress, and addiction, he decided to visit the center every day for meditation. "I could feel the walls that I had built around my heart and mind start to come down, brick by brick. I started to learn to love again- most importantly, how to love myself. I learned that to love and respect others, I must first love and respect myself. A cigarette smoker for fifteen years, I finally realized how beautiful my breath is, how beautiful my lungs are. It did not take long after that to pluck that habit from my life. I pray that centers like this pop up all over the planet. The world would be so peaceful."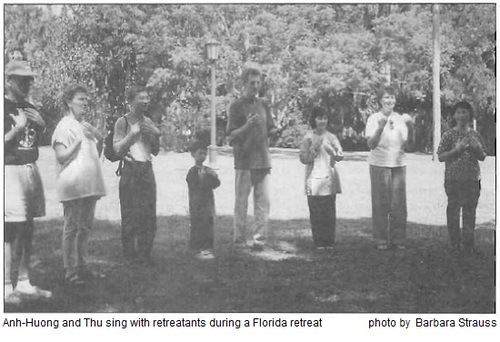 Thu offers deep relaxation meditation to parents while their children are in church choir practice. The parents found they had more patience for their children, and were better able to handle stress as a result of the sessions. Based on their own refreshing experience, several parents encouraged Thu to teach deep relaxation to the children. None of them knew how long it would take the children to settle down. They were surprised and pleased that the children were able to enjoy deep relaxation the very first time. One parent, Susan, reports on the benefits:
"For our family, it was a huge success, and my son looks forward to going to the MPC every Monday, even when it's a school holiday and there is no choir practice. He just wants to go because it makes him 'feel good.' My husband and I have noticed that his disposition is much more pleasant after the Monday session. He has had difficulty controlling his anger most of his young life, and has made so much progress in controlling his temper during the last four months. I attribute much of this improvement to the relaxation sessions at MPC."
Hal , a recovering alcoholic and longtime member of Alcoholics Anonymous, finds practicing mindfulness and meditation enriching to his AA program. Hal was instrumental in having Anh-Huong and Thu offer a Day of Mindfulness for People in Recovery. In expressing his gratitude after this initial offering, Hal said:
"Living in the here and now is a matter of life and death when recovering from addiction to alcohol and other drugs and is of bedrock importance to developing a happy sobriety over the long term. Your teaching had a profound effect on all the attendees with whom I spoke afterward."
Since this first offering, one other daylong workshop for people in recovery has been held. The current plan is to offer such an event all day one Saturday every other month.
Alice began attending the MPC soon after it opened and has found relief from a fear and anxiety syndrome which had bothered her for more than a year. When she recently had a rather serious leg injury treated in the Emergency Room, she practiced mindful breathing, and remained calm and relatively pain-free while the wound was cleaned and stitched. Alice finds that reminding herself to live one minute at a time helps her relax and reduces her stress.
For me, Thu and Anh-Huong have really become colleagues in ministry. As someone who has a real interest in spiritual growth- my own and others-I find the MPC a wonderful resource and support. It provides a regularity and structure that my own practice needs. Having an instructor conveniently available and having other people to practice with is very valuable. All of us associated with the MPC in Oakton hope others will make the effort to find and join us.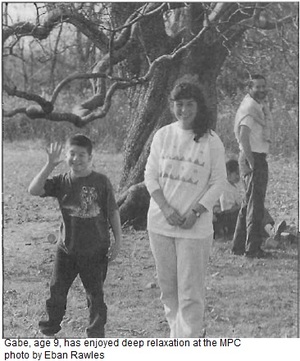 Bill Welch is the Assistant Minister of the Unitarian Universalist Congregation of Fairfax.