An Interview with Holiday Johnson
By Terry Masters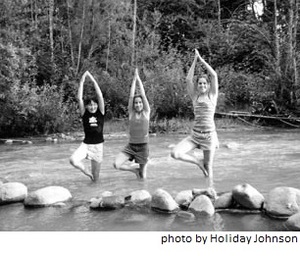 Holiday, tell us about your yoga classes for teenagers.
I know that some people are hesitant to work with teens; they regard them with suspicion, or fear. But my experience with teens has been wonderful. I'm encouraged by their enthusiasm, creativity, and their delight in life. I really love them!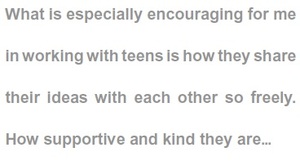 What kind of work do you do with teens?
Thirteen years ago I started a non-profit program for teens which we named Standing on Your Own Two Feet. The purpose of the program is to use yoga to develop skills in teenagers that produce a sense of well-being. In my experience, yoga helps youngsters become strong, centered, and healthy.
Teens can come to any class at our yoga studio seven days a week. But I offer two yoga classes that are designed specifically for youngsters eleven to seventeen years old. Because teens often don't have much money, the classes are half price, and I offer free classes for two months each year. During those months teenagers can attend classes every day if they want at no charge.
You also sponsor a teen retreat, don't you? What is that like?
It is so inspiring! This past August, nine girls, ages thirteen to seventeen years old, and two adults gathered at a retreat center in an organic apple orchard in the mountains near Parkdale, Oregon for three days and two nights.
Each girl brought her own vegetarian recipe to prepare for the group. We had some delicious and creative organic vegetarian meals! In appreciation for the wonderful food and the work that went into preparing it, we began each meal with the Five Contemplations.
We practiced meditation every day. We offered formal yoga classes, and informal ones, too: the girls invented their own tree pose in the river! Sometimes the girls were quiet, enjoying the time to reflect and relax. Of course, there were also times when the girls were chatty and giggly.
We hiked. We swam. We sat in awe of nature: one girl found frog eggs for us to admire; another commented on how beautiful it was to be swimming in an apple orchard. One day Judy Bluehorse, a Native American, guided us through the woods, pointing out the various medicinal uses of the plants and trees we saw.
What is especially encouraging for me in working with teens is how they share their ideas with each other so freely. How supportive and kind they are, how sweetly they encourage each other. For example, some of the girls were afraid to swim in the muddy-bottomed lake. After some encouragement from their peers, the timid ones were in there having fun too. That kind of sweetness, that kind of compassion and generosity, gives me hope for the future.
If folks want to find out more about your work with teenagers, how can they get in touch with you?
Our website is www.holidaysyogacenter.com. I'd be happy to share whatever I can with people who are interested in working with teens. And I'd love to know more about what others are doing.
Holiday Johnson, Kind Forgiveness of the Heart, practices with the True Name Sangha in Portland, Oregon.