By Peter Kuhn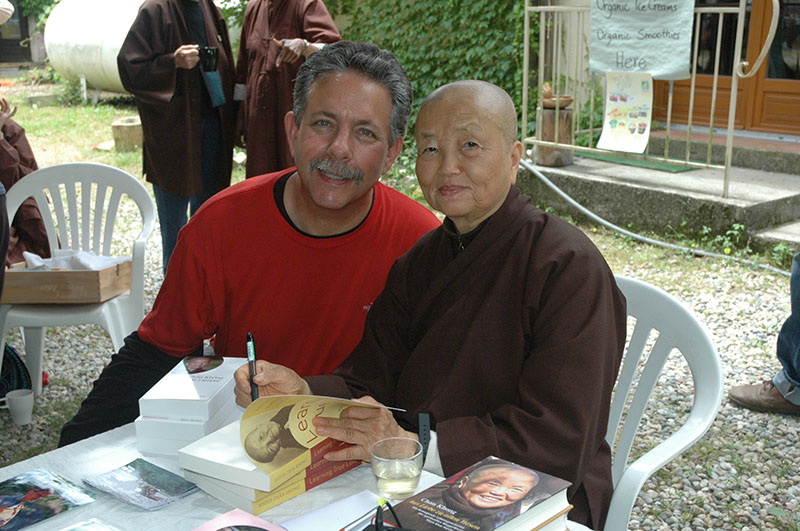 I aspire to cool the flames of affliction in myself so I can be more present for all beings, offering the fruit of healing and tools of transformation.
On December 24, 2013, I received a call informing me that my best friend and twelve-step sponsor of twenty-eight years was in the hospital with an undiagnosed illness. The doctors had narrowed it down to a few possibilities, and the outlook was not favorable. I caught a plane the next morning. Other than arranging the logistics, there was no decision about going. He'd been at my side through happy times and my darkest hours, offering experience, wisdom, and a path of transformation via the Twelve Steps. His name was Ham, short for Hamilton, and he had a natural capac­ity for deep listening and loving speech. He'd worked hard on himself and was a powerful example of recovery, living a life of service, and helping countless people find freedom from addiction.
Arriving at Mayo Clinic, I stood bedside with his sponsor, his wife, and her best friend. I bore witness to the parade of doctors trying to agree on a diagnosis and to Ham's physical distress, coupled with fear and uncertainty over the outcome. It was finally determined that he had a rare and untreatable virus that was destroying his brain, the result of an immune system kept suppressed by seventeen years of anti-rejection drugs prescribed to keep his body from rejecting his transplanted liver.
Since there was no treatment to offer, the hospital released him and I was able to stay with him as he struggled to accept his fate. He'd expected to die of liver disease. His second transplanted liver was cirrhotic and he was not getting a third, as the success rate on that procedure is very low. Now he had to embrace a new and fatal malady, a virus that was destroying the white tissue of his brain and spreading randomly as it progressed. As he slowly lost more functionality, he fluctuated from surrender and acceptance to anger, outrage, and fear.
Due to the loss of Ham's income, his wife Diana was forced to continue working, and I was glad to be in the home looking after him, giving back a little more of the love and care he had offered me over the years. It was an honor, and I felt integrated even in the midst of great sorrow. Zen practice, twelve-step work, end-of-life care at the Veterans Administration, and prison ministry had all helped me cultivate the tools to be wholly present and a source of stability and compassion in the face of adversity.
The virus started in the brain stem, causing Ham to lose some motor skills and involuntary functions. While his wife worked, I helped him dress and do his business in the morning, cleaned him, changed him when needed, helped feed him, and listened with ears of compassion. Fortunately, I was able to put normal life on hold, as we do on retreat, and offer the deepest gift of my heart.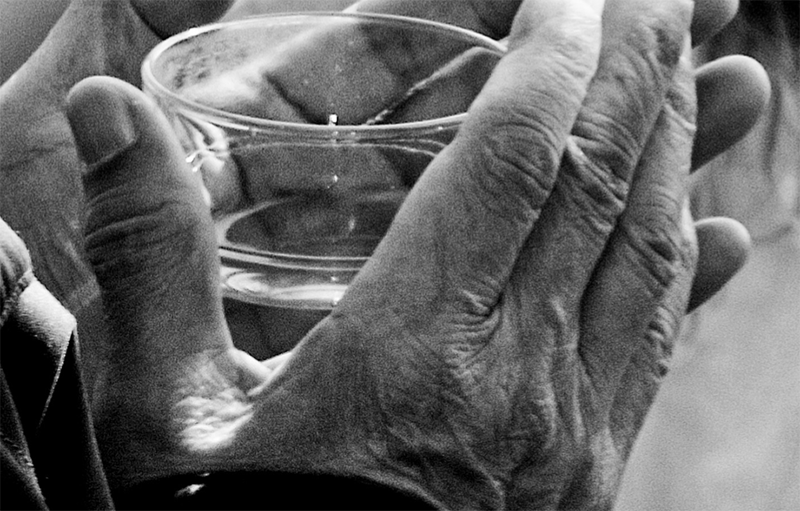 EMBRACING THE MYSTERY
Coming home for a week, I arrived at the airport and a wave of exhaustion hit me. In caring for another, I had forgotten about me. I reflected on the unconditional love I shared, the wholehearted kindness and attention. Having come from the depths of addiction when I met Ham, I marveled at how I could have possibly got­ten from there to here—from the depths of selfish, self-centered thinking to a life of love and service.
Ham and I used to share a street corner expression of friend­ship, "I love your dirty drawers," but truth be told, I never expected to encounter them. As the need arose, I thought of this and changed Ham's drawers with love and compassion. I wondered how I would respond if they were mine. I tend to meet my own fallibility with shame and anger. Would I ever learn to be so patient and caring with myself? Touching Ham's mortality and weakness, I realized once again that we will all die and likely mess ourselves in the process, and that we are all worthy of the same deep love, tender­ness, and care.
Thay encourages us to embrace challenging emotions, un­skillfulness, and shortcomings with the kind, non-judging energy of mindfulness. This flies in the face of my habitual tendency to meet hurts and disappointments with judgment and anger. With practice I realize the hurts are most in need of tenderness and learn to offer them the care I would most want to receive from another. Ham and Thay have helped me identify negative self-talk and transform it. But much of my practice is still attending to the merciless judging mind and the tendency to be hardest on myself. Buddha informs us that we might travel the whole world over and never meet anyone more worthy of compassion than ourselves. Would I ever be able to offer myself the same bottomless care and unconditional love I shared with Ham?
I spent most of the next month with Ham and his wife in Ari­zona. We shared many discussions about living and dying before his ability to speak became too limited. I promised to help him with the transition, and on Wednesday, two days before his transition, he asked me when I was planning to leave. I reminded him that I was scheduled to facilitate a men's retreat in two days. He nodded. Friday morning he asked for help moving on. He was incredibly weak and ready for the great surrender.
To me, this is the height of dignity and empowerment. Like many native people of the past, Ham chose to sing his death song and pick the time of death. We spent the day and night at his bedside. While Ham was mainly unresponsive, we told stories of happy times and things of value he had done in his life. We sang songs, chanted, and prayed, and I offered guided meditations. At 10:12 p.m., he took his last breath.
Being present with Ham all day, not knowing which breath might be his last, was the height of practice for me. I felt Thay, the Sangha, and our ancestors with us offering support. At the moment of death, holding his hand, there was a deep, visceral knowing that this death was not annihilation or an end. This was a great healing. With the release of the last breath, he was free of the disease and all afflictions. He had embraced the great mystery with equanimity and dignity, clearly free of all earthly concerns.
THE GIFT IN THE WOUND
I left for the men's retreat the next day and shared about the experience, speaking about the gift in the wound—how every hurt is an opportunity for healing and every argument an opportunity for peace-making, how our defects and shortcomings are not a destination but point the way to transformation and growing skill­fulness. I was raw, transparent, sad, and glad. The men all knew Ham or knew of him, so the room was filled with strong emotions. I shared about taking refuge and practicing with strong emotions.
When I returned to my room there were a half dozen voice­mails and urgent text messages on my phone: "Call home, ASAP." When I called, I was informed that my beautiful German Shepherd, Dexter, had died quite suddenly. This added loss was not only shocking but felt overwhelming. I cried like a baby and practiced being there for my sadness as best I could with mindful breath­ing and walking meditation. I had just shared about the gift in the wound, but surely this was too much. Deep in the grief I was also aware of the awareness of grief.
From years of grief work, I have discovered that the pain of loss is a reflection of love, and that by caring for the grief with tenderness and compassion I can actually grow my capacity to love and care. But sometimes in the moment, old insights are fleeting memories rather than realizations.
Thay says we practice in good times so we will have the strength to practice in difficult times. The next morning we gath­ered to meditate, and at the sound of the bell, my afflictions were lifted. So many years of practicing with the bell to stop, let go, and listen deeply allowed the beautiful sound of the bell to free me. The weight in my chest eased and, with subject and object as one, the grief momentarily lifted. I was reminded that I'm more than my grief, more than any thought, feeling, perception, or mental formation. This helped me honor the feelings with some stability rather than be swept away by them. I could show up and care for my feelings and hurt, as I had for Ham.
The next weekend, there was a Sangha retreat at Deer Park. I looked forward to the opportunity to process in a safe place, and a beautiful thing happened while I was there. The Korean Sangha had brought a tasty feast of cultural delights, which we enjoyed for lunch and dinner. At morning meditation the next day, I was seated at the front of the meditation hall in the row behind the monastics. As we sat, my stomach started to gurgle and make noises from the spicy food. I was mortified. Here I was, sitting next to the Venerable and senior monks and ill at ease in my body! In the mind of judgment, I went from one suffering to another and thought about Ham and my dog, Dexter. As I breathed, I realized that if it were Ham's or Dexter's stomach in distress, I'd only love them. I'd stroke Dexter's fur softly to comfort him and do whatever I could for Ham. I connected the dots and realized that I, too, was worthy of this same love and compassion. As I thought of them at that moment, they were both alive in me. Touching them, alive in my heart, I could genuinely offer the love and acceptance I'm chal­lenged to offer myself to "them in me." In that moment, the grief transformed from the vacuum of unrequited love to an informed pain that liberated me of the delusive self and encouraged me to grow the mind of love in the here and now.
Having lost so many loved ones over the years, there have been times I felt they were calling me to the other side. I realized they were calling to me from the depth of my own heart.
Grief has been a recurring theme and rich compost for my spiritual growth. Indeed, the loss of my seventeen-year-old son David led me to Deer Park many years ago and crystalized my commitment to live with more awareness more fully in the mo­ment. I am fortunate to have many opportunities for service with inmates, people in recovery, and those in the Sangha. Working with others, I am aware that every man is somebody's son and I can offer other men what I cannot directly give to David.
The same way we compost in the garden and transform waste to the rich fertilizer that nourishes what we most want to grow, I have learned to care for grief and transform it from a pain that isolates to a gift that softens the heart and nourishes me on the bodhisattva path. Honoring those who've passed in the way that I live, I can keep them alive in my heart—not in mourning but as a celebration of what we have shared, growing my capacity to show up for others and myself. Growing the heart of compassion for all beings, a large bell sounds. Afflictions are lifted. Understanding grows deep. The awakened mind is born.
Peter Kuhn, True Ocean of Joy, coordinates True Freedom, the Sangha's prison Dharma sharing pen-pal practice, and has been Sangha building at Donovan State Prison for many years. He is a recovering addict who helped manifest twelve-step mindfulness weekends at Deer Park and Magnolia Grove Monasteries and hosts a monthly twelve-step Zen group in San Diego. He practices with the Open Heart Sangha in San Diego.