By Jack Lawlor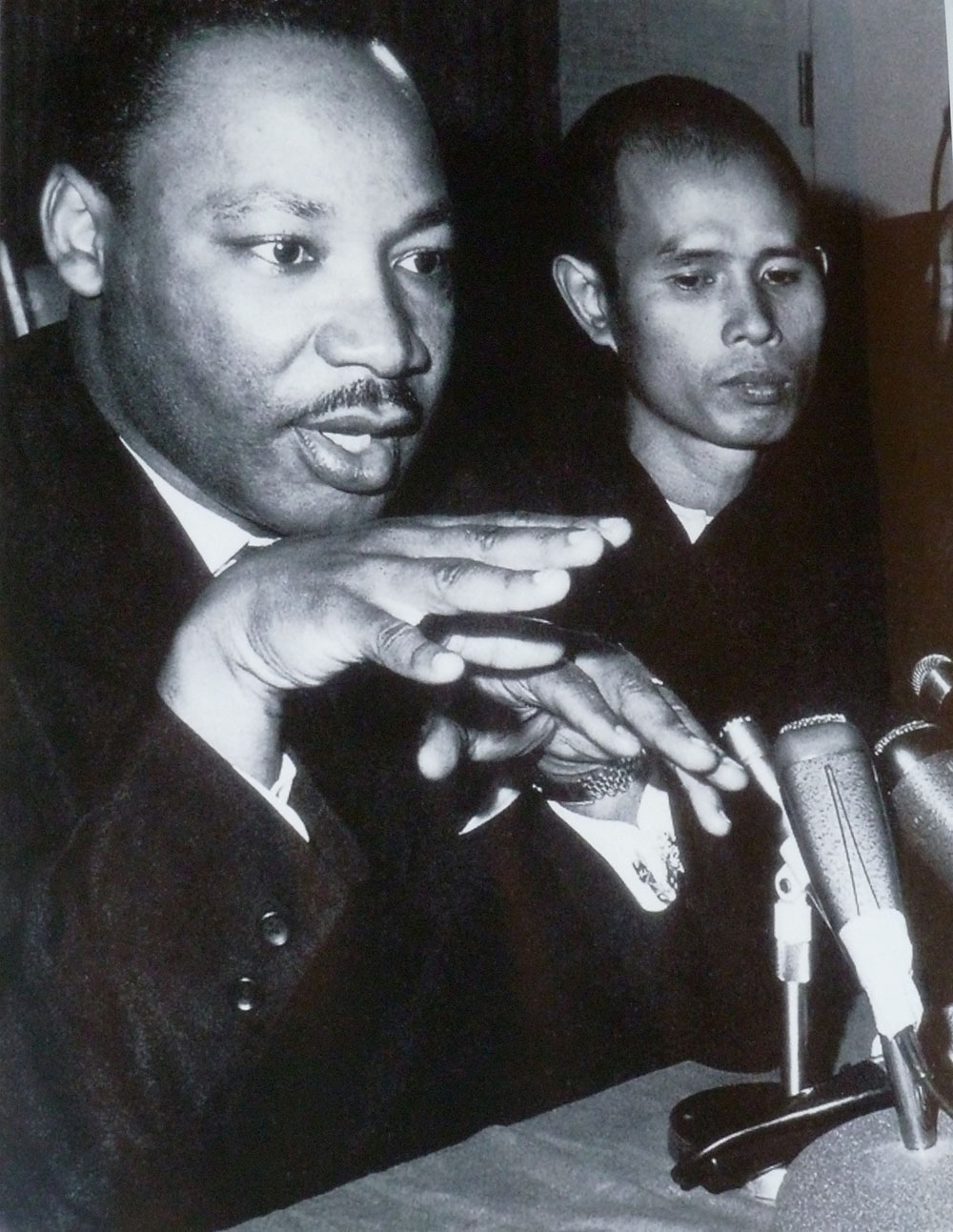 Members of the Care-Taking Council of the Dharma Teachers Sangha for the US and Canada recently devoted a day of their annual retreat and gathering to a visit to the National Civil Rights Museum in Memphis. Please consider doing so as part of any of your visits to our lineage's Magnolia Grove Meditation Practice Center near Batesville, Mississippi, a mere hour to the south. Doing so in mindfulness will open your heart and mind, nourish your bodhicitta, and inspire you to share yourself for the benefit of oth­ers. The museum, located in the Lorraine Motel where Dr. Martin Luther King Jr. was assassinated in the tumultuous year of 1968, is a place of transformation and healing.
The Dharma teachers on the Care-Taking Council began their visit with slow walk­ing meditation on the sidewalks along the perimeter of the hotel. Most of us then chose to follow a guided tour provided to southern, African American high school students the day we visited, adding further dimension to our experience.
The museum reveals itself as a time line describing the history of slavery and racial discrimination from colonial times to the present. Visitors to this special place cannot help being moved by the courage and dignity of those who nonviolently opposed immense, persistent cruelty, injustice, and stigmatization. The museum does more than explain the role of Dr. King and his fathomless spirituality and insight. It also visually portrays the humaneness, sanity, restraint, and greatness of heart of ordinary members of the African American community who demonstrated again and again during the 1960s, when the outcome of many challenging issues was so uncertain. Whatever your blood family's ancestry, you will see your father, mother, and grandparents in the working-class and poor people who stalwartly used their love and faith in humanity to transform hatred and fear.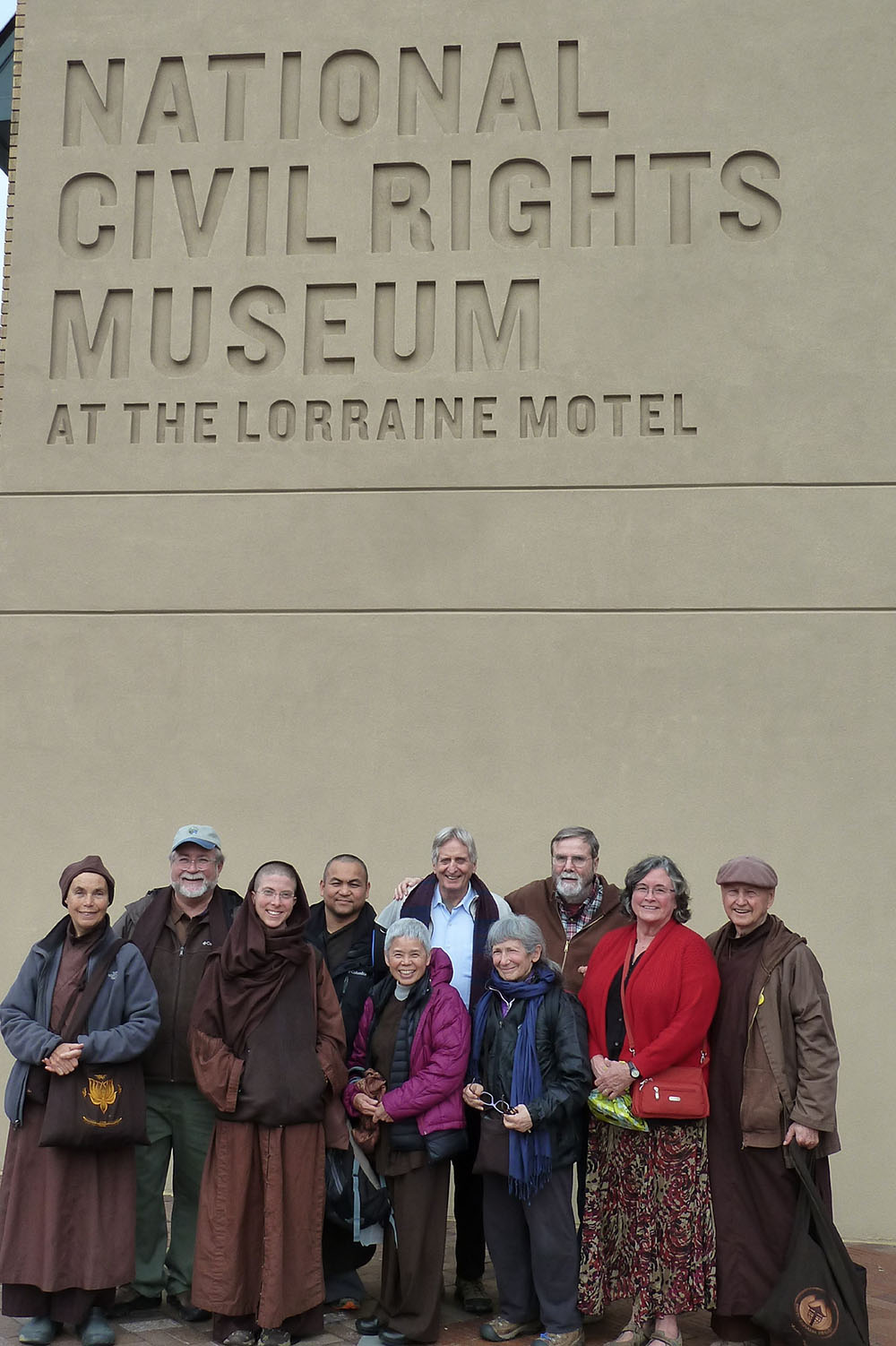 MESSAGE FROM OUR SPIRITUAL ANCESTORS
While visiting, I wondered, "What brought the board of directors of Thay's North American Dharma teachers to this instructive place?" For me, an early version of the Fourteen Mindfulness Trainings of the Order of Interbeing, which was circulated among our Sanghas until the trainings were updated and enhanced in the 1990s, has always served as a message in a bottle left behind by the original Order of Interbeing members who were ordained in Vietnam in the mid-1960s. The text is direct and plainspoken, which helps it resonate powerfully within us, similar to Dr. King's references to "the fierce urgency of now." It is the Fourth Training that urges us, particularly those of us who enjoy many privileges, to include opportunities for transformation and healing, such as the National Civil Rights Museum, in our spiritual pilgrim­age. The early version of the Fourteen Trainings is short enough to memorize and touch each day in your heart, with the Fourth Training candidly telling us:
"Do not avoid contact with suffering or close your eyes before suffering. Do not lose awareness of the existence of suffering in the life of the world. Find ways to be with those who are suffering, including personal contact, visits, images, and sounds. By such means, awaken yourself and others to the reality of suffering in the world."
The Fifth Training takes us a step further on the path of transfor­mation and healing:
"Do not accumulate wealth while millions are hungry. Do not take as the aim of your life fame, profit, wealth, or sensual pleasure ..."
How often do we forget that part of our spiritual ancestors' mes­sage in the bottle? The Fifth Training continues:
"Live simply and share time, energy, and material resources with those who are in need."
Our Buddhist spiritual ancestors have, in short, urged mindfulness practitioners to live in the same way as those who risked their health and safety in order to join hands with Dr. King to transform hatred and despair. By way of further example, the Ninth, Tenth, and Thirteenth Trainings contain encouragement to take ad­ditional mindful steps:
"Have the courage to speak out about situations of injus­tice, even when doing so may threaten your own safety …"
"A religious community … should take a clear stand against oppression and injustice and should strive to change the situation without engaging in partisan conflicts …"
"Possess nothing that should belong to others. Respect the property of others, but prevent others from profiting from human suffering or the suffering of other species on earth."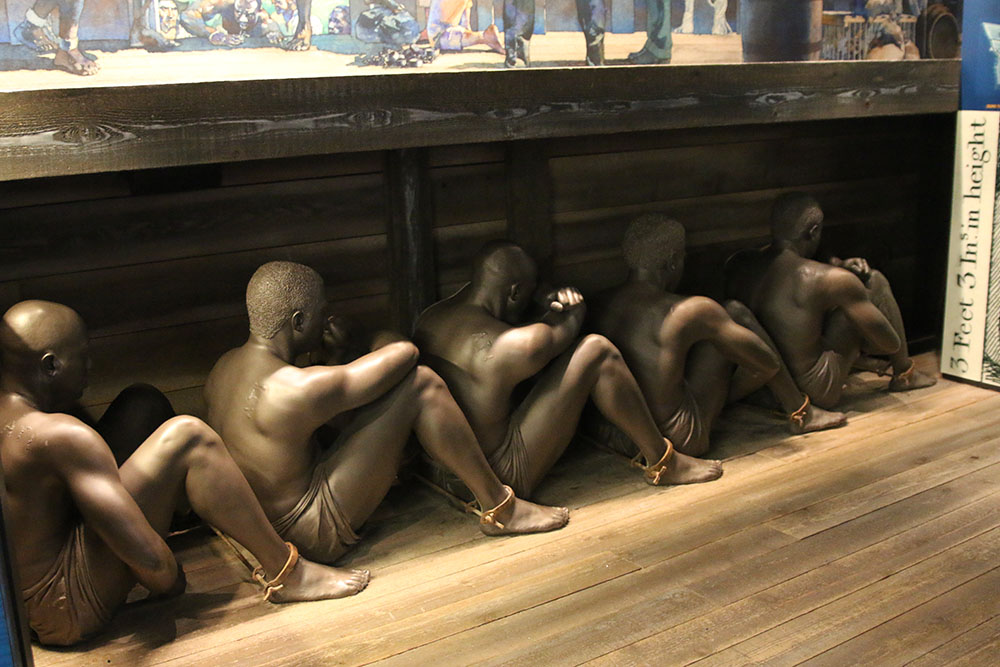 That day, I thanked the African American community for reminding me of the powerful roots of engaged spiritual­ity that exist in both Christianity and in Thay's tradition of mindfulness. It's no surprise that Thay and Dr. King found each other in the vast, pre-Internet world of 1966, and col­laborated to bring an end to the fighting in Vietnam—a prime example of contemplatives having a powerful impact in a world of action. Upon leaving the museum, I thought of how many of Thay's teachings can contribute to further collabora­tive efforts among faith communities to bring an end to war, discrimination, economic injustice, and the destruction of our environment. Two of Thay's major points of emphasis come to mind: first, that without mindfulness, misperception can be an enormous source of suffering, and second, his practical advice as manifested in the Sixth Mindfulness Training of that time:
"Do not maintain anger or hatred. Learn to penetrate and transform them while they are still seeds in your consciousness. As soon as they arise, turn your attention to your breath in order to see and understand the nature of your anger and hatred and the nature of the persons who have caused your anger and hatred."
With these and other skillful means, we have a chance to dwell in sufficient grace and equanimity to transform and heal the many injuries caused by greed, anger, delusion, and misperception. The forgiveness offered by the families of the nine victims of the recent tragedy at Emanuel African Methodist Episcopal Church in Charleston, South Carolina, embodies what we can learn from the African American community about engaged spirituality.
TRANSFORMATION AND HEALING COMMITTEE
The Dharma Teachers Sangha Care-Taking Council has formed a Transformation and Healing Committee to help organize and shape the Sangha's efforts to practice contemplation within a world of action in an era characterized by so much need. Its statement of resolve is shown on page 13.
We hope to organize retreats on the themes of transforming misperception and anger, being mindful in the midst of complex­ity, and transforming burnout. We hope to explore what is called "Just War" theory and "peace church" status under the Selective Service Act and related laws from the vantage point of Thay's teachings. We also seek to bring what may be especially helpful from Thay's practices into dialogue with diverse groups of people and faith communities to work collaboratively on the issues of the day, not only using the tools available on the Internet, but also by grassroots efforts that encourage understanding in our communi­ties, based on the teachings provided us by engaged activists such as Thay and Dr. King.
Our twenty-four-year-old local Sangha, Lakeside Buddha Sangha in Chicagoland, has studied Dr. King's spiritual teachings along with Thay's teachings each January for the past several years, and their combined encouragement to serve the present age is powerful indeed. You are invited to join in these collective efforts!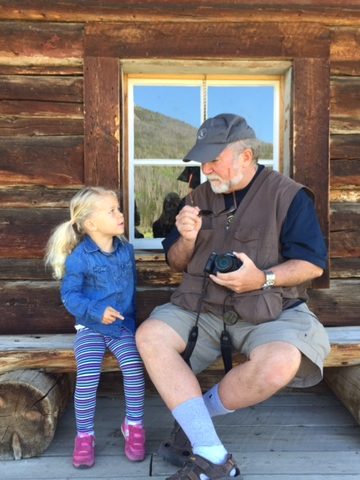 Jack Lawlor, True Direction (shown with his granddaughter, Vivian), was ordained as a Dharma teacher by Thich Nhat Hanh in 1992. He has served as president of the Buddhist Council of the Midwest and on the national Board of Directors of the Buddhist Peace Fellowship. He currently serves on the Care-Taking Council of The Plum Village Lineage North American Dharma Teachers Sangha, comprised of US and Canadian Dharma teachers ordained in Thay's tradition.