Filmmaker Wouter Verhoeven reflects on his experience on the front lines of climate action in an intensive 2019 campaign in the UK.
Climate bombs are falling, every minute
When the bombs were falling on Vietnam, our teacher, Zen master Thích Nhất Hạnh, saw clearly that he should do something. Buddhism was not Buddhism if it was not engaged with the real sufferings of the day. So, Thích Nhất Hạnh stood up from his sitting cushion and acted in many ways: speaking out against the war, educating young volunteers, running a printing press, rebuilding villages, giving medical care, setting up village schools, and sharing agricultural knowledge and skills to improve the lives of people, especially in the rural areas. Thích Nhất Hạnh and his helpers worked unceasingly, giving their best, to relieve the suffering around them. Their lives, they felt, would be meaningless if they were only meditating on their cushions.
Today, climate bombs are falling on the Earth every day, every minute, creating victims around the globe. The battlefield is not limited to North or South Vietnam; bombs are falling everywhere around the world, creating climate victims, not only among humans but among many species. What can we do in the face of this huge, global challenge? Will we continue our comfortable lives, or are we willing to change our lives and habits? Are we willing to sacrifice something, even things dear to us, to protect life on Earth?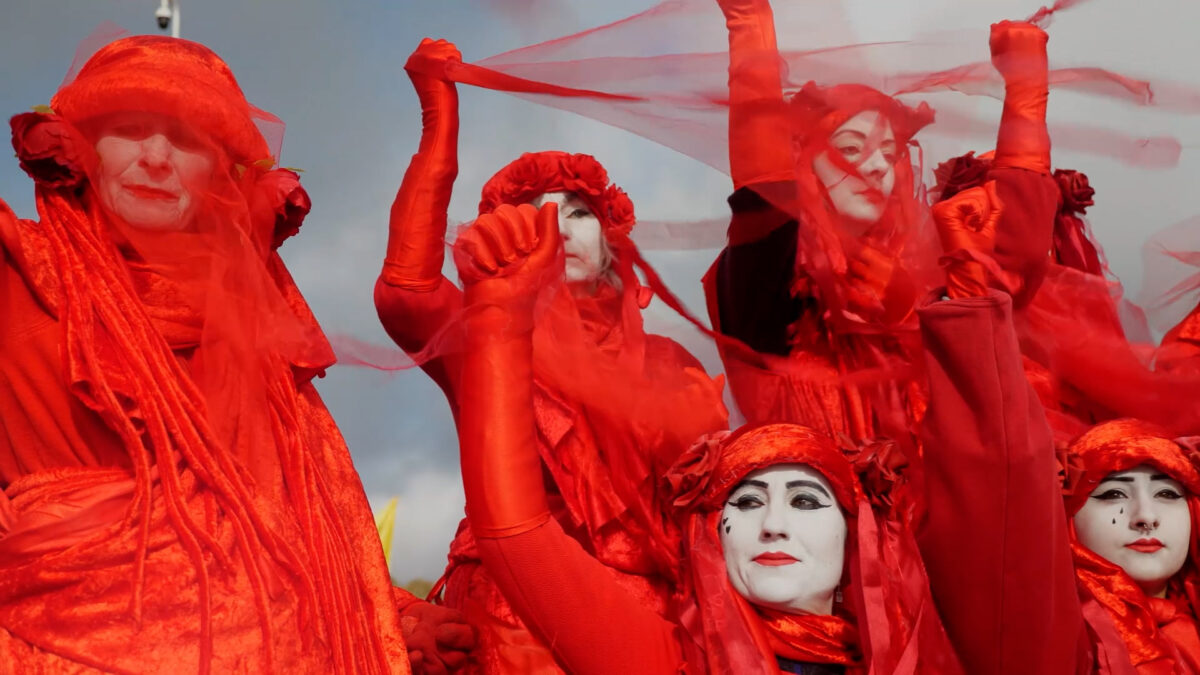 I am a Dutch filmmaker, working with and for the Plum Village community since 2013. The films we have produced together focus on the topics of education, peace building and—with the Climate Crisis becoming more poignant—about our delicate relation with Mother Earth. Some films, like The Way Out (2018) have already been released. Others are still in production: We are the Earth and Children of the Earth, respectively recorded in New Mexico (2017) and during several Wake Up Retreats in Plum Village, France (2016–2018).
In September 2019 I was asked by the monastic community to consider making a film about a new Earth activist movement, Extinction Rebellion. Extinction Rebellion is a grassroots movement founded in the UK in November 2018. The monastic community felt inspired by this new movement of activists from all walks of life, who engage in nonviolent civil disobedience. Some of the young Extinction Rebellion activists were invited to Plum Village to be trained in mindfulness and peaceful activism during the Wake Up Earth retreat.
Thích Nhất Hạnh often said that the twenty- first century should be a century of collective awakening.
I had to act swiftly, with two weeks of intense actions in London coming up soon. After a phone call with the Buddhist programmer of Dutch television (co-producer of the film), I received a green light. A few days later, I travelled to London, where I stayed with one of the young activists.
A few weeks later, after having witnessed and filming the autumn rebellion, I shared my first account on Facebook. I wrote:
LIFE OR DEATH, Extinction Rebellion in London.
It has been two of the most intense weeks of my life. Something I had never seen or experienced. The Extinction Rebellion movement is a worldwide movement, but it is largest in the UK, where it originated, perhaps because, as some of the rebels shared with me, the British people do not really feel represented by their government. But to see 30,000 to 40,000 people stand up and rebel for life, for all life, is very special. The two-week fall campaign started on October 7, 2019. The entire political center of London around Westminster was occupied by the activists. Streets, squares, everything was barricaded. They built camps, stages, kitchens, and other support facilities—hundreds, thousands of people sleeping in tents on the streets and in parks. 
And then the police came in, in large numbers. One by one the activists were asked to leave the street; if they didn't, they got arrested. But they locked themselves, chained themselves to self-built towers, to each other, glued themselves to buildings and the asphalt. Police helicopters were hanging in the air patrolling all day long, rain poured down days on end, but they maintained their presence there, committed to their cause, glued to the asphalt. And every day there were new actions, with activists popping up elsewhere. At the industrial meat market, at airports, at the junctions in the City of London, home to the big financiers of the fossil fuel industry, etcetera, etcetera. All nonviolent, all nonalcoholic. And everything accompanied by music, dance, creative dresses, performances, and slogans. Rabbis, priests, animal activists, old ladies, young parents with babies, businessmen in suits, Buddhists—you name it, they were all there, including doctors and teachers who had given up their jobs, fully committed and dedicated to this movement to protect life on Earth. And I was there with my camera following a few young people, engaged mindfulness practitioners, some of them inspired by Zen Master Thích Nhất Hạnh, standing up from their meditation cushions to protect Mother Earth. I was there to simply listen to those young people, to their motives, to their hearts. In two weeks' time more than 1,700 activists were arrested, in one of the largest actions of civil disobedience the UK has known. Sometimes it looked like war. Other moments like the brightest of festivals. Heroic it was. Epic. Tears sprung up in my eyes every day.
What can one do facing the climate crisis? What would you do knowing that your neighbors are using physical violence against their children, destroying their future? What would you do if you know that hundreds of thousands, millions of people, animals, and other species suffer, and die, because of ongoing fossil fuel investments? What would you do if you knew…?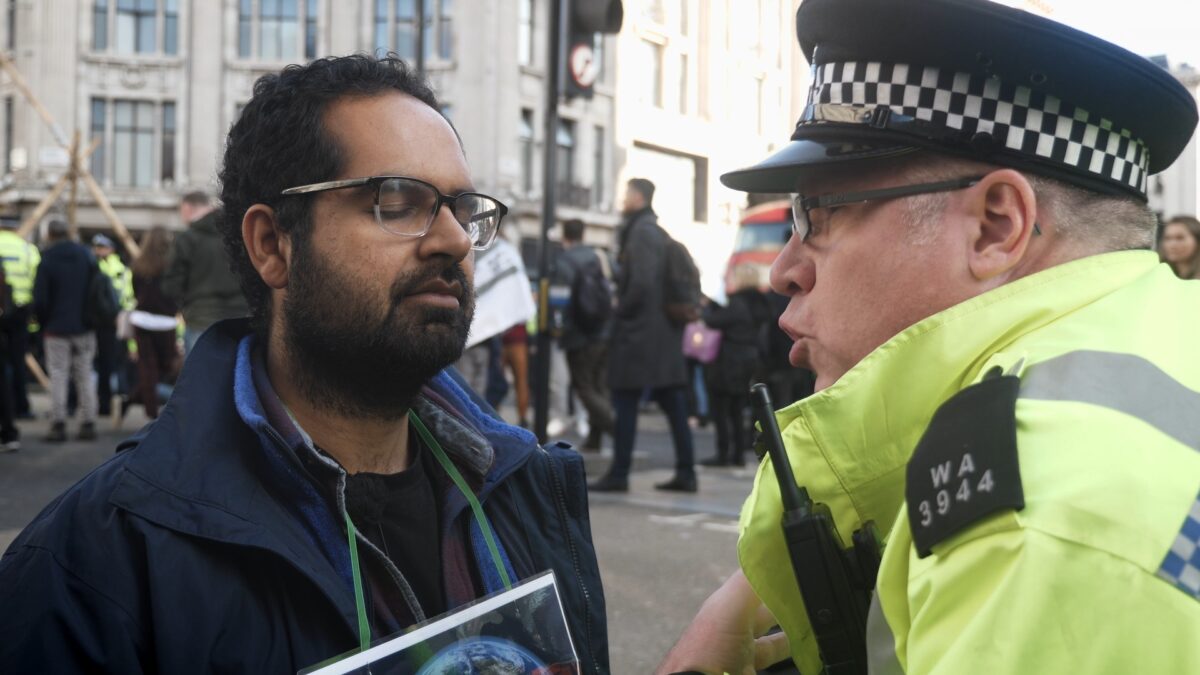 Thích Nhất Hạnh often said that the twenty-first century should be a century of collective awakening. We have to wake up collectively for a future to be possible. Otherwise, we will be doomed. In this spirit of awakening, the actions and campaigns of Extinction Rebellion are like a bell of mindfulness. The blockades, disturbances, and joyful actions are meant to wake people up, create awareness about the emergency of the Climate Crisis—and demand the necessary systemic change needed for the survival of our civilization, and the survival of many species.
Half a year later, just after COVID invaded the globe, the film was ready, titled: Rebel for Life. The film is an engaging story about climate activism, the spirit of community, and the future of life on Earth. The story is told around three young climate activists: former hospital doctor Vishal Chauhan, Buddhist priestess Satya Robyn, and mindfulness trainer Karim Manji. All three are long-time meditators, but at the same time—like Thích Nhất Hạnh during the Vietnam War—they feel the urge to stand up from their cushions and act.
In the reflective opening scene of the film, we hear the following words expressed by Satya Robyn while we see images of a massive Extinction Rebellion gathering at Trafalgar Square:
"Dear Earth,
help hold me steady.
The ground underneath me
is moving like shook silk.
How can we possibly enjoy you?
Much of you is poisoned.
Your forests are thinning like hair.
Many of your glorious species
are fading into history.
I know, I can't unknow that
you are in peril, dear Earth,
that we are heading for an iceberg
and that we don't have long
to turn the huge ship round
and that most of your passengers
are too busy soothing themselves to notice.
I don't know whether my desperate actions
are improving your prognosis, darling Earth,
or alienating people. 
I don't know whether it's already too late."
The film's main thread is the story of Vishal, a young hospital doctor turned full-time climate activist. Understanding that the climate crisis is a health crisis, Vishal gave up his well-paid job as a doctor and his comfortable life to join Extinction Rebellion. Being a hospital doctor was not enough; he felt he should do more, on a bigger scale. Radical systemic change is needed, Vishal says, and there is no time to lose: "We've got only one generation left to survive on this Earth."
After the opening scene, we see Vishal meditating with his eyes closed on a bus filled with his new activist friends. They are on the way to a coal mine entrance in the north of England; they will try to shut down the mine. In voiceover, Vishal shares:
"More than a rebel for life," he says at the end of the film, "I am a rebel for love".
"I want to be part of a movement which is cultivating empowerment. Empowerment for people to look into their own hearts, their own value systems, what they desire for the world. And feel empowered to create that in their society, to create that in their communities."
After spending the night with 150 co-rebels in a freezing old church not far from the mine, Vishal continues:
"Community is about developing and cultivating connection between people. It's tapping into that deep desire we all have to connect and to love each other, that has been shielded and closed off by consumerist individualist society. It's been trapped. And we forget that that's what we all want. When we have community, our needs are met in a way which is so much more satisfying than what most of this society offers us. And makes us realize that we don't need these other things that are destroying the planet."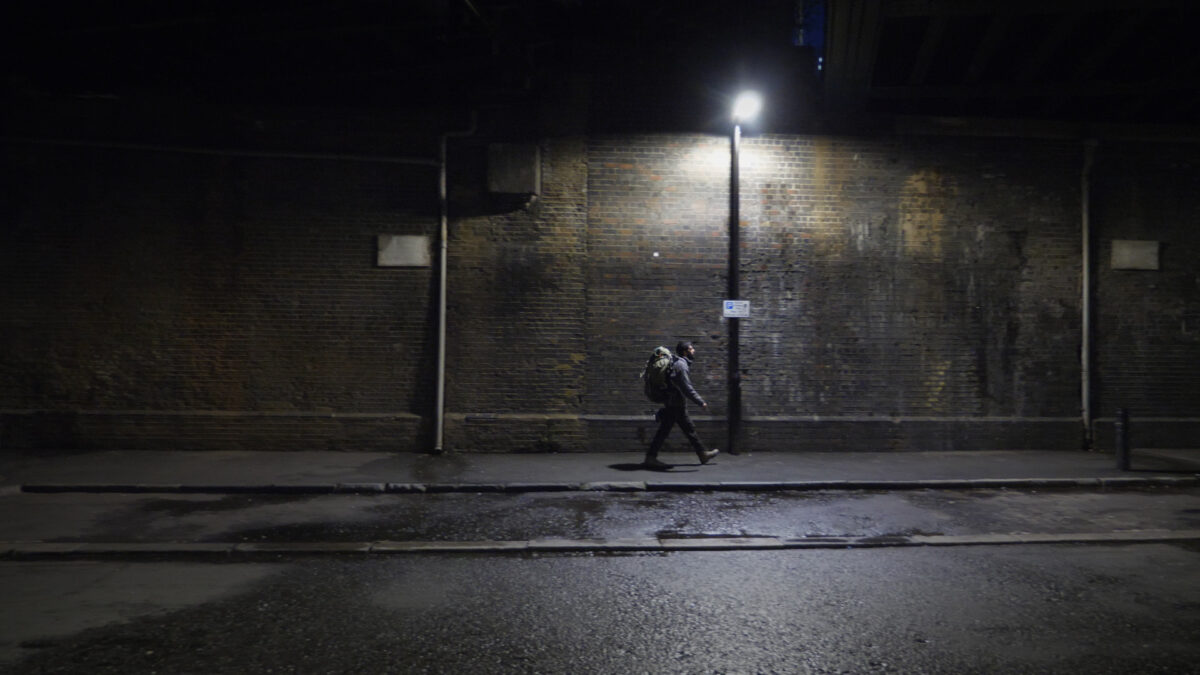 As Thầy said, time and again, during and after the war in Vietnam: we are all brothers and sisters, we are all part of the same family, we belong to each other. North, south, we should not discriminate, but we should see ourselves in each other so we can live together on this beautiful planet in harmony and peace. Five decades after the end of the war, Vishal gives the same message as climate bombs fall on the Earth, affecting his and coming generations most. "More than a rebel for life," he says at the end of the film, "I am a rebel for love". What sense does it make to live in an oppressive system, full of destruction, exploitation, extraction, and division? Only a life lived with deep love makes sense to Vishal. That is why he sacrificed his job, his comfort, and his security to engage in something bigger than himself … something that will never die: his deep love for this great miracle of interbeing we call life.
You can describe these rebels who demand system change as radicals, but Vishal and his friends act very much in line with the principles of Thích Nhất Hạnh, reflected in the following two lines from the First and Second Mindfulness Trainings, Reverence for Life and True Happiness:
Aware of the suffering caused by the destruction of life, I am committed to cultivating the insight of interbeing and compassion and learning ways to protect the lives of people, animals, plants, and minerals.

Aware of the suffering caused by exploitation, social injustice, stealing, and oppression, I am committed to practicing generosity in my thinking, speaking, and acting.
Karim, my host and a frequent visitor to Plum Village, shares with me: "We need to put our liberty on the line. The things we hold dear, our freedoms. To really communicate how serious the crisis we are in is. And I don't care what that means for me. I will do prison, confronting way more powerful forces, I will do that, trying to protect the beings that live on this beautiful planet."
From a place of deep love and compassion, Karim, Satya, Vishal, and their rebel friends express themselves, and act in countless ways, like Thầy and his companions did during the Vietnam War—fearlessly. 
You can watch the film trailer and the film (English spoken, also available with Spanish, French, German, and Dutch subtitles) on Vimeo on Demand at https://vimeo.com/ondemand/rebelforlife. For group screenings, also in Sanghas and online, please contact home@evermind.media.
Edited by Leslie Rawls and Hisae Matsuda.