Transformation in Uncertain Times
Aurora Leon and Felipe Viveros share about bringing spirituality into conversations about racial equity and inclusion during the "Science, Spirituality, and Action" retreat at Plum Village, France.
One of the things the pandemic taught us was the importance of community. In times of illness and separation, being together is a powerful medicine. This was one of the prayers and intentions behind the "Science, Spirituality, and Action" retreat that took place towards the end of May this year at Plum Village. The past few years have been eventful, and for the first time in a long time–for the first time, too, since our dear Thầy's passing–the multifold Sangha was able to gather. This chronicle tells the story of our time together and the wild seeds now germinating from that encounter.
We (Aurora and Felipe) were already on each other's radar, connected through our participation in Wake Up, a vocation for social justice, and a passion for racial equity. We are also both Latinxs living in the diaspora, with a shared and sometimes painful lived experience of racism and discrimination. It probably won't surprise anyone to learn that even in our local Sanghas–spaces that are supposed to be safe and inclusive–we have both suffered from racist comments and attitudes. Whenever we speak in English we have an accent; we also "look" different, and our cultures of origin and traditions are "other." It is that shared experience that led us to come together during the retreat to create an affinity group, where a range of us self-organised to explore questions around racial equity, share intimate experiences, and weave together a supportive environment.
In our troubled times, we constantly see worlds ending and new worlds emerging. As practitioners we have the capacity to acknowledge the current moment for what it is: a time of transition, when intersecting and converging crises can be recognized. These multilayered social, ecological, political, and spiritual crises provide fertile ground for the seeds of suffering to sprout, grow strong, and proliferate. Learning how to cultivate resilience in times of difficulty is of utmost importance. We can begin by learning how to embrace and transform the seeds of ill-being and suffering that surround us. From the trauma healing work led by Sister Dang Nghiêm, to white awareness Sangha meetings, to the ARISE Sangha's1 racial equity2 work, transforming suffering is a practice of awakening love into action.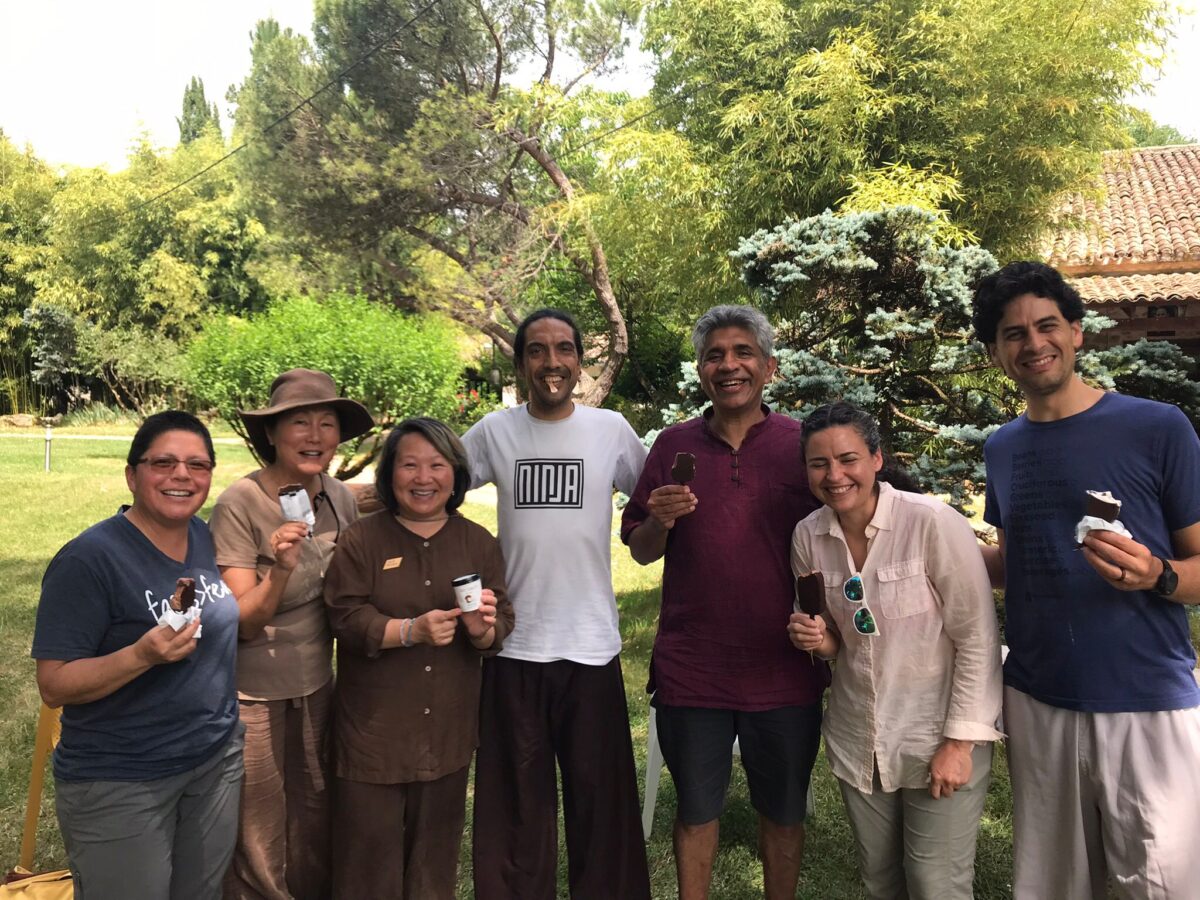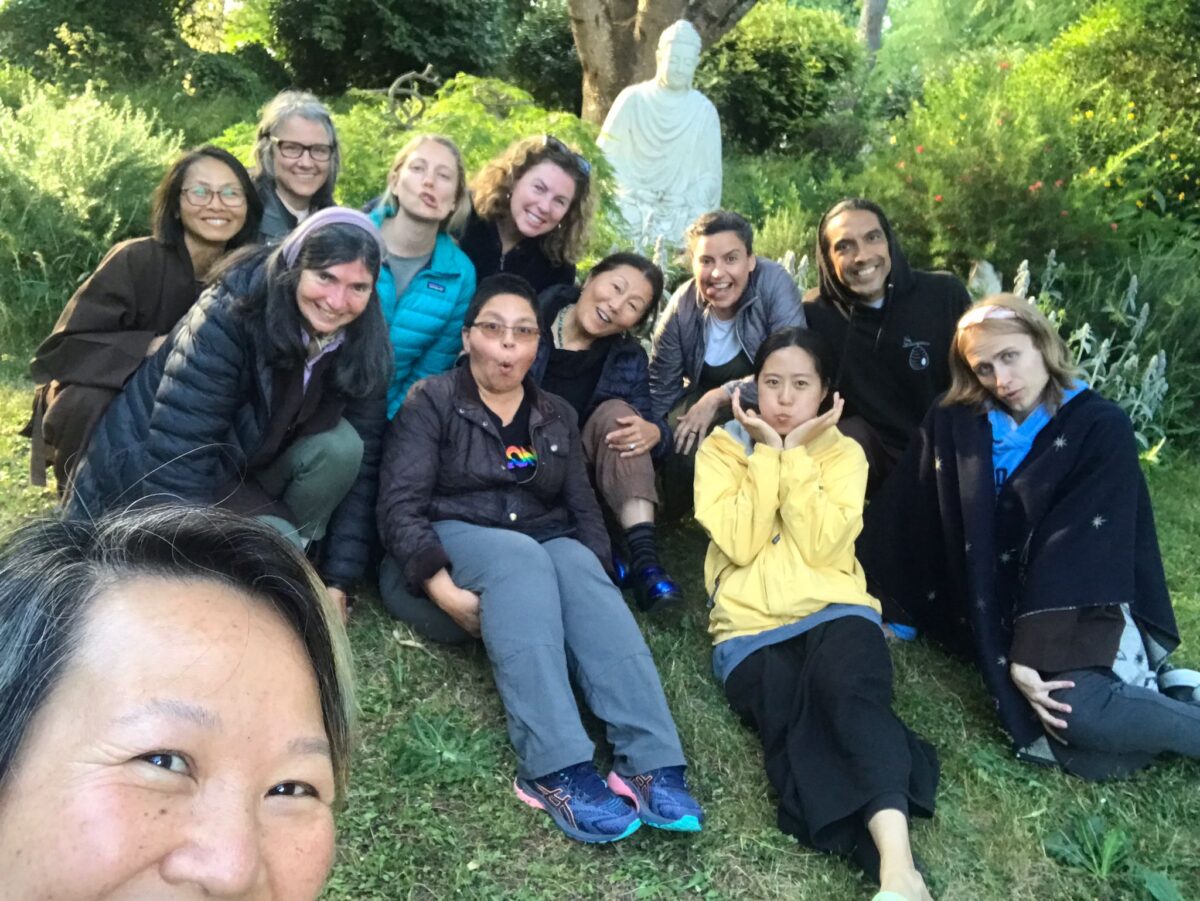 Like magnets, we found one another: a diverse group of practitioners living in the USA and Europe, yearning for the more beautiful world that we know is possible. We were an eclectic group of people doing racial equity work, involved in human rights and climate justice, and allies of the LGBTQIA+ community. Sitting together in a retreat focussed on science and spirituality, we were a conspiracy of sorts.
Throughout the retreat, we witnessed the intense clash between Western science and spirituality, like lava clashing with water to form land. There was a feeling of discomfort exploring this edge together; when some cultures come together, there can be hurt. Yet in that same moment the hope for the Mahasangha grew. At that point Aurora felt the need, as did many women of color who were present, to bring heart and spirituality into the conversation, with invoking and not-knowing. Aurora brought reverence for life, which has been practiced for thousands of years yet has been dismissed by Western patriarchal society.
How can such worldly struggles work in synergy with the Dharma? ARISE Sangha has a great way of putting it:
"Aware of the suffering caused by racial, systemic, and social inequities, we commit ourselves, individually and as a community, to understanding the roots of these inequities, and to transforming this suffering into compassion, understanding, and love in action."3
Our conversations on racial equity and inclusion are necessary if not inevitable. So is our need to cultivate our capacity to reduce and root out harm, and to bring about the conditions for collective healing and reparations. Understanding different lived experiences and exploring the many ways of knowing and being in the world can be tough, but it is critical work. Through our exploration at Plum Village, the hope and vision for the wider Sangha grew in us. We felt the need, as many other people of color do, to bring spirituality, reverence, and not-knowing to collective practice. By doing that, we believe our multifold Sangha can learn from an ever-changing reality, self-actualise, and build bridges towards healing a human society that has been scarred by thousands of years of patriarchy, racism, and oppression.
A particular experiment during the retreat gave us an opportunity to see the multifold Sangha in action. Invited by one of the guest facilitators to bring the "unheard voices" into the circle, people started placing cushions to represent communities or voices; "future generations," someone shouted, placing a cushion in the middle of the circle with everyone sitting around it. But as the many absent voices were brought into the space, the energy with which the cushions were placed started to change, becoming increasingly careless and detached.
Some of us had to leave the Dharma hall, as we felt the cushions somehow represented us. Towards the end of the session, a brave monastic reminded the Sangha that even the inert things we call "stuff" are precious, and that if we learn to treat everything and everyone with utmost respect, then we are putting compassion into action. The monastics remind us that something as simple as "handling" a cushion is deeply intertwined with every other action; it embodies how we relate to and care for the living world, ourselves, and one another.
"Cushiongate" provided us with a rich learning opportunity, enabling us to develop greater understanding of the interbeing of it all. The creation of common ground where we can all grow and flourish is not a given; it is a shared responsibility that needs our active engagement. Our ability to create common ground depends on the depth of our understanding of inclusiveness and its true meaning in practice.
Amidst all this suffering and confusion, Mother Earth arose in all their magnificence, reminding us who we truly are. The song of a blackbird in a nearby branch interrupted our Dharma sharing. It rang like a bell of mindfulness, a reminder that with all our many differences in perception, color, and culture, "together we are one," as Thầy would have pointed out.
It is easy to fall into the painful, harmful cliché of "all lives matter." We need to enact a clear stand against racism, and for practitioners, that means educating ourselves about "what white people can do next," to paraphrase the Irish-Nigerian author Emma Dabiri. Race, after all, is a social construct, a system of classification produced by colonization, designed to cause and "justify" harm and violence.
After a few days of sinking into the practice, getting to know each other, and embracing the timely conversations about racial equity in our Sangha, the incredible queen of the night flower (Epiphyllum Oxypetalum) bloomed! Most extraordinary is that the divine flower blossoms only once a year, and this year it crowned the healing happening deep in our heart-minds. With this flowering, an embodied knowing, greater than our minds could grasp, arose; a meeting of vulnerability, openness, and tenderness.
Somehow, all the right conditions have come together for us to continue conversations about racial equity, and, as a Sangha, to continue the work of embracing suffering in its many forms to heal the pain and trauma brought about by racism and aggression. What a wonderful offering this can be, not only for Plum Village, but for everyone experiencing these troubled times. What about your local Sangha? Are you ready to start conversations around race and racial equity as a Dharma door? Are you willing to educate yourself and join a white awareness study group to understand how to be a better ally?
In summer 2022, the Wake Up retreat saw its first BIPOC Dharma-sharing family. Perhaps in the near future we will have a BIPOC-only retreat in Plum Village. The road ahead isn't clear at all, but this retreat will certainly mark a key moment, when monastics and lay friends made a commitment to transforming racism in ourselves and the world, and to working towards racial equity across the Sangha body. There is much work to do if we are to become more inclusive, from offering bursaries (scholarships) to facilitating retreats for BIPOC, LGBTQIA+, people with disabilities, and other marginalized communities. We are standing at a crossroads where we have the opportunity to continue all the hard, loving work of our blood ancestors and spiritual ancestors, towards equity and liberation. What is next is up to all of us.
1 ARISE is a community of mindfulness practitioners and monastics who come together to heal the wounds of racial injustice and social inequity.
2 "Racial equity is a process of eliminating racial disparities and improving outcomes for everyone. It is the intentional and continual practice of changing policies, practices, systems, and structures by prioritizing measurable change in the lives of people of color." — What Is Race Equity? https://www.raceforward.org/about/what-is-racial-equity-key-concepts
3 http://arisesangha.org/contemplations-on-the-five-mindfulness-trainings/
Edited by Tom Jennings and Matthew Friberg.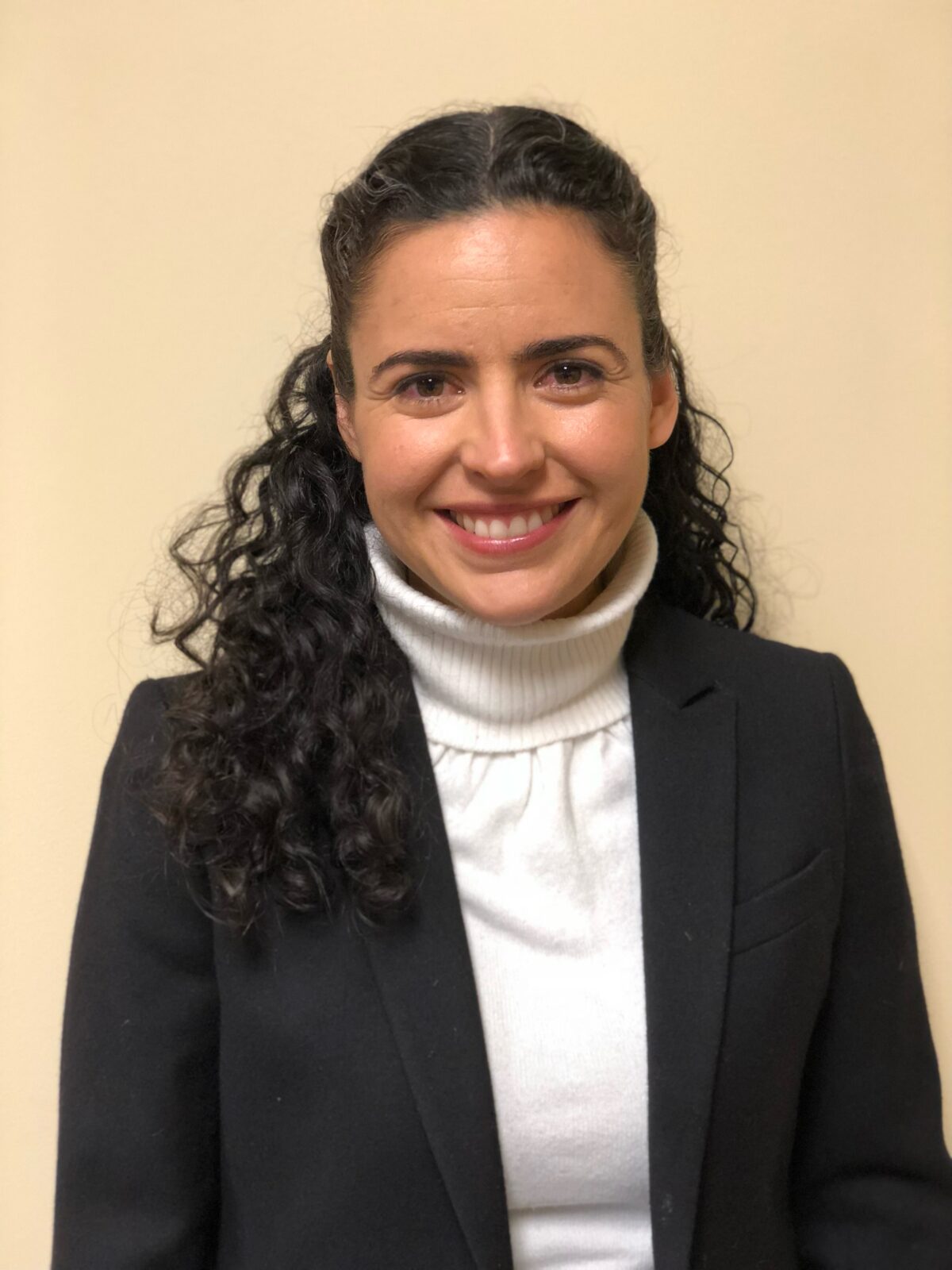 Aurora Leon, True Blue Swan (pronouns she/ellas), was born in the land of the Aztec people (Mexico City) and now lives in MorningSun Mindfulness Center, a lay practice center in the Plum Village tradition, where she helps to organize and facilitate retreats. She practices as a plant-based primary care physician, and loves to hike and run. She is interested in practicing being genuine and deeply understanding herself and others.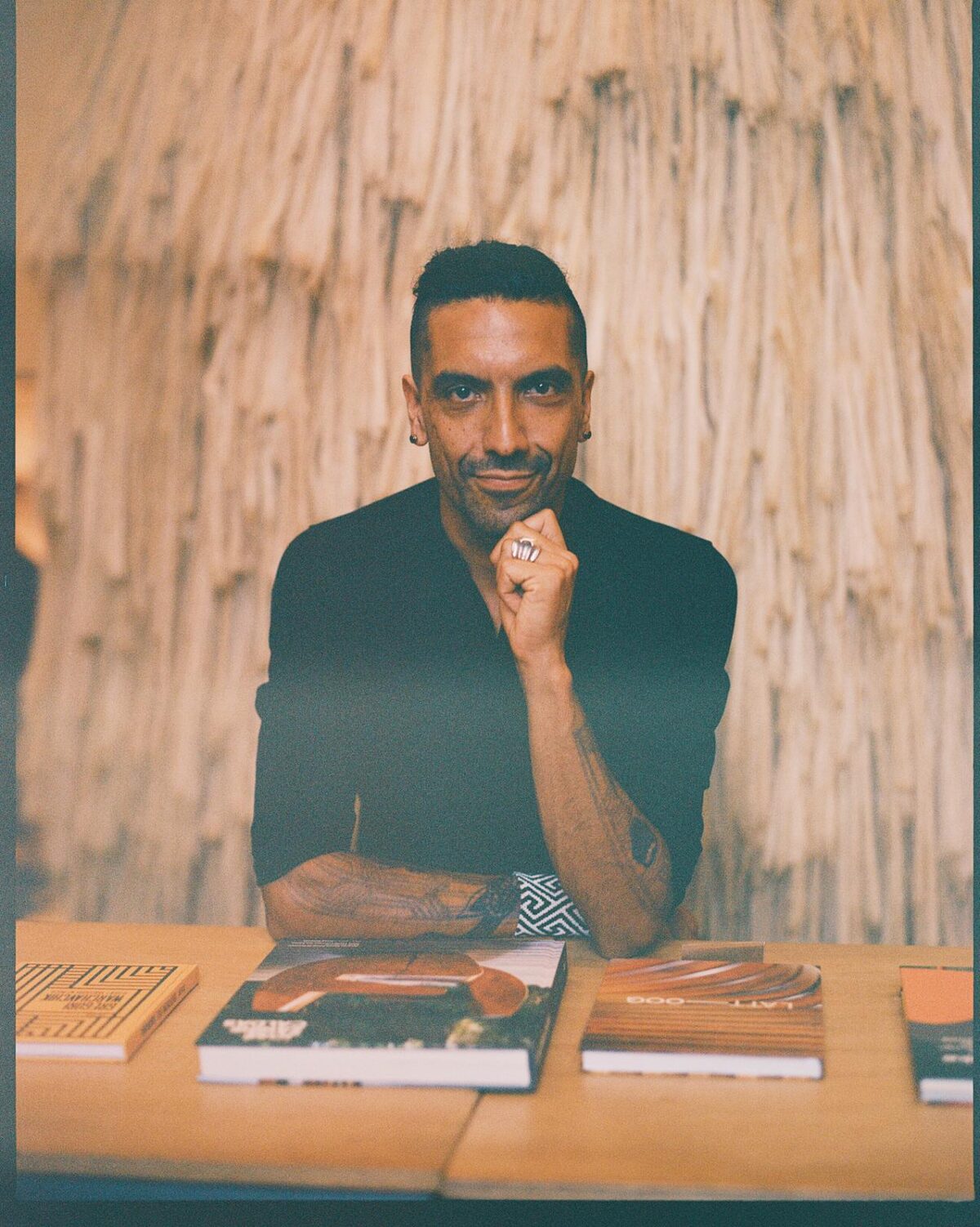 Felipe Viveros, Humble Root of the Heart (pronouns he/they), is a British-Chilean artist, activist, and strategist. He practices with the Wake Up Sangha and the Community of Interbeing, and helped organise a number of retreats globally, exploring the intersection of deep ecology, mindfulness, and right livelihood. Felipe loves dancing, hiking with friends, and is an avid reader of science fiction.