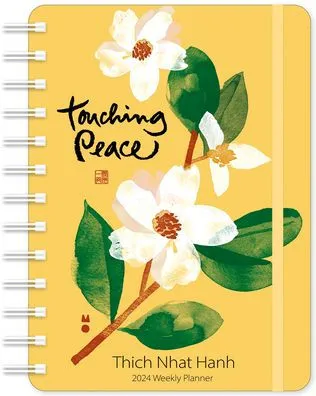 Thich Nhat Hanh 2024 Weekly Planner
Illustrations by Marisol Ortega
In this small 5x7 planner, quotes from Zen Master Thich Nhat Hanh are paired with tranquil contemporary art by Marisol Ortega. Her illustrations play with texture, linework, bold color palettes,... Read More
In stock
Free U.S. shipping on orders above $30.
In this small 5×7 planner, quotes from Zen Master Thich Nhat Hanh are paired with tranquil contemporary art by Marisol Ortega. Her illustrations play with texture, linework, bold color palettes, and organic shapes. Also featured are elegant calligraphies created by Thich Nhat Hanh that convey his powerful teachings of peace, clarity, and insight.
Format: Planner
Size Closed: 5 x 7
Size Open: 10 x 7
Grid Size: Medium
Binding: Wire-O
Time Span: 12 Month

Be organized and inspired throughout the year.

This weekly planner includes US and Canadian legal holidays, phases of the moon, and important observances of the world's major religions.

Published by Amber Lotus Publishing, they plant trees

to offset our carbon footprint and resource usage — more than ONE MILLION and growing! Amber Lotus Publishing, an independent carbon-negative US company, has planted 1,151,000 trees since 2008. Each year they plant more than 20 times the number of trees used to create our products.
The Most Venerable Thich Nhat Hanh (Thây) founded the Unified Buddhist Church (Eglise Bouddhique Unifieé) in France in 1969, during the Vietnam war. Thich Nhat Hanh is a Vietnamese Buddhist monk, a poet, a scholar, and a peace activist. His lifelong efforts to generate peace and reconciliation moved Dr. Martin Luther King Jr. to nominate him for the Nobel Peace Prize in 1967. He is the author of more than 60 books, including Peace Is Every Step, Being Peace, and Miracle of Mindfulness, published by Parallax Press and the Unified Buddhist Church. Over the years, Thich Nhat Hanh's writings have inspired many to embark on a more peaceful and mindful path.
Additional information
Additional information
| | |
| --- | --- |
| Weight | 0.69 lbs |
| Dimensions | 7.000 × 5.500 × 0.750 in |
| Publisher | Amber Lotus |
| ISBN | 9781631369766 |