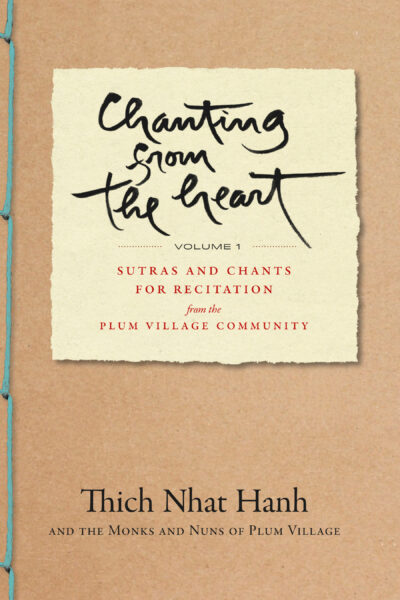 Chanting from the Heart Vol I
Sutras and Chants for Recitation from the Plum Village Community
The first volume of the revised edition of Chanting from the Heart, by Zen Master Thich Nhat Hanh and the monks and nuns of Plum Village. Vol. I: Buddhist Sutras... Read More
This product will be released on May 30, 2023.
Pre-ordering will become available on April 30, 2023.
The first volume of the revised edition of Chanting from the Heart, by Zen Master Thich Nhat Hanh and the monks and nuns of Plum Village.
Vol. I: Buddhist Sutras and Recitations, contains sutras from both the Theravada and Mahayana traditions, translated by Thich Nhat Hanh from both the Pali and Chinese canons. In Chanting from the Heart, he included the sutras he felt to be the most essential for study and regular recitation by his lay and monastic disciples. The recitations are verses for contemplation and reading aloud, some written by Thich Nhat Hanh, others handed down through his Vietnamese Zen tradition. These sutras and recitations are read, recited, and chanted regularly during daily meditation sessions in Thich Nhat Hanh's Plum Village monasteries and practice centers worldwide.
Additional information
Additional information
| | |
| --- | --- |
| Weight | N/A |
| Dimensions | N/A |
| Format | Paperback, eBook |
| Pages | 180 |
| ISBN | 9781952692376 |
| ISBN | 9781952692383 |