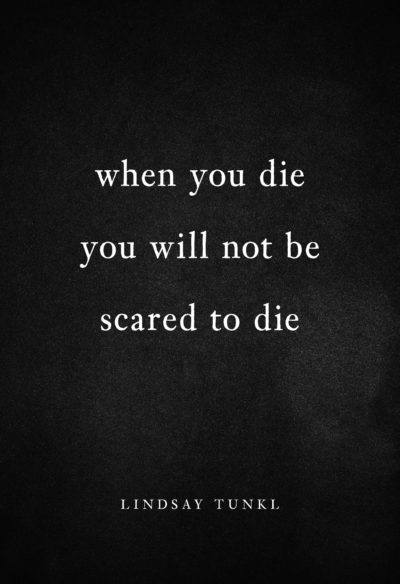 When You Die You Will Not Be Scared to Die
This brief artistic collection of fears around dying—and their ultimate futility in the face of the unknown—is a keepsake, a prayer book, a prompt for contemplation, and a gift to... Read More
Free U.S. shipping on orders above $30.
This brief artistic collection of fears around dying—and their ultimate futility in the face of the unknown—is a keepsake, a prayer book, a prompt for contemplation, and a gift to give to others to inspire conversations about the liberating power of death and what makes a good life.
This small book of 24 meditations on death is intentionally repetitive and hypnotic in effect, and will inspire the reader to list what scares them most, come to terms with their own mortality, and realize what fears are holding them back from living a life fully with 100 percent commitment. It will appeal to anyone who wishes to live with greater intention and purpose and experience more joy and appreciation of the present moment. Buddhists and mindfulness practitioners, people who are aging, people who read the news and are worried, artists, people who are taking care of others who are dying, people who are dying (i.e., all of us…), Tarot card readers and modern-day shamans will all find inspiration in these terse lists. Young people aghast at the adult world's seeming indifference to our mortality will especially relate to the uncompromising vision of this book.
Additional information
Additional information
| | |
| --- | --- |
| Weight | N/A |
| Dimensions | N/A |
| Format | Hardcover, eBook |
| Pages | 96 |
| Trim Size | 4.5" x 6.5" |
| ISBN | 9781941529980 |
| ISBN | 9781941529997 |
"This short compilation has the ability to affect interpersonal change with the way you view death, and life. Read it."

Angela Dahm
"A+++"

Amazon Customer