Sally Assor
Sally Assor (pronouns she/her) works as a Voiceover Artist and is currently training to be a Quietude Practitioner (end of life soul companion) at Emerson College. She had no real relationship to speak of with her mother, Lydia, until 2020. While visiting Lydia, Sally noticed a notepad and some felt tip pens sitting on a nearby table. Sally perched the pad in Lydia's lap and invited her to choose a colour. Lydia chose pink, studying the quality of how the pen felt in her hands for several minutes before removing the top and making her first mark. Since then, Lydia has produced a drawing every week.
"It has been a long journey arriving in harmony in the presence of my mother, and if someone had suggested this might be possible five years ago, I truly would not have believed them. Of course the journey continues, and throws curve balls sometimes, but having the daily aspiration to cultivate a peaceful relationship with myself really helps, as does showing up with genuine curiosity, free of ideas of how time with my mother will be."  —Sally Assor 
www.sallywallis.co.uk
Lydia, an artist with a lifelong struggle with schizophrenia, has been institutionalized since 2004; her work is represented by the Henry Boxer Gallery.
https://www.outsiderart.co.uk/artists/lydia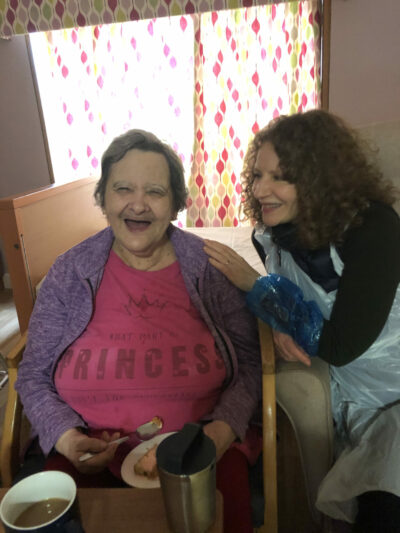 Articles in The Mindfulness Bell